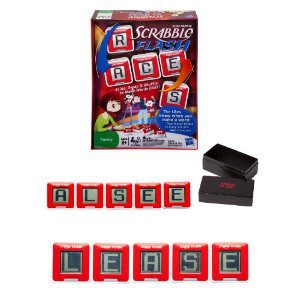 Product Name: Scrabble Flash
Product Description: Scrabble Flash, the Toy Industry Association's 2010 Game of the Year, challenges players to shuffle, slide and swap electronic letter tiles to form three, four and five letter words in 75 seconds. It's a new game and a new experience each time you play.
With only five tiles and a lightweight storage box, Scrabble Flash is both portable and well within the word power of younger players. The game starts with a chime as each of the interactive SmartLink tiles displays a letter. Tiles can "read" each other's letters when they touch as you shuffle them around to make a word. When you've made a word, the tiles light up and beep, and you can continue to the next word. Once your time is up, the tiles digitally display your score. When one game just isn't enough, press the reset button and the tiles will flash a new combination of letters.
My thoughts: My oldest is 6 and she's learning how to read, write and spell.  It's quite the challenge but I'm happy to say she's doing so well and she's so proud of herself when she does well.  At her grandparents house she has one of those alphabet board puzzles and lots of times when we are visiting them, her and grandpa make words up with the letter from the puzzle.  It's very challenging as there is only one of each letter.   But they spend so much time doing it and I love how much fun they have and grandpa loves teaching her how to spell.
There's a reason why I'm telling you all this.  When Scrabble Flash arrived I will admit I had no idea what it was and how it worked.  But I was pleasantly surprised when I opened it to see it's pretty much what Holly and Grandpa do with the letters from the puzzle.
You have 5 electronic letter tiles (they come with batteries already installed yeah!!) and you can play 3 different ways.
Flash: In Flash you have to make as many words as you can from the 5 letters they give you in 75 seconds.  For each 5 letter word you make, you get an extra 5 seconds added to the clock.  Sounds easy right?  Well it's not always.  But here is the thing… when you have an "s" and you pluralize any word, it's counted as another word.  And you obviously always get at least 1 vowel.  It's very challenge, fun and way addictive!  I sat there and played and played and finally I had to walk away because I wasn't going to get anything else done if I didn't!
After the time is up it will flash your score and how many possible words there were.  I'm amazed sometimes at how many other words there actually are because I'm usually stumped by the time time is up.  It's quite the challenge.  But if you'd like you can play only 4 tiles for even more of a challenge.   Just don't put the 5th tile in a row when you begin.
Five Letter Flash: Five Letter Flash is really fun too.  Once you create a 5 letter word you'll get a whole new set of letters to find another 5 letter word.  Your only looking for 5 letter words and the challenge is to see how many you can make in 75 seconds.
Pass Flash: In Pass Flash players pass the tiles around and when you form a 5 letter word you pass the tiles to the next player who then gets 5 new letter.  If a player can't find a word quick enough they are eliminated from the round.  You continue until there is just one player left.  I haven't played this one yet as my husband hasn't had time to play but we are looking forward to pulling it out when we have friends over!  Should be a lot of fun.
What we Love about it:
It's fun, just pure fun and it gets your mind working.
My 6 year old can play too.  She needs to speed up a bit, with her it's not about how many words she can form, but more about her forming a word with the tiles.  She really enjoys it though she gets frustrated too.
It's extremely portable.  It comes in a little plastic case that I can just toss into my purse and we can take it anywhere.  I love this idea because if my husband and I are going out for the evening, we can take it along with us and play while we wait for dinner (or during drinks!).  I think it would be a great table game at family style restaurants.
It's challenging.  Sometimes we need to be forced to use our minds and this is one that surely does it.
It's a quick game.  Unlike traditional scrabble, if you only have a few minutes that's fine since each game is quick.
What we don't Love about it:
Ummm I can't really find anything that we don't love about it.
Scrabble has a new Facebook page dedicated to all things Scrabble. Whether you're a fan of the classic board game, or enjoy Scrabble Flash, Scrabble Slam or Scrabble Junior (or all of the above!), this page will be a one-stop shop for word lovers. Find daily word challenges, words of the day, coupon offers, Scrabble news and tips, online gaming, and School Scrabble info, with more exciting features still to come! Visit the Scrabble Facebook page and "Like" like them to start exploring the world of Scrabble.
BUY IT
Product Price: $29.99
Purchase Information: You can purchase it where most games are sold including Walmart, Target and Amazon
.
WIN IT
The generous people of Hasbro have offered to give (1) Koupon Karen reader their own Scrabble Flash Game!

Entry is simple! You just need to answer the question below by leaving a comment on this site! You can even gain up to 4 bonus entries for doing each additional item listed (just make sure that you leave one entry for each one — up to a total of 5 comments). As a reminder, comments left on Facebook, Twitter or other posts will not be included.
REQUIRED ENTRY
Leave a comment and share with us your favorite Family Game Night Game.
BONUS ENTRIES:
1. Follow @KouponKaren on twitter and tweet the following "I entered to #win Scrabble Flash @KouponKaren You can too! http://wp.me/pMKCI-5Oe #giveaway "
2. "Like" Koupon Karen on Facebook –> I have a new page so if you were previously my "friend on facebook" please like this page as well.
3. "Like" Scrabble on Facebook.
4.  Blog about this giveaway.
5. Sign up to receive Koupon Karen daily emails or add me to your favorite reader.
Details: This giveaway is open to US Residents and will remain open until March 24th at 11:59 p.m. EST . Any comments left after this time will not be counted. The winner will be selected randomly and will be notified via email and will have 48 hours to claim their prize.
Disclosure: I received a Scrabble Flash game for my review. This did not influence my post and as always, my words are my own.