Jen from Savoring The Thyme is back this week with more delicious frugal recipes that include items that may be on sale at your stores.   All these recipes are featured on her blog, and besides a few guests post – she makes them all herself!   Hope you like her choices and let me know if you make any of them!
This week she is focusing on Spring Veggies!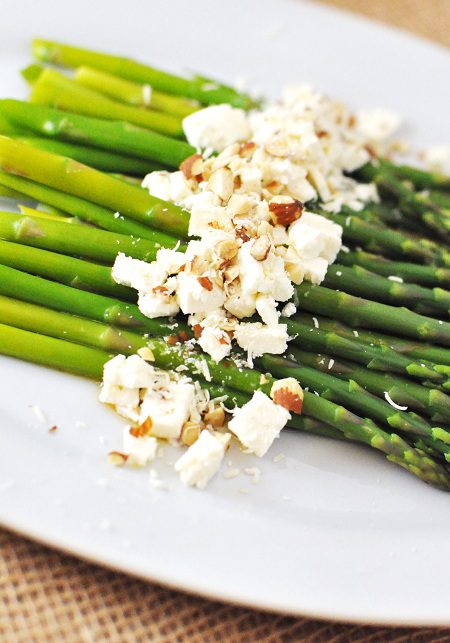 Photo Credit: Jennifer Leal, Savor the Thyme
Spring is here and you know what that means? Yes, fresh spring produce! Seasonal vegetables also means sales and lower pricing on those nutrient packed nuggets.   To help you start thinking fresh and vibrant, here are some spring inspired dishes for you to add to your weekly menu:
Asparagus with Vinaigrette, Feta, Parmesan & Almonds Recipe: Grab your cheese grater and block of Parmesan and share this with everyone. Yes, everyone.
Still have some Easter eggs left? Love hard-boiled eggs year round? Then crack those babies, chop the veggies and make this Fried Rice.
Sometimes life hands you lemons. Instead of making lemonade, I decided to make a edamame-corn relish. After all, vegetables are not just for side dishes you know.
You can also join in the fun and yumminess of the Savor the Thyme Community on Facebook.
Check back next week when Jen brings us more fun and easy frugal recipes to help you plan your shopping trip and keep within your budget!