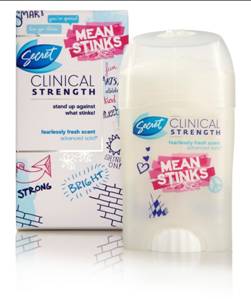 Product Name: Secret Mean Stinks Clinical Strength
Product Information: Secret Deodorant's mission is to help bring an end to girl-to-girl bullying by inspiring girls to "gang up" around acts of good.  Secret will be donating $1* from the purchase of each Mean Stinks Clinical Strength sold to Girls on the Run® to fund their girl empowerment programming and help prevent mean behavior before it starts.
The latest U.S. Department of Justice report shows 30% of female students grades 6 – 12 were bullied at school or cyberbullied during the 2009 – 2010 school year, and Mean Stinks is committed to being part of the solution.
Secret Mean Stinks gives girls around the country a Clinical Strength product to help protect against the 'stink' caused by wetness and odor while providing a way to 'stick-up' against what really stinks – BEING MEAN
Secret is encouraging girls around the country to take the Mean Stinks Pinky Swear, complete with blue pinky nails, in a show of peace & solidarity to keep mean out of their group of friends before heading back to school
You can also visit the new Secret Mean Stinks Facebook experience to:

Determine what role they play in ending mean behavior
Identify the different types of bullies
Take the drama-free pledge
Make the Mean Stinks pinky swear, and more!
Purchase in Information: Secret Mean Stinks Clinical Strength is available now on the P&G E-store, and on shelves nationally September 2012.  Secret Mean Stinks Clinical Strength will be available in Fearlessly Fresh scent at select food & drug and mass retailers nationwide
Purchase Price:  $7.99 – $9.99 MSRP. $1* of every Mean Stinks Clinical Strength sold will help fund Girls on the Run® girl empowerment programming to help prevent mean behavior before it starts. *Donations from purchases up to $150,000.
My Thoughts:  The bullying that goes on in schools scares me – especially with two girls in school.  We haven't had any real problems yet but there was a girl in my oldest daughter's class last year that was not very nice to her a few times and she came home crying to me.  My husband and I tried to explain to her that unfortunately there are some mean people in this world who think they can say and do anything and they will hurt her feelings.  She just needs to learn to ignore them and not be that type of person as best as she can.  Then I met the girls mother and she looked mean so I can see where it comes from.
Our children learn from us FIRST.  If we are mean to them or we bully other people, they will do the SAME THING.  We need to teach them the proper way to treat others and one way is for us to treat others properly.
With that said I think that it's great that Secret is trying to help with bullying because it is real and it does happen – and it needs to stop.  I want to teach my girls to be strong and to work together with their classmates to prevent mean behavior.  I hope I can!
I also think it's great that they are making a clinical strength deodorant to help girls stay fresh and clean smelling.  Let's face it, a stinky teen girl is going to get picked on.  I will make sure my girls always have something good, like Secret Clinical Strength to help them smell fresh!  I'm already a big fan of Secret and I'm more of a fan now seeing how they are trying to help the teen girls and their struggles with bullies.  It has to stop somewhere.
We are in a new school this year so I'm working on learning how the school prevents it and treats those that bully.  I hope they have a good plan to eliminate it as much as they can.
Have your children been bullied in school?  What does your school do about it?
Disclosure: I received the same prize as the winner for review. My opinions are 100% mine.