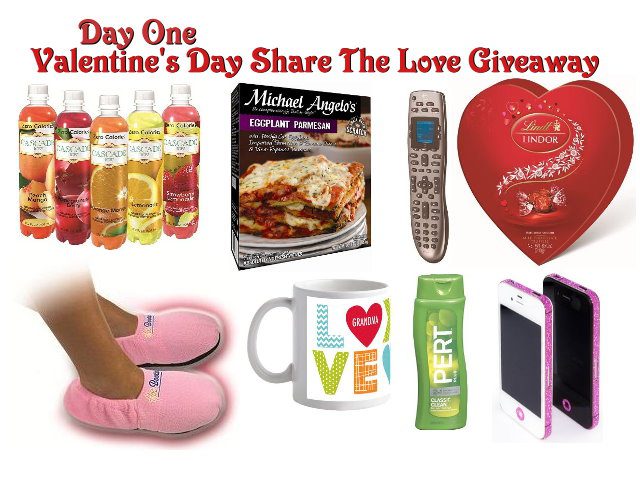 Valentine's Day is coming and it's all about sharing the love, right?  So that is exactly what I'm going to be doing this week.  I've teamed up with my two good blogging friends once again for this giveaway – Nicole from Nicole's Nickels and Keri Lyn from She Saved and we put together a FUN Valentine's Day gift guide that I think you will enjoy a lot!
To show you just how much WE LOVE OUR READERS, We are going to shower you with Valentine's Day gifts, doesn't that sound like fun?
If it does, then just sit back and relax and enjoy these fun gift ideas. There will be 5 days of giveaways and there will be THREE Winners across all three blogs so after you enter here on Koupon Karen, look for the links below to go and enter on their sites as well.
Today's giveaway include something to make your day fun and easy!!  How about a fun customized mug from Tiny Prints that is so easy to make and would be the perfect cup to use to start off your day.  Whether you enjoy coffee, tea or even juice, you can customize it with your favorite image or saying.   After you enjoy your beverage of choice in your mug, you can enjoy a nice shower with some awesome Pert Plus Shampoo!  I love the scent of it and my hair is always so soft afterwards.    For a mid-day treat how about some Lindt chocolates!  I'm sure you're friends and family would enjoy these with you as well.   I love Lindt chocolates, especially they way they melt in your mouth and haven't met anyone yet who doesn't!
Then for dinner you can enjoy a yummy Michael Angelo's dinner that you can easily pop into the microwave or oven.  It's a great way to have a sit down meal with your family when you are strapped for time, because all the cooking is done for you.  And these meals are really good!  I have my Italian mother hooked on them.  Our favorite is the meat lasagna but the eggplant is really good too!   And to go along with dinner we have some Cascade Ice Sparkling water.  My favorite so far is the Orange Mango.  It's not quite like orange soda because it's better with the mango.  And no calories!!
And by the end of the day when you are ready to relax in front of the TV, you'll have this awesome universal remote from Radio Shack to easily navigate your favorite shows while keeping your feet warm with hot booties.   I hate when my feet are cold, throws me off completely and these will quickly warm your feet after a quick few seconds in the microwave.  Yes I said microwave!!  Very easy to use.  And while you are relaxing in front of the TV, you can surf the internet on your phone which will look stylish in the cool Crimson skins.   Really cute!
Does all of this sound nice?  If so read below for more product details and then enter in the widget at the bottom of the post.   There are lots of extra entry opportunities so make sure you take advantage of them all and boost your winning potential!
Cascade Ice is a zero-calorie, sugar-free flavored sparkling water that eliminates all the unnecessary, unhealthy "extras" like sugar, sodium, carbs, caffine, and gluten. Cascade Ice is available in 21 fantastic flavors like Orange Mango, Coconut and Strawberry Chocolate. Check our Where to Buy Map to find a retailer near you that carries Cascade Ice.
____________________________________________________________________
Custom Mugs can add some photo love to your morning coffee or tea!
____________________________________________________________________
This shampoo-conditioner duo is available in five varieties to meet the needs of every hair type. From Classic Clean to Volumizing, PERT Plus gives you clean, manageable hair that smells great all in one simple step. All formulas are gentle enough for color treated hair, too.
____________________________________________________________________
Give a piece of your heart with the new 8.5 oz LINDOR Truffles Gift Heart.  Surprise that special someone with this elegant and festive heart, filled with irresistibly smooth milk chocolate LINDOR truffles.
____________________________________________________________________
Michael Angelo's Gourmet Foods is a family owned and operated Italian-American business that makes Italian prepared meals found in your freezer aisle. Founder Michael Angelo and his mother Sara have a passion for good Italian food and a commitment to never compromise on quality of preparation and ingredients. As Michael says, "If you can't find it in Mom's kitchen, we won't use it in our food."
Michael Angelo's is a great alternative to an expensive evening out without the hassle and stress of a home-cooked meal. Just pop your favorite Michael Angelo's entrée in the oven, prep an easy salad and garlic bread side and spend some quality alone time at home without breaking the bank!
____________________________________________________________________
iPhone owners can let their personality shine through with custom CrimSkins designed to add more style to their phone. From glitter side skins, to pecan wood paneling, or gold and silver crushed diamond aluminum back skins, you can create a style that complements the iPhone's clean, modern lines.
____________________________________________________________________
Nothing is more comforting than putting up your feet at the end of a long day. And now, it gets even better. Whether relaxing on the couch or under the covers, Hot Booties™ helps soothe cold or achy feet in seconds.
Hot Booties™ are microwavable slippers filled with natural linseed and lavender seeds to provide instant comfort and relaxation. Simply pop your Hot Booties™ in the Bootie Bag and microwave for 30-90 seconds. The natural linseed absorbs heat and radiates warmth.  Relax, and stay put! These Hot Booties™ are made for lounging…not walking!.
____________________________________________________________________
One touch changes everything—with bright and brilliant control. Say goodbye to juggling remotes and complicated equipment settings. With a bright color screen, one-click activity buttons, and control of five devices, Harmony 650 lets you access TV, movies and music effortlessly—even in the dark.
____________________________________________________________________
One (1) Lucky Koupon Karen winner will win every item featured in this post with a value of over $230!!
To enter this giveaway, use the widget below. The first entry is mandatory and the rest are all for extra entries. Just follow the instructions for each entry. It's super simple and won't take you very long to enter. Then look below the widget for links to the other sites where you can also enter to win this same prize pack!
This giveaway will end on Monday, February 11th at 11:59 EST an is open to US Residents only.  You will be notified shortly after that date and will have 48 hours to claim your prize or another winner will be choose.
Now that you've entered here you can head on over to Nicole Nickels by clicking HERE and She Saved by clicking HERE to enter again and increase your chances of winning!
Disclosure: I received the same prize as the winner in exchange for this post. My opinions are 100% my own.