Did you know that Tuesday was National Bacon Day?  YUP, it sure was.  Honestly I'm not surprised as bacon is very popular – well at least it is in our house.  My husband loves breakfast and a long time ago he decided that he'd cook it for himself every weekend, since I didn't.  Our oldest has enjoyed having eggs or omelets with him for sometime now and recently discovered her love of Bacon – just like him!  I should of seen it coming as they are like two peas in a pod and so much alike.  Our little one sort of likes it, but not entirely.  That is what she tells me!
So when I was asked if I wanted to try some Smithfield Bacon I jumped at the chance because I knew I had two willing participates in bacon taste testing right in my house!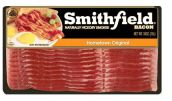 This past weekend my husband cooked up the bacon and they sat down to have their breakfast together (it's really cute!).  They both agreed that it was good and they would definitely eat it again.  But they also agreed that the one from the butcher shop is their absolute favorite.   Well that one is super fresh so of course it's really good.  But the Smithfiled bacon past the taste test for both of them.
We were having my parents over later in the day and my hub was going to grill some burgers so we kept some of the bacon to add to our burgers and the loved it too!  It's very tasty and cooked perfectly!
I asked my husband how it did on the 'spit factor' – you know how much bacon grease spits at you as you cook it?!  He said it was OK.  The bacon pouch one spit a lot more than the Hometown original bacon did BUT even though it did spit a lot, it didn't cook down to nothing. There was still a lot of meat left.
This is a keeper!
Have you tried Smithfield bacon before?  If you haven't I suggest you give it a try.  You can even print a coupon for $1.00 off one Smithfield product on their Facebook page!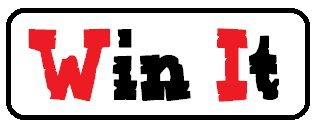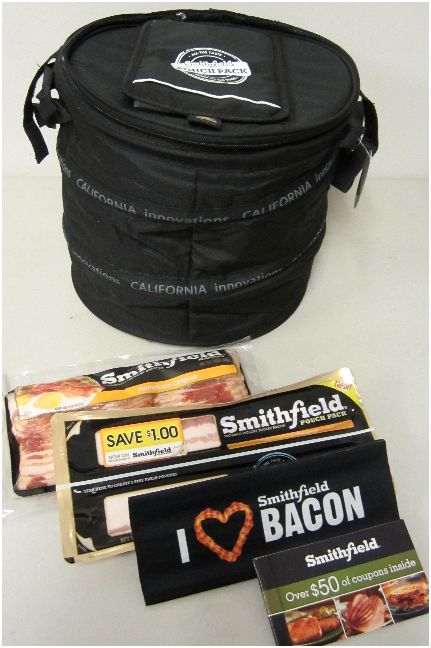 (1) Koupon Karen reader will win a Smithfield Bacon Prize package which includes a fun cooler with some Smithfield's popular Pouch Pack bacon and Hometown Original bacon, along with a fun bacon koozie, and a coupon booklet filled with $50 worth of FREE Smithfield's products!
To enter the giveaway, use the rafflecopter widget below. You can now sign in with Facebook and it will remember you each time you enter another rafflecopter giveaway. Of course Facebook is in no way associated with this giveaway, the people of rafflecopter just want to make it easier for you to enter giveaways now.
As a reminder, comments left on Facebook or Twitter will not be included.
Disclosure: I received the same prize as the winner for review. My opinions are 100% mine.