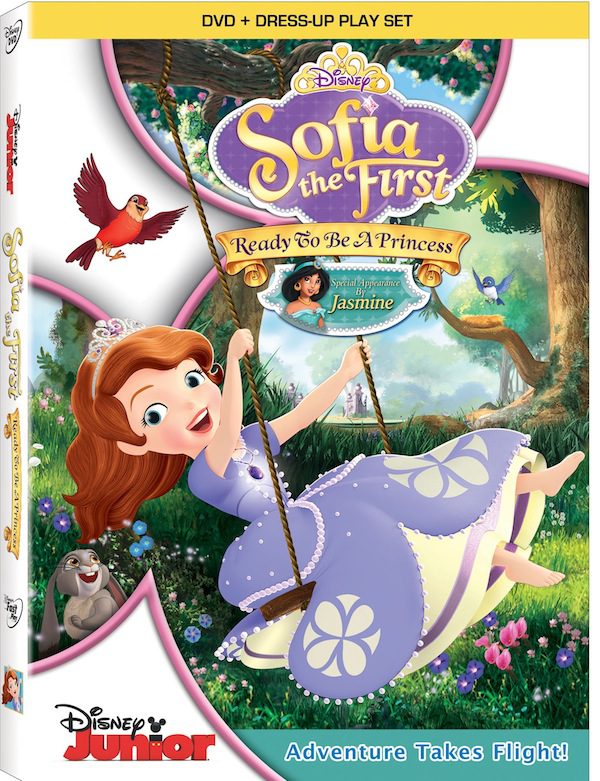 I'm so excited to share with you that Disney Junior's Popular TV Show "Sofia the First Ready To Be A Princess will be on September 17th!  My youngest is a HUGE Sofia fan so she is very excited to have more shows on DVD.
This Fairytale DVD Includes 5 Fun-Filled Episodes from the TV Series, including a special appearance by Princess Jasmine, Plus a Complimentary Exclusive Sofia Doll Dress Up Kit!
"A Royal Mess"
"The Shy Princess"
"Blue Ribbon Bunny"
"The Princess Test"
"Two To Tangu" (Jasmine Episode)
About Sofia The First Ready To Be A Princess
Your favorite little princess-in-training returns for more music, majesty and magical fun, so get ready to have a ball with Sofia the First! Becoming royalty overnight is every girl's dream, and Sofia is eager to prove she can be a true princess. Visit an enchanted circus, meet a pet dragon and soar through desert skies with Sofia and Amber on a magic carpet ride!  But when their high-flying adventure veers off course, it's special guest Princess Jasmine to the rescue with inspiring advice about trying new things, staying strong and trusting yourself. Sparkling with extraordinary song unforgettable characters and thrilling surprises, Ready to Be A Princess opens the door to a whole new world of kindness, helping others and being the best you can be!