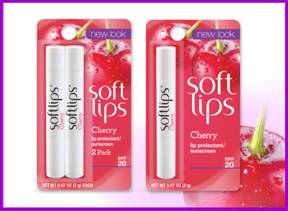 Product Name: Softlips SPF 20  (Cherry, Vanilla, Raspberry with green tea extract, Mint with a hint of Vanilla, Wildberry, and Strawberry).

Product Information:  Softlips products combine effective lip protection with SPF 20 and moisturizing emollients with a sheer glossing effect, making them perfect for natural lips or for adding protection/moisturizing over or under lipstick. Softlips is a trusted name in lip health and has been a product of choice among young women for more than 20 years.
Purchase Information:  Softlips are currently available in the lip care section of the cough/cold aisles of food, retail and drug stores nationwide, including ULTA stores nationwide.
Product Price:  They retail from $2.79 for individual sticks, to $3.99 for the special value dual packs.
My Thoughts:  I'm a big fan of lip protection and probably use it 10 times a day!  My lips don't always feel dry, but I like when they feel moisturzed.  That's why I love Softlips because they moistureze and protect my lips, but feel nice and light and not caked on.  They also have such yummy flavors so it's almost like a treat at the same time!

WIN IT
Entry is simple! I'm now using Rafflecopter for all giveaways going forward and I think you will love it as much as I do. It will make entering my giveaways a lot easier for you, and picking winners much easier for me. Follow the instructions in the box below on how to enter. Once you do the required entry, just click "I did this!" and your all set.
There will always be ONE mandatory entry and lots of extra entries. Please let me know if you have any questions. Since this is new to me, you may need to give me a few times to work it all out. As a reminder, comments left on Facebook or Twitter will not be included.
Disclosure: I received the same prize as the winner for review. My opinions are 100% mine.