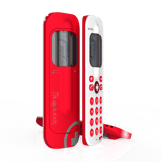 This post is Sponsored by SpareOne but my opinions are 100% my own!
SpareOne, the world's only emergency mobile phone powered by a single AA battery, launches SpareOne Plus, featuring a series of enhancements to the original multi award winning SpareOne.
"SpareOne has been solidified as a must-have preparedness device, through its innovation and ability to keep lines of communication open when power is completely unavailable or inaccessible," said Alan Cymberknoh, SpareOne Project Director at XPAL Power. "SpareOne Plus is packed with additional safety features and communicates with users even more intuitively than before."
Upgrades to the SpareOne Plus include new standard features such as audible function feedback (which reads the number dialed and operational functions aloud), a panic siren function and SOS flashing torchlight mode.  The SpareOne Plus also has the capability to activate Locate and Alert Services. This service will identify the approximate location of the SpareOne Plus by relying on the surrounding cell towers information. It can also designate contacts to receive an alert in the event that the SOS emergency button has been pressed on the SpareOne Plus.  Lastly it'll allow users to program the SOS emergency number as well as 9 speed dial numbers remotely. This is accessible through a secure website powered by Monitorlinq.
SpareOnePlus is now available to purchase for $79.99 USD, and is debuting an offer for the first 500 phones purchased to receive a free, one-year Locate and Alert Service activation, a $30 value. Visit www.spareone.com to order.
SpareOne phones are designed to work independently of a cell phone carrier. Users have multiple options because SpareOne is SIM unlocked:
1) Insert your existing active GSM carrier SIM card from your smartphone into SpareOne, and continue sending and receiving calls from your number
2) Insert a pre-paid SIM card with credit, to make calls at local rates.
3) Call 911 (or relevant regions dedicated response number) with one press of the center SOS button, no SIM card required.  A micro-SIM adapter is included for smartphone users to insert a carrier's micro-SIM card.
About SpareOne
SpareOne is the only emergency mobile phone in the world powered by a single AA battery. Boasting up to 15 years of battery shelf life when stored unused or 10 hours of talk time when in use, SpareOne is designed to be a lifeline in emergency situations. SpareOne serves as an invaluable tool for individuals, as well as for developing nations with limited access to power. For more information, visit www.spareone.com
Disclosure: I received a Free product for review. My opinions are 100% mine.