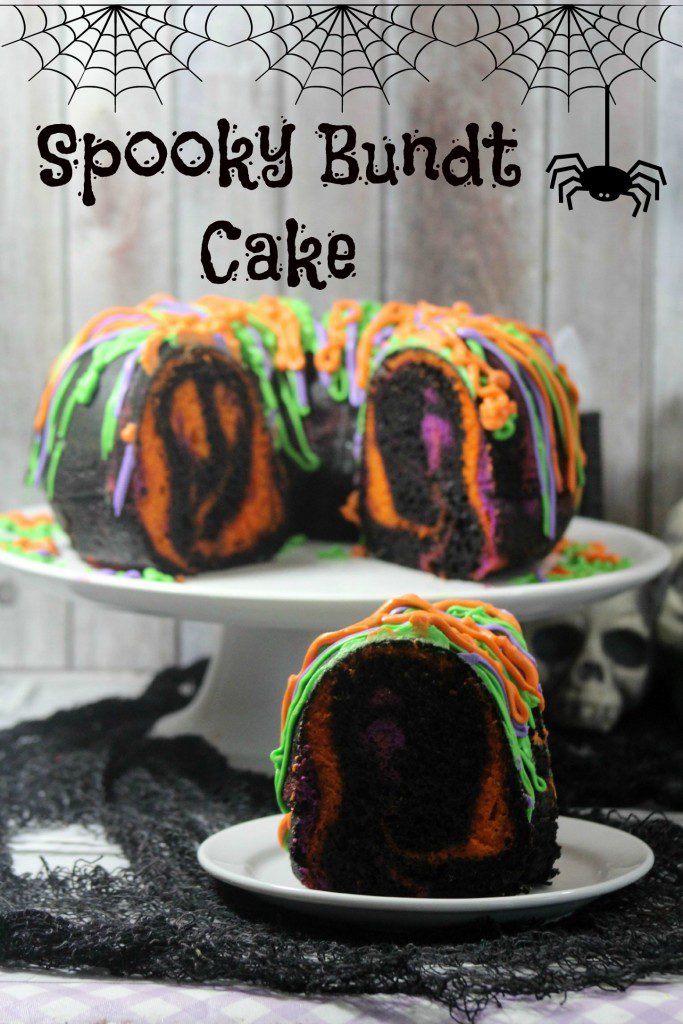 Baking can be so much fun and the more creative you are, the more fun it is!  If you want a fun dessert for your Halloween gathering, or for the kids after school, try this fun Spooky Bundt Cake recipe and impress every one you know!
Spooky Bundt Cake Recipe
Cake Ingredients:
1/2 C unsalted butter, room temp
2 egg whites
2 eggs
2 C flour
1 tsp baking powder
1/2 tsp salt
1/4 baking soda
3/4 C buttermilk
1 1/2 C sugar
1 tsp vanilla
Neon orange, neon purple, and black food coloring
Cake Directions:
Preheat oven to 350 degrees and then prep bundt cake pan.
Sift flour, baking powder, salt, and baking soda together in a bowl.
Beat butter on high for 30 seconds.
Add sugar and  vanilla extract to the butter until well combined.
Add egg whites, one at a time, mixing after each.
Add eggs, one at a time, mixing after each.
Add 1/3 C  flour mixture to the wet mixture followed by adding  1/3  C of the buttermilk; add 1/3 C flour mixture again then add 1/3 C  buttermilk mix on low speed, add 1/3 C of flour and add the rest of 1/3 C of buttermilk mix in low speed until thoroughly blended.
Divide the batter into three bowls…. add black gel food coloring to one…. add neon orange gel food coloring to the second and add the neon purple gel food coloring to the third bowl.  Stir well.
Make sure you spray the bundt pan with Pam before the next step.
Begin by spooning in some of the purple batter then the black, next the neon orange and black on top.  Swirl it a bit with a butter knife, but easily so it doesn't mix.
Bake the cake at 350 degrees for 30-35 minutes or until an inserted toothpick comes out clean.  Allow the cake to cool in the pan for about 20 minutes then remove the cake from the Bundt pan and place on a wire rack until completely cooled.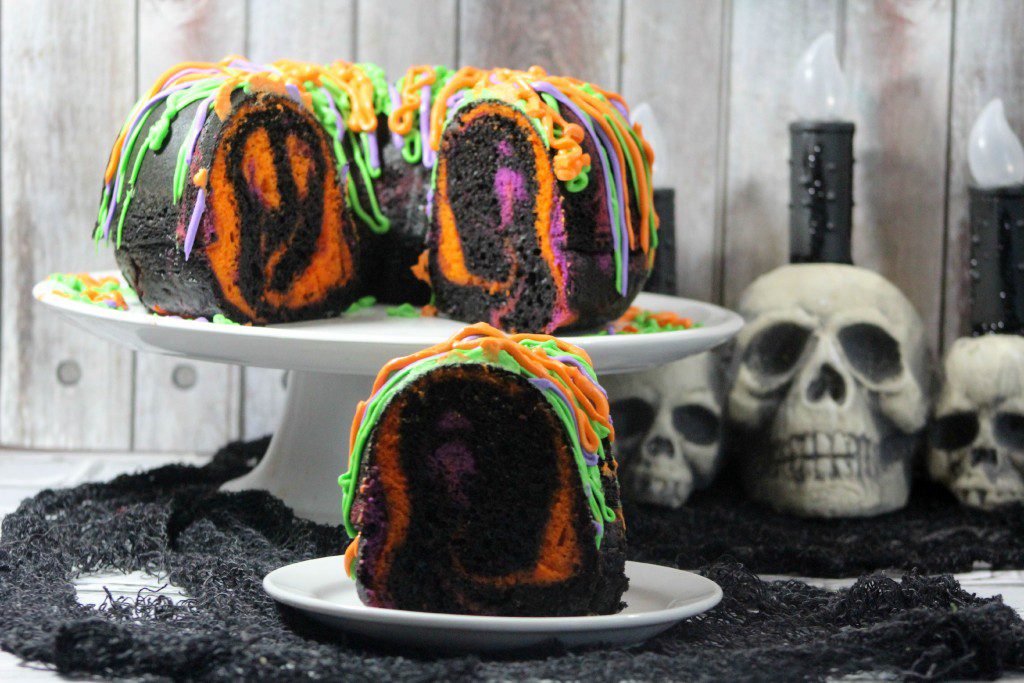 How to make the Frosting

Frosting Ingredients:
1 C soft unsalted butter
4 + C powder sugar
4 TBSP heavy whipping cream
Neon green, neon purple, and neon orange gel food coloring
Frosting Directions: 
Cream the butter and powder sugar until it looks light and creamy.   If it doesn't cream add several drops of the heavy whipping cream until it creams.
Once the frosting has the right consistency then divide it into 3 bowls.
In each of the three bowls add several drops of gel food coloring.  1 st bowl add neon green, 2nd bowl add neon purple, 3rd bowl add neon orange.  After each color addition stir well to mix the colors.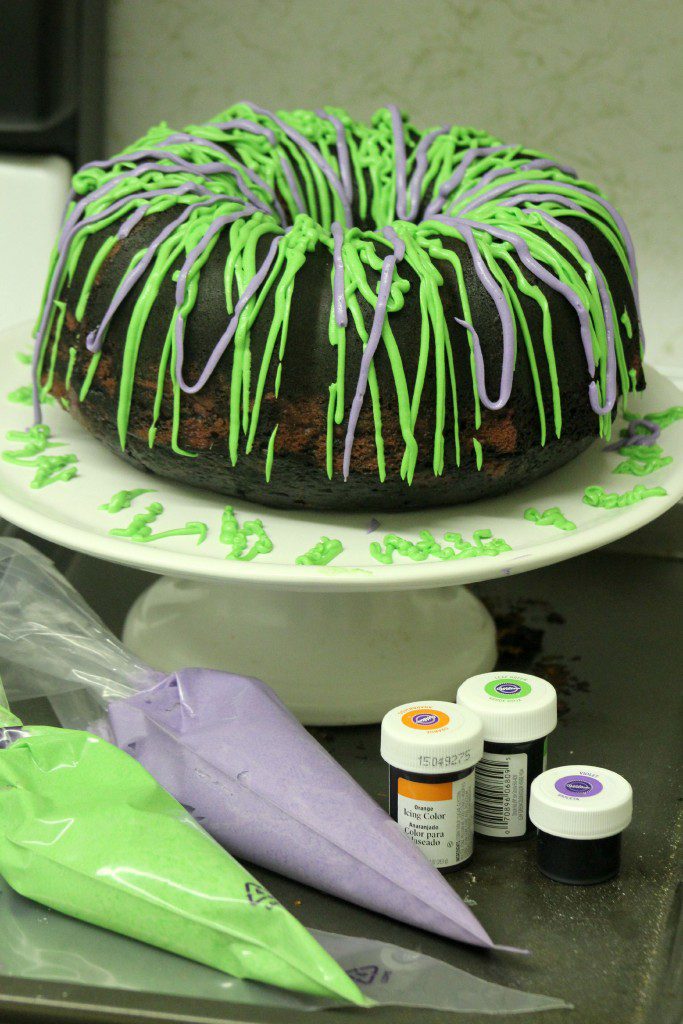 When the colors are right, starting with the green frosting and using a spoon, drizzle the frosting on the cake.  Allow the black frosting to dry.  Then repeat the process with the neon purple frosting.   Once again, allow the frosting to dry.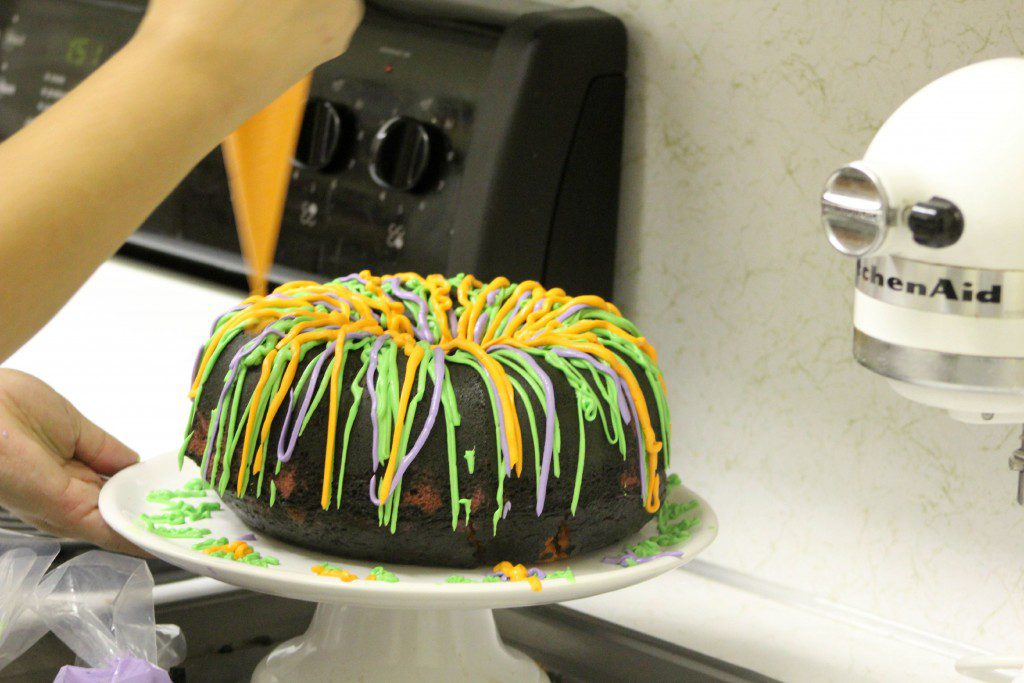 Lastly, repeat the frosting process with the neon orange frosting.  Allow all frosting to dry on the cake and then you are ready to serve it.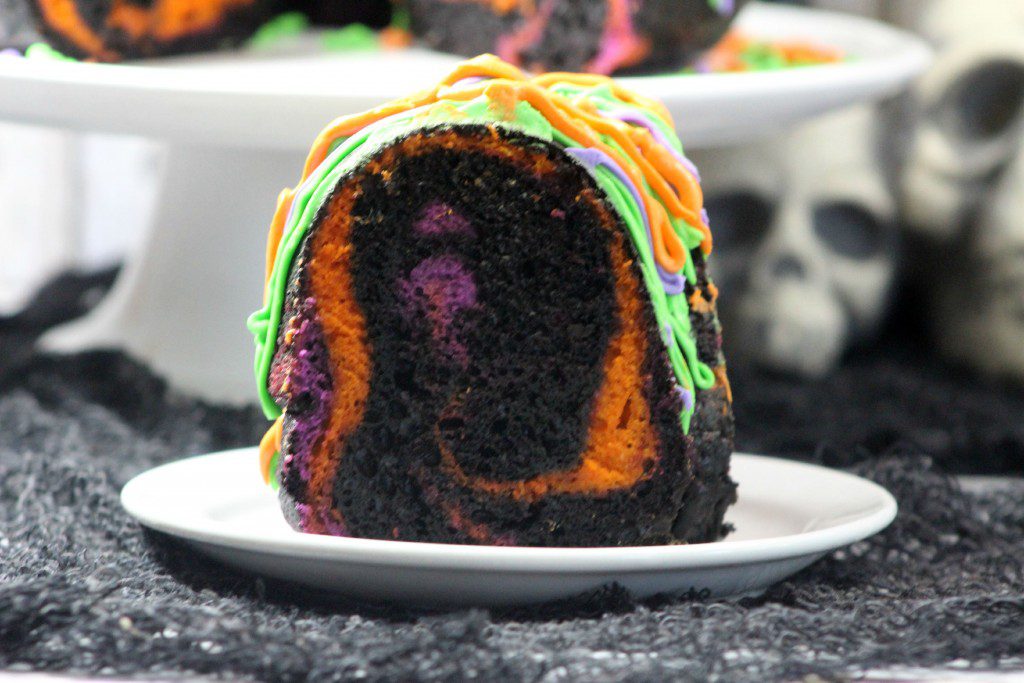 When you cut into the cake, it'll have a cool swirl design from all the colors!
Will you make this Spooky Bundt Cake?