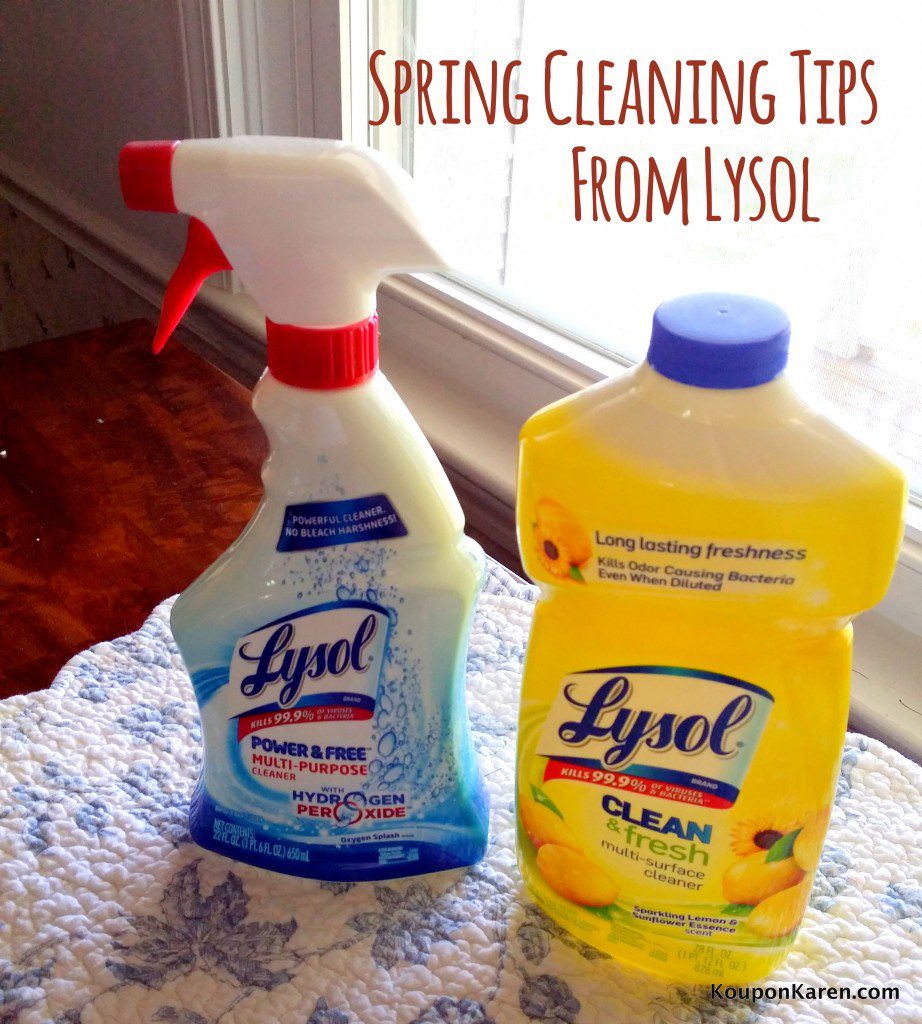 I'm forever working on Spring Cleaning.  Having 2 kids and a puppy – our Boston Terrior Max,  every day I have more 'cleaning' to do.  If you've ever had a puppy then you know what I mean!  But my Spring Cleaning will eventually be done and I'm happy to share that Lysol has had a helping hand in that.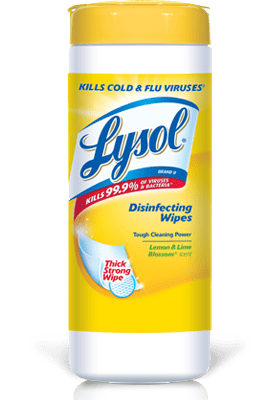 Lysol has developed the following spring clean checklist for our homes and I put some of them to the test alongside Lysol Disinfecting Wipes and LYSOL Power & Free Multi-Purpose Cleaner Trigger.
Spring Cleaning Tips from Lysol
Date Yourself: Set time in your smartphone calendar to hold yourself accountable for cleaning and reorganizing. This amount of time will be different for everyone depending on how much there is to get done, but book at least 15-30 minutes a day to start. Hold yourself accountable for the spring cleaning tasks you want to accomplish and get them done!
Touchy Feely: Most of us don't think of all of the things we are touching on a regular basis and yet seldom clean. Disinfect commonly touched surfaces like doorknobs, computer keyboards, remote controls and light switches, with LYSOL Disinfecting Wipes to remove 99.9% of germs.
Donate: Start a donation bag and throw items in as a way to cut down on clutter around the home. Consider rewarding your children when they donate as a way to teach them responsibility with a great outcome.
Down and Dirty: Hone in on the quick, small chores that you've been brushing aside all year, saying, "I'll get to that later!" Examples include cleaning underneath heavy furniture to get rid of dust and lost bits of food, and wiping down the outdoor grill.
Tidy Tubs: Prevent the reappearance of mildew and soap scum in the bathroom by wiping down the tub and glass doors after every use, or replace your basic showerhead with a detachable handle so you can easily spray it down. For the wipe down, a microfiber cloth works wonders!  Just keep it nearby and wipe. The 20 seconds it takes to do this will save hours of deep scrubbing later.
Trash the Trash: Make sure you throw out anything that could count as trash to start making room for the important things you want in your home. You should be throwing away trash every day and not letting it build up. Make it a habit to spray and wipe down your trash bin with LYSOL Power & Free Multi-Purpose Cleaner Trigger every time you take the trash out to prevent mildew and smells.
Look Down: How are those floors looking? A little grimy? To maintain spotless floors, instil a "no shoes" policy in your home. Passing a small vacuum over your floors daily will prevent dust bunnies from multiplying – and don't forget about those hard to reach places where dust, germs and hair collect.
I've been trying to follow along with some of these tips so my weekly deep cleaning job isn't as big.  It's hard to do something everyday that you are not used to doing but what worked for me is this – each time I picked up the phone during the day to make a "Social" call, I grabbed some Lysol wipes and walked through the house while I talked, an wiped down door handles, light switches and counter tops.
What do you do on a daily basis to keep your house clean?