My friend Jen from Savoring The Thyme is going to be bringing us some delicious frugal recipes each week that include items that may be on sale at your stores.   All these recipes are featured on her blog, and besides a few quests post – she makes them all herself!   Hope you like her choices and let me know if you make any of them!
This week we will focus on a basic that is frequently on sale as well as an in-season fruit and vegetable: ground beef, apples and spaghetti squash.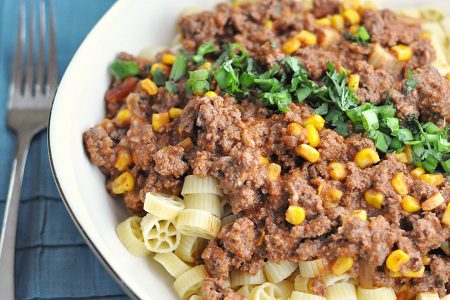 Photo Credit: Copyright Jennifer Leal, Savor the Thyme
Don't be discouraged if ground beef is not on sale as this recipe for 'Wagon Wheel Lasagna' would also be great with ground turkey or bison. This recipe is also fun due to the shaped pasta so get creative.
Apples are in-season almost year-round in one part of the U.S. or another and by pairing it with Nutella and raisin bread, you are sure to have a lunchtime favorite: Nutella & Apple Panini
Finally, spaghetti squash takes a bit more time to prepare however, you and the kids will be fascinated by it and since it in-season right now, it is on the cheap. In this recipe, you can further stretch the meal dollars by tossing in some cheese, dried cherries or cranberries (hello crasins!) and some nuts. Please give Spaghetti squash with gorgonzola, cherries & pecans a try!
Check back next week when Jen brings us more fun and easy frugal recipes to help you plan your shopping trip and keep within your budget!