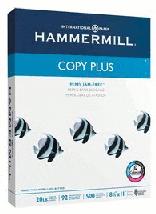 So I'm cutting my coupons today and I notice there was a coupon for Hammermill paper in the Smart Source insert.  Didn't think much of it.  Then I posted the Staples deals earlier today and wrote about a deal for Hammermill paper deal.  Didn't register one bit.  Now I'm looking through my Google reader and I notice a few bloggers posted about a money maker at Staples with the Hammermill paper…… duh!  That was the exact thought that went through my mind!  You see my oldest went to Kindergarten today so my mind has been elsewhere and I've kind of been working on auto pilot.
So here is the deal and how you can make $1.50 when you purchase the Hammermill paper at Staples this week. Actually if you have 2 copies of the coupon you can make $3.00 on this deal because the limit is 2!!
I do not NEED anymore paper however I'm not sure I can pass this deal up!
Hammermill CopyPlus copy paper, 500 sheet ream, On Sale $5.99
Get $1.00 instant savings
Get $4.49 easy rebate
Use $2.00 Hammermill Paper Coupon in 8/30/10 SS insert
Final Cost: FREE + $1.50 overage each after ER & coupon