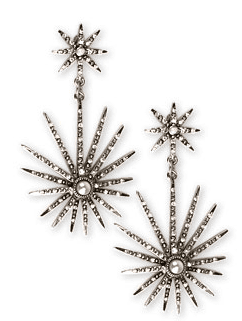 Product Name: Steve Sasco Designs Celebrity Inspired Starburst Earrings Review
Product Information: Steve Sasco Design's version of the starburst earring recently worn by Christina Aguillar, Emmauelle Chiriqui, Hillary Scott of Lady Antabellum, Kate Beckinsale, Paula Adbul and Kourtney Kardashian. As you can see, this earring is a favorite and is very popular with celebrities. Based on a design from Amrapali jewelry designs.
His costume version is 2-3/4″ long and 1-2/3″ wide. Light antique silver plating make the stones sparkle. A lovely pearl center surrounded by scattered crystal stones.
Product Price: $72.99
Purchase Information: Online at SteveSascoDesigns.com.
My Thoughts:   If you are like me, you drool over the beautiful jewelry that the stars wear to the Emmy's and Golden Globes.  I can only imagine what it would be like to wear some of those pieces of jewelry.  Most of them probably cost as much as my house!  I will never EVER be able to afford those pieces so I'm excited to have found SteveSascoDesigns.com because Steve makes jewelry like the ones that the stars wear, but at prices the everyday person can afford!  And some pieces I like even more the way he makes them.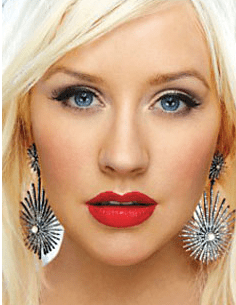 These celebrity inspired Starburst earrings are a perfect example of that.  The original version costs a lot more than these and lots of famous women have worn them.  The original earring has more of a burst (as you see on Christina to the right) and honestly I like the way Steve designed these earrings with a little less of a burst (like pictured above), but yet they still have that nice look!  And they are absolutely STUNNING in person!  They hang just enough to be noticed and the stones sparkle in the sunlight and the pearl center gives it a nice polished look.  I think these earrings need a matching necklace too!
Here are some of my favorite Steve Sasco Designs, (besides the Starburst Earrings).  Click the links to check them out:
I've had the pleasure of seeing a lot of his designs in person and they are all beautiful and well made.  He takes a lot of care in making sure each piece is perfect and he stands behind his designs.  If you aren't happy or have a problem, he is right there for you to fix it!  And all the jewelry is made right here in the USA!!!  That isn't very common anymore and the quality is there with these pieces.
If you know someone who loves jewelry and wants the pieces she wears to look NICE, then check out his site because each one of these pieces would make AWESOME holiday gifts!
Disclosure: I received a Free product for review. My opinions are 100% mine.