This post is Sponsored by Savers but my opinions are 100% my own!
My girls start talking about Halloween months before it arrives.  They usually change their minds a few times about what they want to be, but this year they both knew right away what they wanted to be for Halloween.    82% of those who usually dress up plan ahead for their costumes and don't just put something together that day—on average, these folks start preparing their costumes 75 days ahead of time. That's more than two months!
My oldest who is in 4th grade wants to be a nerd (not sure why, but I'll go with it) and my youngest who is in 2nd grade, wants to be Elsa, of course!
I have a feeling we are going to have a neighborhood full of Elsa's and Anna's!
Speaking of the neighborhood, Halloween seems to be a big thing in my neighborhood.   Between Halloween and Fall Decorations (which I just scoop all into one) there are probably as many houses decorated for this holiday, as there are for the Christmas holiday.   So this year I decided to do a little decorating myself.
I like to check out the deals at Savers and the last time I was there, I saw them setting up a HUGE section with all Halloween stuff.  I mean there was a lot going up so I was excited to head back there and see what they had.
Below are some facts from Savers about Halloween:
Halloween is one of the most popular and lighthearted holidays of the year, and people are really looking forward to celebrating with friends and family and escaping from the stresses of day-to-day life.
According to the annual Savers Halloween Survey, nearly half of adults in America plan to dress up this year and almost 90 percent of parents will dress up their children up for Halloween, so it's fun for the whole family!
What's great about Savers is that people can find a range of options and don't need to spend a fortune to have a memorable Halloween. Savers offers a wide selection of costumes for the whole family and for every budget, ranging from licensed movie characters to complete head-to-toe looks for under $20, with new Halloween accessories starting at just $1.99.
To help shoppers narrow in on their perfect costume to show off, Savers also has  specially trained Costume Consultants standing by to get the creative juices flowing. Whether building unique looks from scratch, or enhancing brand new, prepackaged costumes with unique accessories, Savers is  completely focused on helping people find exactly what they need.
And to provide further inspiration, Savers hosts free "Halloween Costume Catwalk" fashion shows at 3 p.m. every Thursday in October. Set to festive Halloween-themed music, Savers showcases the season's hottest costume looks while providing useful Halloween shopping tips.
After Halloween, a great way to keep your closet clear of clutter, help local charities and reduce waste is to donate your costume back to Savers. What goes around, comes around!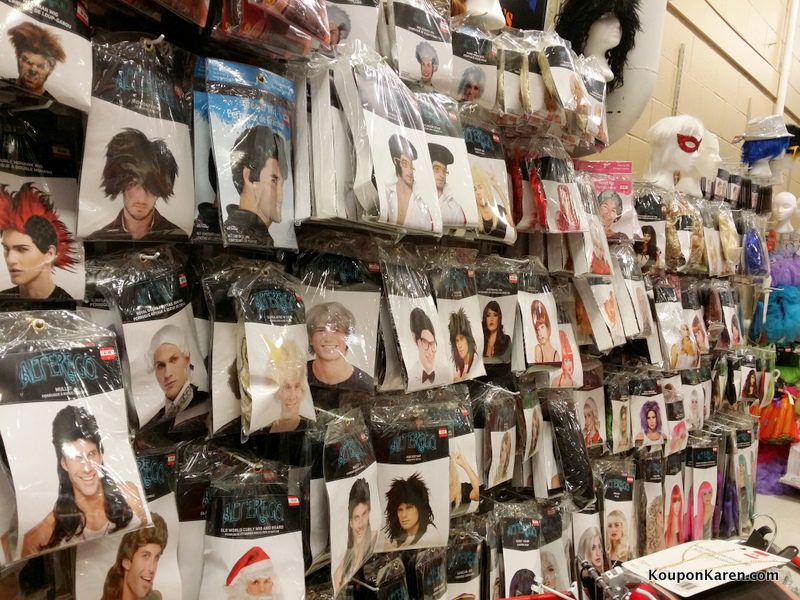 What they had was rows and rows and rows of stuff.  Like crazy Halloween central type stuff.  There was one wall full of wigs.  Wigs of all kinds as you can see from the image.  My little one needed a blonde wig for her costume,  I was going to get her an adult one but then as I looked more, I saw they had princess wigs too (of course!).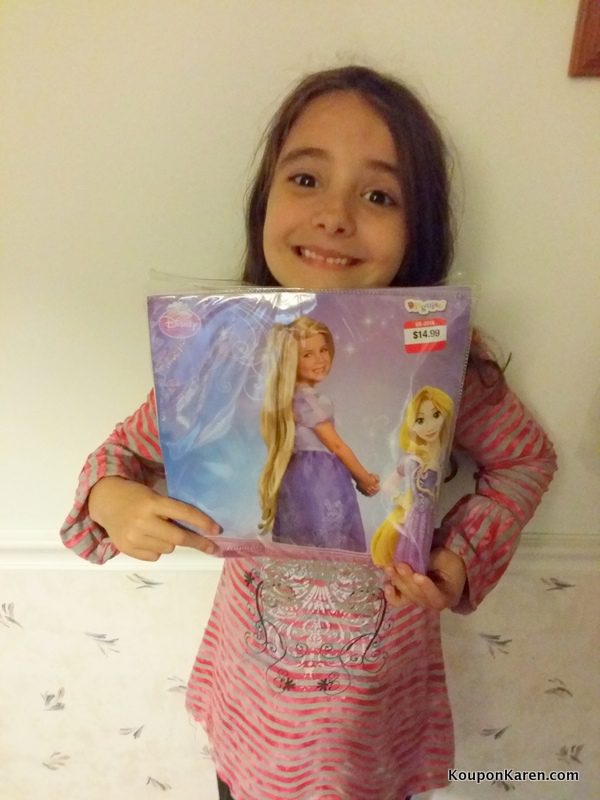 I know this wig isn't for Elsa, but we are going to be creative and turn it into an Elsa wig.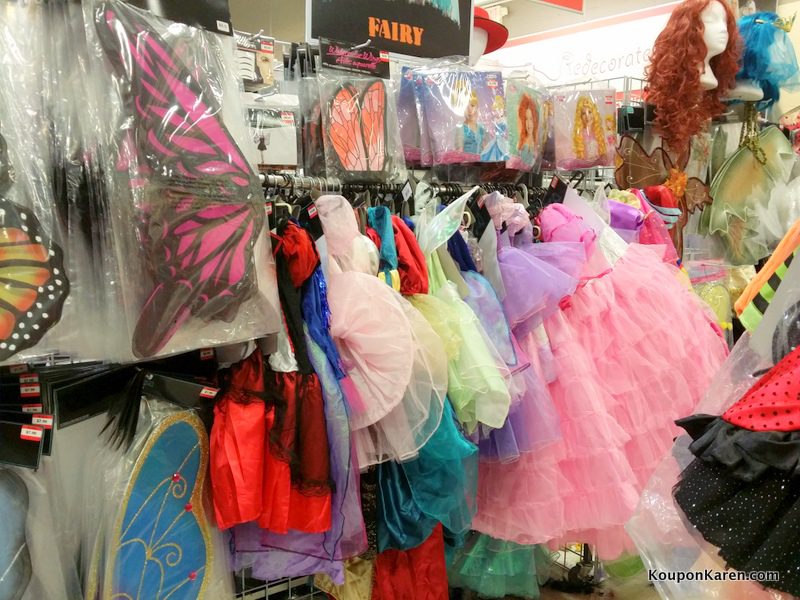 Speaking of Princesses, they had a huge section of princess dresses for the girls.  I mean look at this picture!  There were all there, and then some.  Plus there was a section of princess dresses for the mom's too!  This year, runaway Disney hit "Frozen" is the movie that Americans think will drive the most Halloween costumes, closely followed by "Teenage Mutant Ninja Turtles" and "X-Men: Days of Future Past".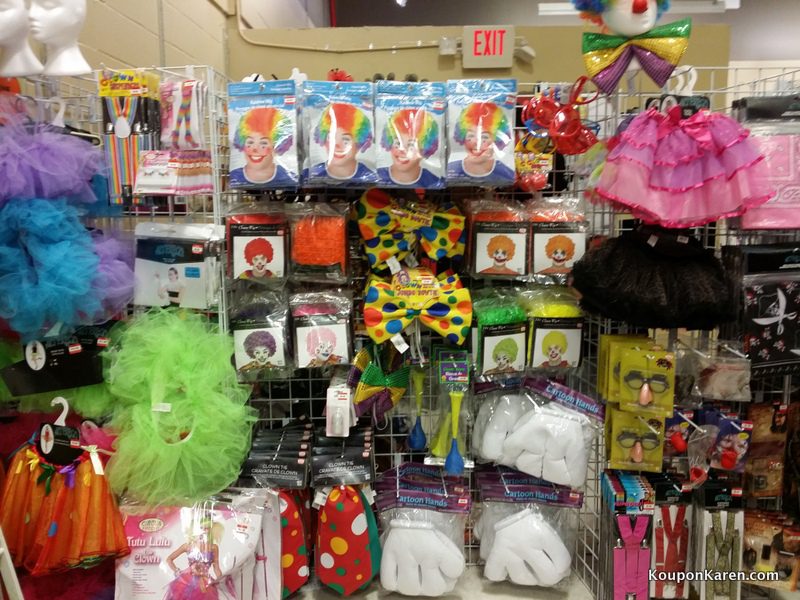 Looking for a clown costume?  Yeah they have it all for you as well from wigs, to big hands to big ties and suspenders.  You name it they have it.  Honestly I never realized how much stuff you could use to put together a clown costume.  It's crazy!
Another big section was for Goth costumes.   Now this stuff is all brand new, it's not pre-owned, but yet at GREAT prices.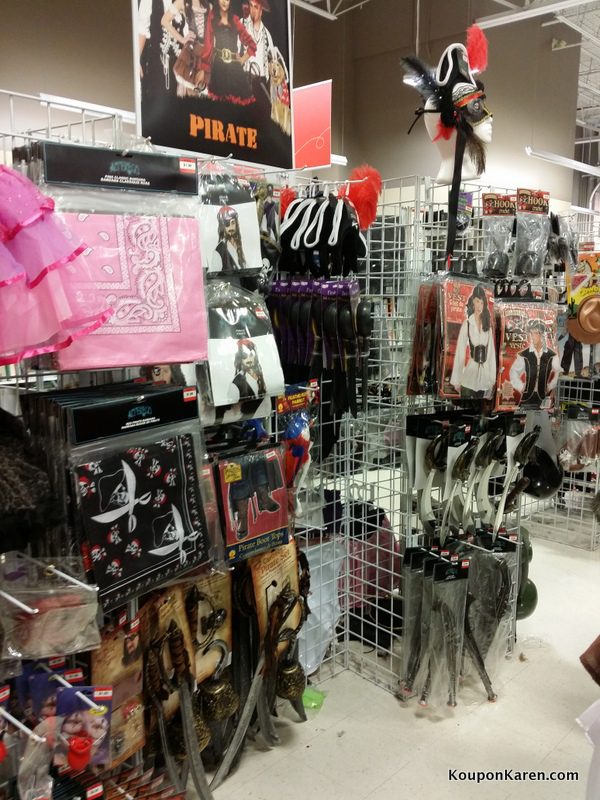 Looking for a Pirate costume?  They had a huge section just dedicated to pirates.  Swords of all sizes and costumes for boys, girls, women and men.  Again these are all priced GREAT.  88% of parents report that their children generally dress up in costumes for Halloween and 18% of parents report that their children's costumes are typically influenced by movies in some way.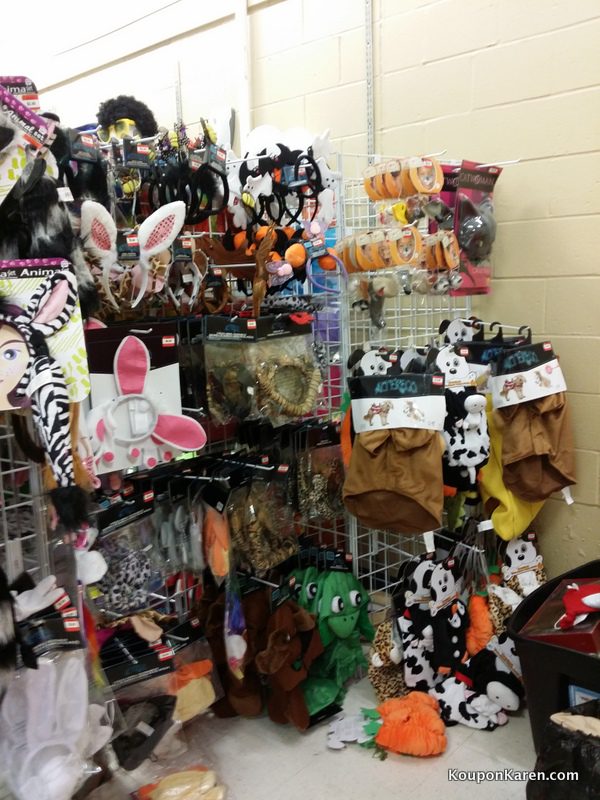 And we can't forget the pets.  They even had a section with pet costumes.  I really wanted to get one for our dog but my husband really didn't want me to put a silly costume on him.  So he won this year, but next year I'm going to do it.
Now these are all brand new costumes and accessories, but they also have pre-owned ones that are priced even better.   41% of Americans typically combine new packaged and second-hand items to create their costume—14% are even willing to make their own costume by hand! What's more, 35% agree that second-hand or thrift stores are a great place to get inspired about their costumes.
If you are looking for decorations as well, then you'll also find a great selection of decorations in the pre-owned section and the new section.  I picked up a bunch of dead people to hang from my porch where I had dead flowers (I'm really bad at keeping up with watering them).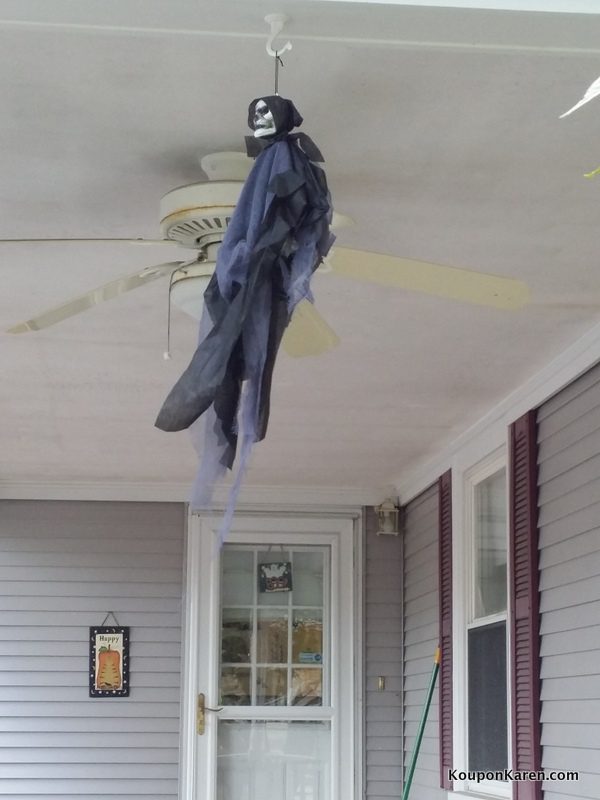 So as my friend said, I replaced the dead flowers with dead people!  I love how they look and the kids love them too.  And they were only $3.99 each!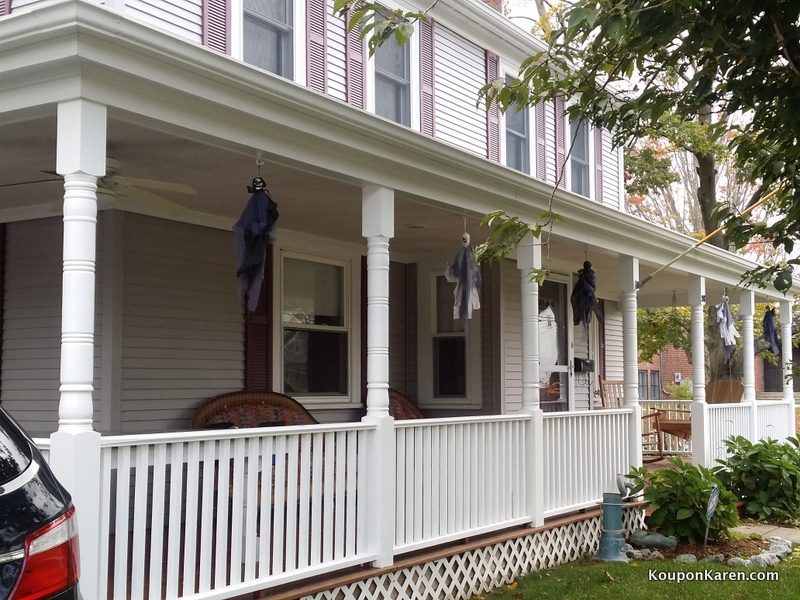 They are super cute and at that price, I'm okay if they don't make it to the next season.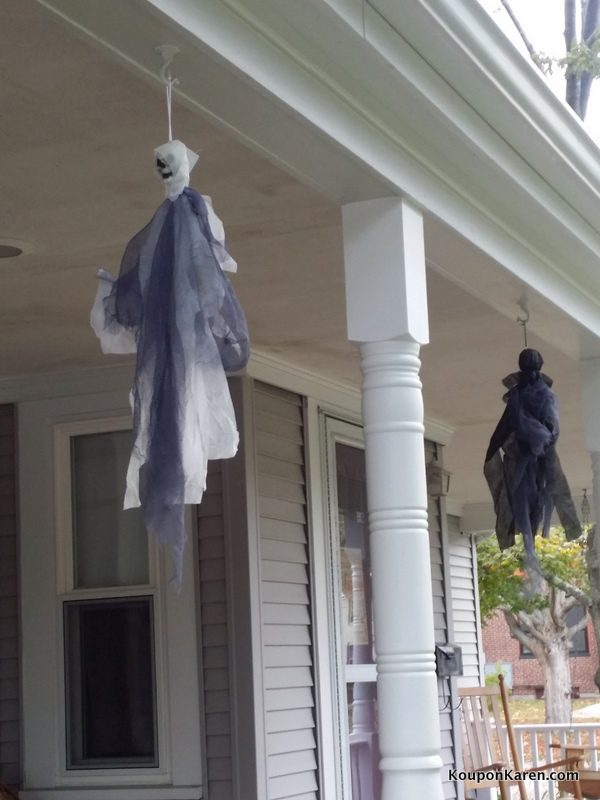 They look really cool blowing in the wind!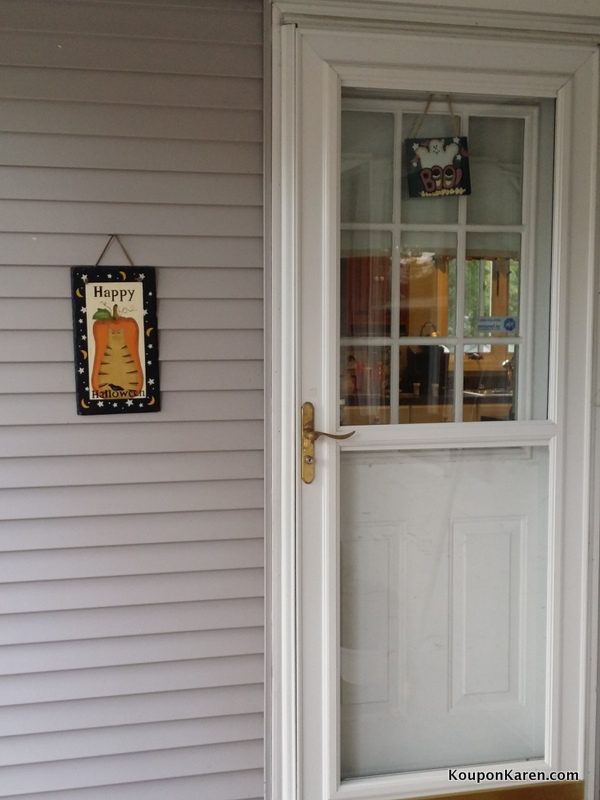 I also found some cute decorations in the pre-owned section.  This adorable Happy Halloween slate and the Boo slate were both in perfect condition and were like brand new!
My local Savers had an end cap full of decorations for fall and Halloween which were all pre-owned.  That's where I found those two slate hangings.  Lots of cute stuff and this probably changes daily.
I had to grab a bowl for all that candy we will be handing out.  I didn't have a bowl specifically for this but now I do.  My store had a couple of different designs and they were all brand new for only $3.99 each! Not bad!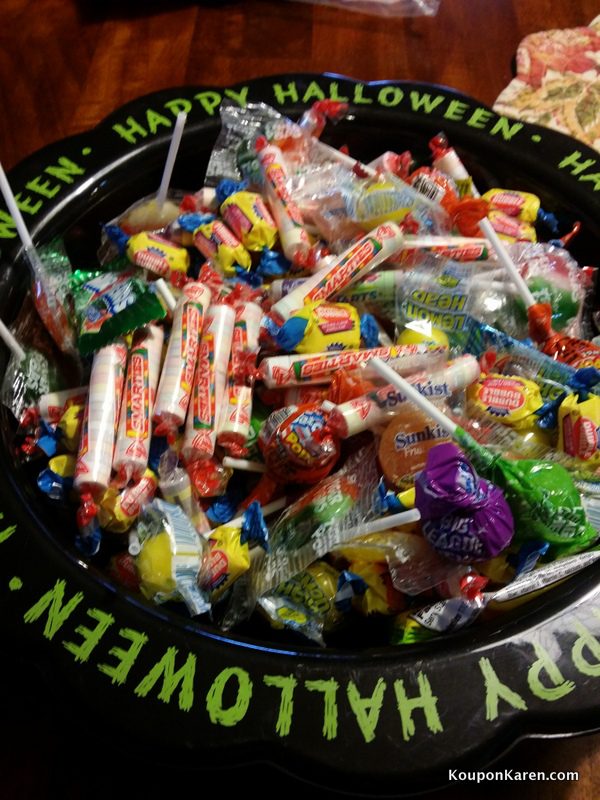 Of course now I have the candy in the bowl since I wanted to get a picture of it which means it'll all be gone by Halloween!
And I couldn't resist this cute pumpkin that I can put in the middle of my table with some candy inside.  It had a small chip in the paint but a black marker will fix that!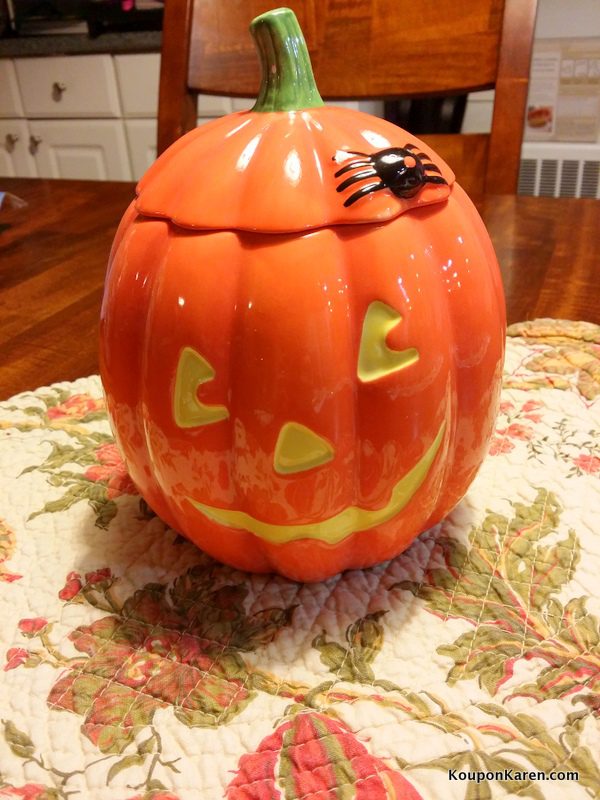 It looks really cute on my kitchen table!
Be sure to follow Savers on Social Media
Facebook: Savers
Twitter: @SaversVVillage
Instagram: Savers_Thrift
Pinterest: Savers/Value Village