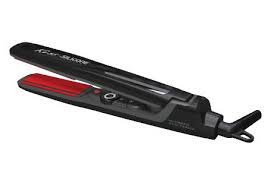 This post is Sponsored by Kiss  but my opinions are 100% my own!
When I was a teenager, I had very straight hair which I permed all the time.  I didn't like my straight hair.  Don't we always want what we don't have?  I spent a lot of money keeping it curly.  Of course that was the style then.  As I got older I didn't care so much about my hair and pretty much just went with it.  Then I started having children and my natural straight/wavy hair started curling on its own.  And guess what?  I didn't like it.  Go figure right!  So I started straightening my hair with the hair dyer but I couldn't do it like my hairdresser did.
My best friend suggested I get a hair straightener but I told her I didn't want to be bothered going through all that with my hair.  But after a while I decided to give it a try and guess what?  I was hooked!   This was probably about 4 years ago and I've used one ever since.  However I can't use just any straightener because my hair does frizz up.  The kiss silicone styler is perfect keeping my hair straighter but not frizzy.
The Kiss Silicone Styler is a 1-inch flat-iron with Silicone Technology that minimizes damage and transforms frizzy, dull hair into gorgeously straight, sleek locks.  It has two conditioning silicone bars embedded on both ceramic plates to minimize heat damage by cushioning hair and providing heat distribution.  It also seals the hair cuticle to retain moisture.  It's salon approved adjustable temperature heats up to 420°F for more heat control.  And the long, durable swivel cord provides easy styling.
The Ceramic Tourmaline Technology emits negative ions that counteract positive ions present in dry or damaged hair.  The tourmaline helps to seal moisture into the hair and counteract frizz.   And with the Silicone Technology, the silicone bars condition every strand and drastically reduce damage caused with traditional irons by providing cushioning and ensuring each hair strand preserves its shape.
The Kiss Silicone Styler sells for $25 and you can get it on Amazon.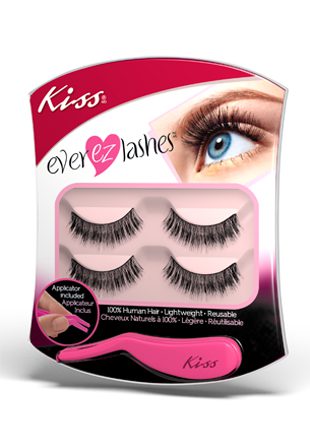 Kiss makes many products including the Kiss EverEZLashes.  I had the chance to try them out while at the BlogHer conference.  I've always wanted long eye lashes as well and have thought about getting lash extentions so I figured this would be a good way for me to see if I liked them, and a much cheaper way.   They applied them on my lashes pretty quickly.  You need to use the Kiss Strip Lash Adhesive to apply the lashes.  Once in place they didn't move and stayed on all day.  The girl told me I could try to sleep in them but they aren't really made to do that.  When I was ready to wash up at the end of the day I just pulled them off.  Because they are applied to your eyelid and not your lashes, they won't pull out your own lashes.  They came off very easily and I would totally use them again.
The  Kiss EverEZLashes and Kiss EverEZLashes Lash Trio are available in various lengths and thickness, and these lashes are made with 100% human hair and they are lightweight and reusable.
You can find these at Walgreens and they sell for $5.99 each for the Duo Lash Kits and $4.99 for the Trio Cluster Lashes.  Plus like I said above to apply lashes, they recommend using the Kiss Strip Lash Adhesive which you can also get at Walgreens for $3.99.

(1) Koupon Karen reader will win a Kiss Silicone Styler and a pack of Kiss EverEZLashes.

To enter the giveaway, use the Giveaway Tools widget below. Email and feed subscribers will need to click through to the site to enter the giveaway.
As a reminder, comments left on Facebook or Twitter will not be included. You must follow the instructions on the widget about the proper way to enter.   Of course Facebook is in no way associated with this giveaway!
Disclosure: I received a Free product for review. My opinions are 100% mine.