This shop has been compensated by Collective Bias, Inc. and its advertiser. All opinions are mine alone. #FireUpTheGrill #CollectiveBias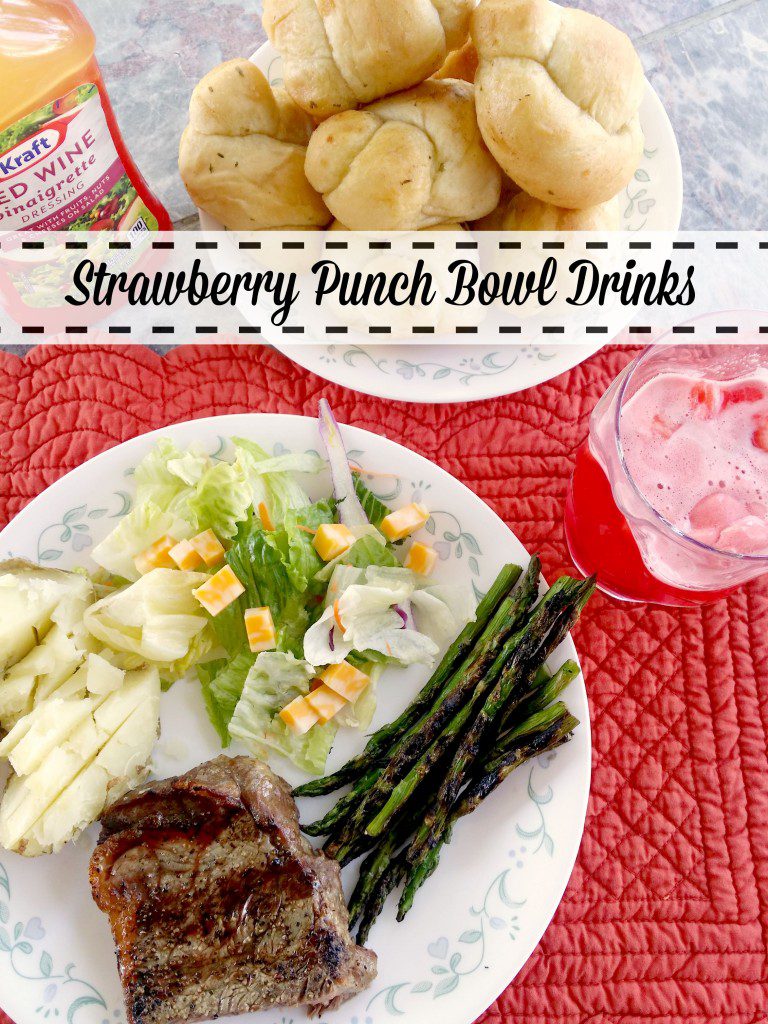 When I was a kid, a staple at every single party my mother threw was a punch bowl. I always looked forward to it. I loved the idea of adding to my drink to make it more fun. Recently it dawned on me that I have not seen a punch bowl at a party since I was a kid. I'm sure people still make them, but no one I know. So it gave me an idea, the kids are always looking for something fun when it comes to drinks, plus I try really hard to get 5 fruits and veggies into their day. So why not make a punch bowl drink in their individual glasses. Eating the fruit at the end will be a win/win for both of us!
My husband wanted to grill steaks this weekend so I figured it was the perfect time to make what I like to call Strawberry Punch Bowl drinks for the kids, to have alongside our steak dinner.  Thankfully I was able to find everything I needed at Walmart for the complete meal, drink included.  They have a huge selection of fresh vegetables and fresh fruit.  You seriously don't need to stop anywhere else.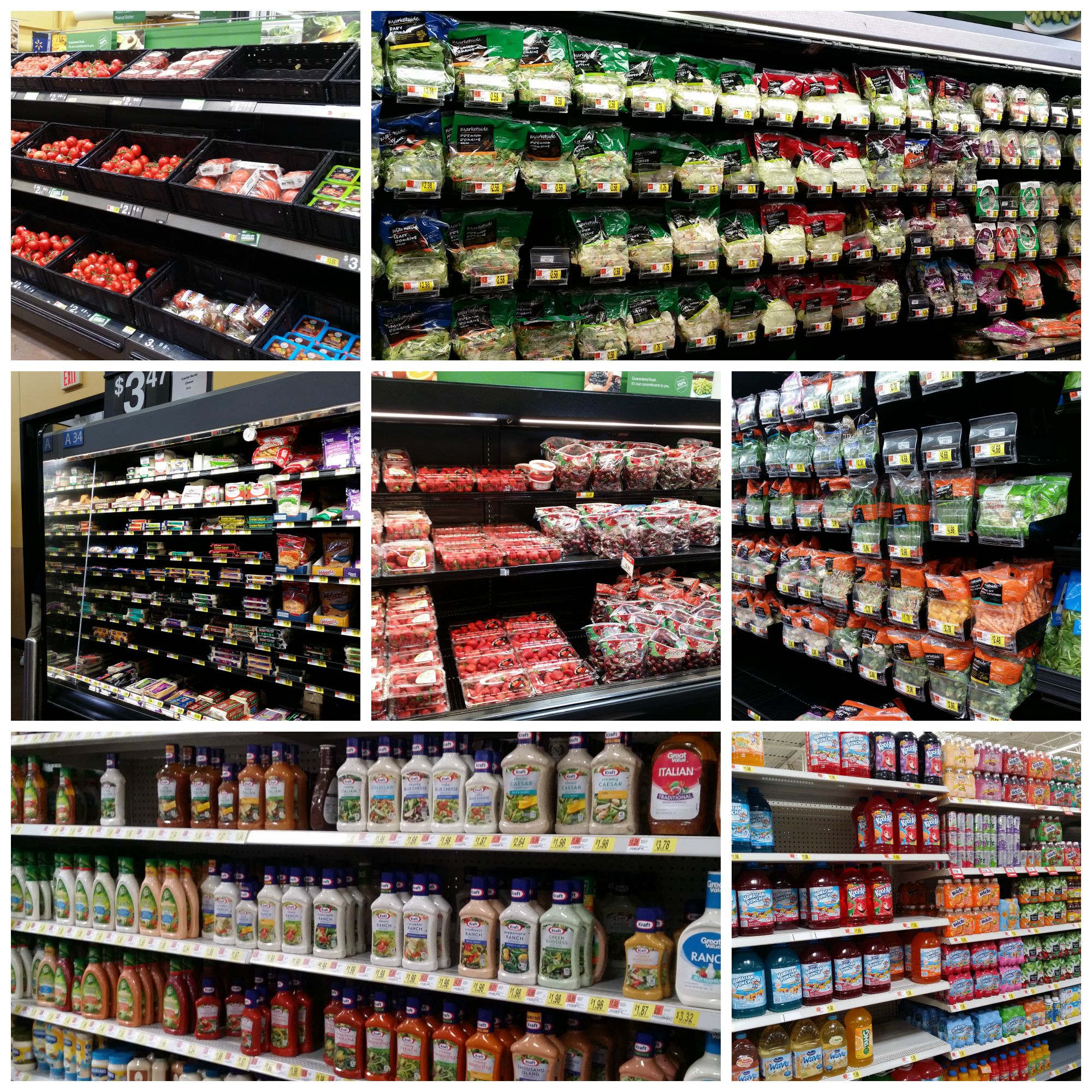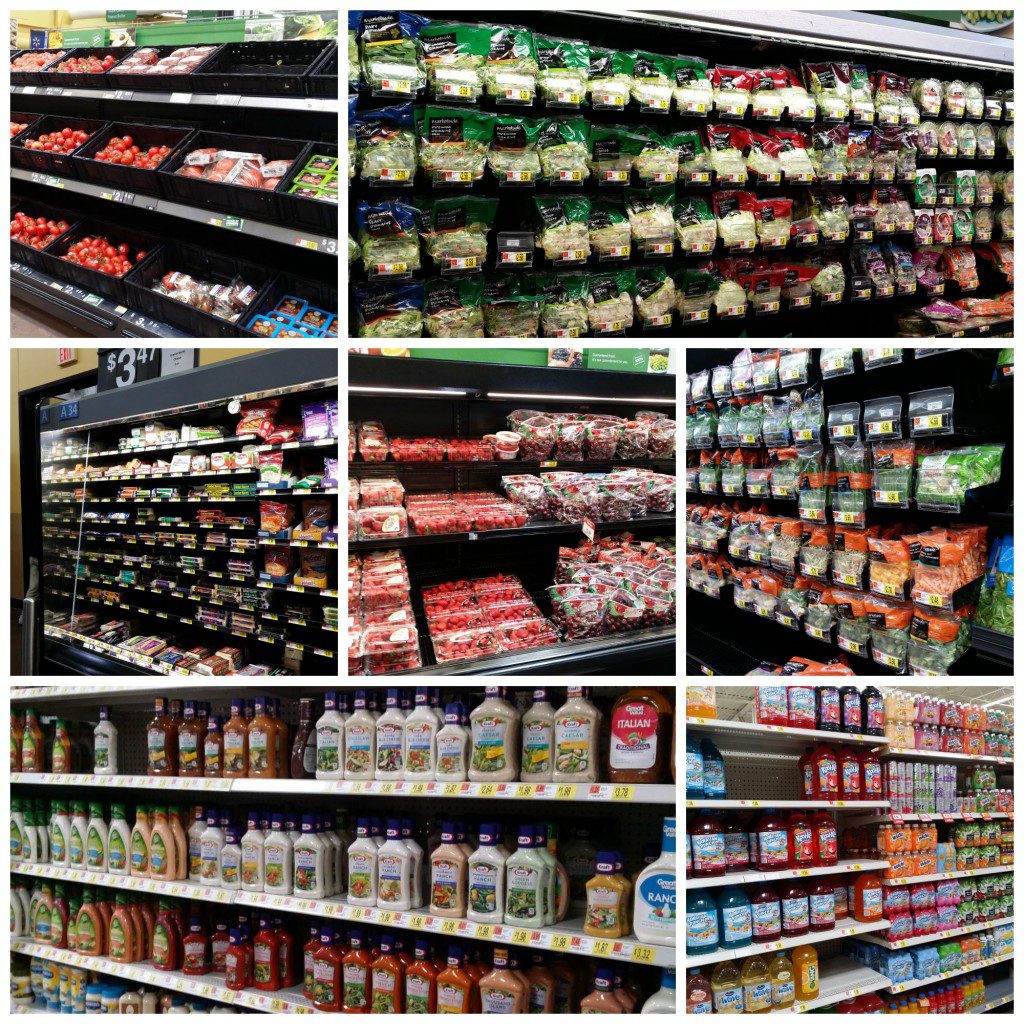 I found the strawberries in the produce section and they all looked great.  My daughter asked me if she could have some the moment we got home.  ABSOLUTELY!  I also grabbed some baking potatoes, a bag salad and asparagus spears.  We love to grill asparagus in the summer.  Actually all year-long.  I love the Walmart Marketplace bagged items because they all all washed and ready to go.  And always fresh.  Plus the asparagus was already trimmed and I could have steamed them in the bag, but that's for another time.
I found Kool Aid in the beverage aisle.  I could have used the packets and mixed it myself, but in the summertime I'm all about saving time.  We'd much rather be in the pool then in the kitchen.  The girls picked out Tropical Punch which is their favorite flavor.  I already had some sherbet at home since we usually keep this on hand in the summertime so we were all set for dinner now.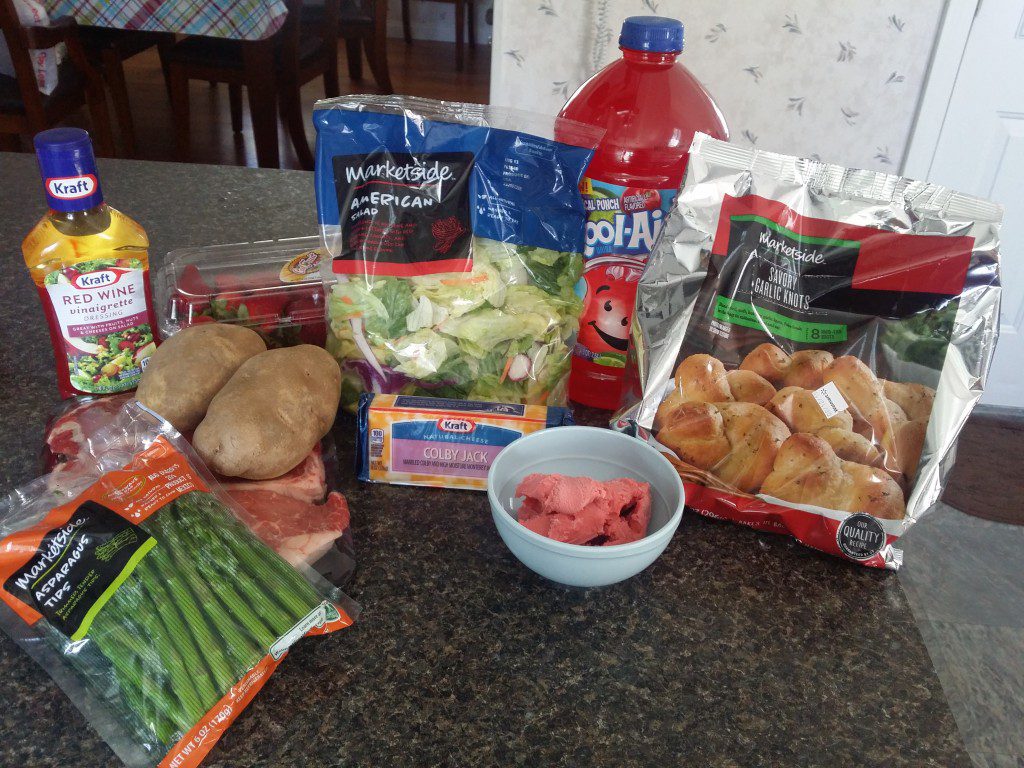 I like to have two vegetables at dinner to give the girls the option and to balance out our meal. If they like both, then that's another win for me!  Salad is a usual for us with dinner but I like to keep it different by trying new salad dressings and adding fun things to the salad. I grabbed some Kraft salad dressing and block cheese.  I love to add cheese to salad.  Not only do I enjoy it, but the kids are more likely to eat something that contains cheese.  It's all about getting them to eat what's good for them without them knowing.  (You know you do it too!)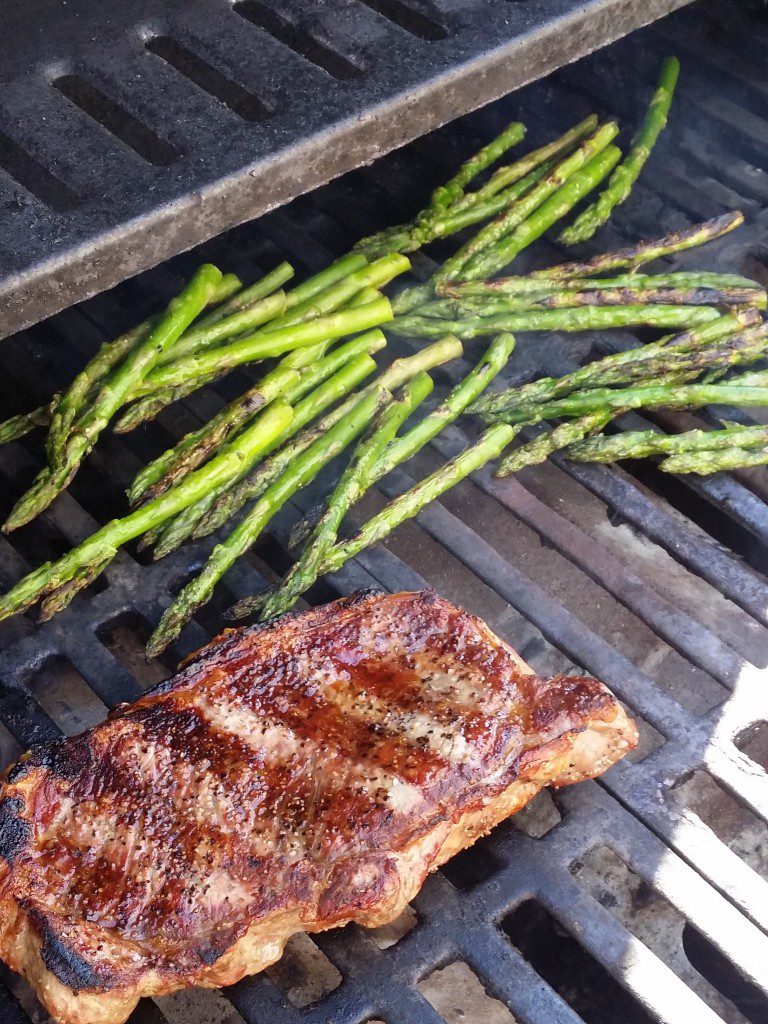 Strawberry Punch Bowl Drink Recipe
I wrapped the potatoes in foil and put them on the grill, then I drizzled some olive oil lightly on the asparagus along with salt and pepper on those and on the steaks.  Then popped them on the girl.  Next it was time to assemble the Strawberry Fruit Bowl Punch.  It's so simple.  I made it while dinner was on the grill so that by the time they drank it the sherbet would be slightly melted.  First I cut up the strawberries into bite size pieces, put them in the glass and then added a scoop of sherbet.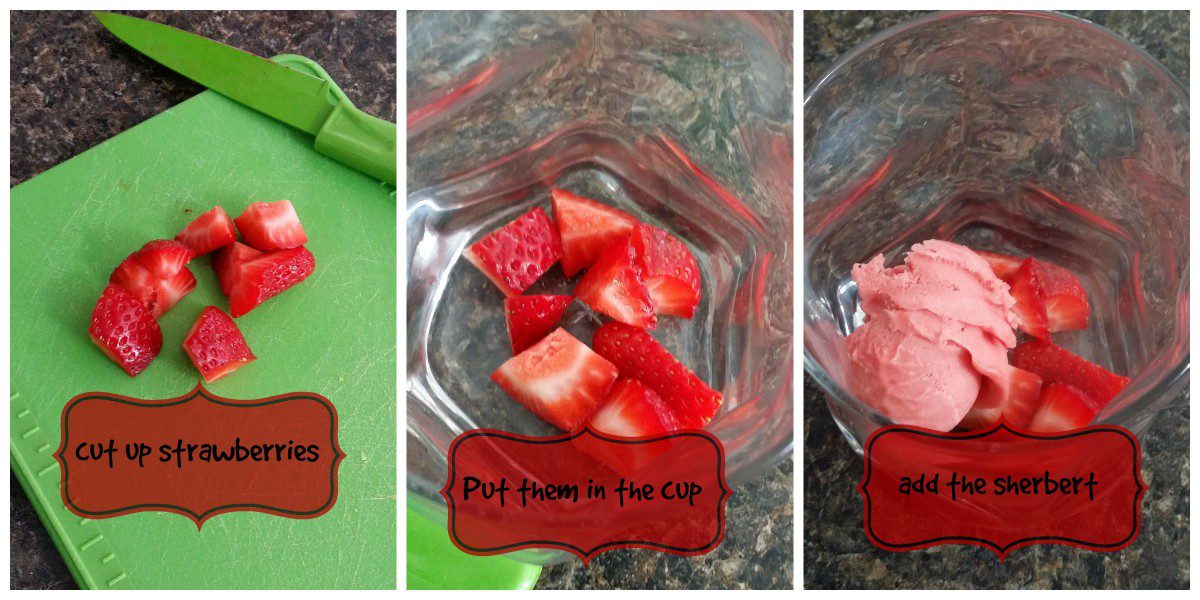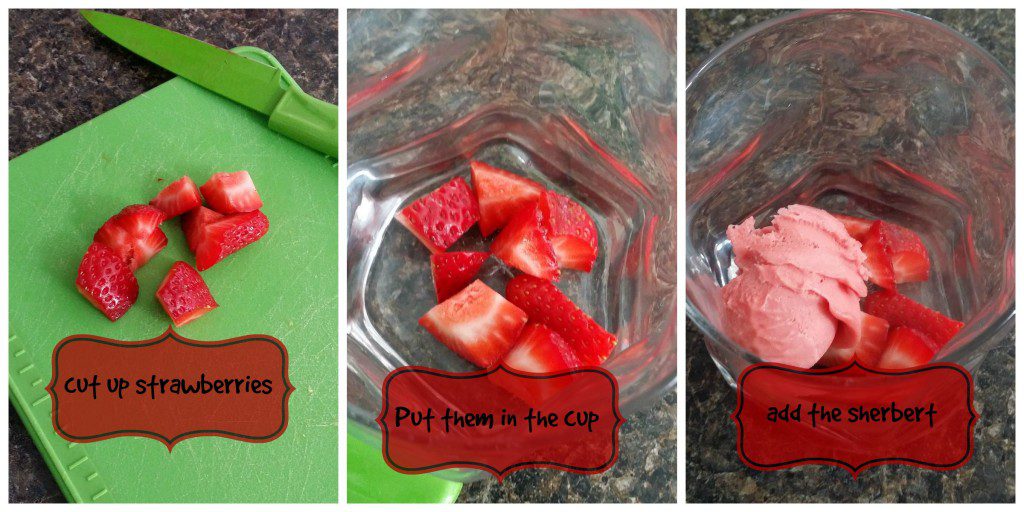 Easy right?  Now all I had to do when dinner was done, was add the Kool Aid.   You could make so many different combinations with this drink between all the flavors of Kool-Aid and all the fresh fruit.   The girls are all excited to try something different next time!
Doesn't that look delicious and refreshing!?  It sure is and the kids loved it.  And I'm happy to report that they gobbled down the strawberries at the end.  BONUS!  It was a perfect meal on a perfect summer evening and the entire family enjoyed it.  We love to sit down together at dinner to talk about our day and that's exactly what we did!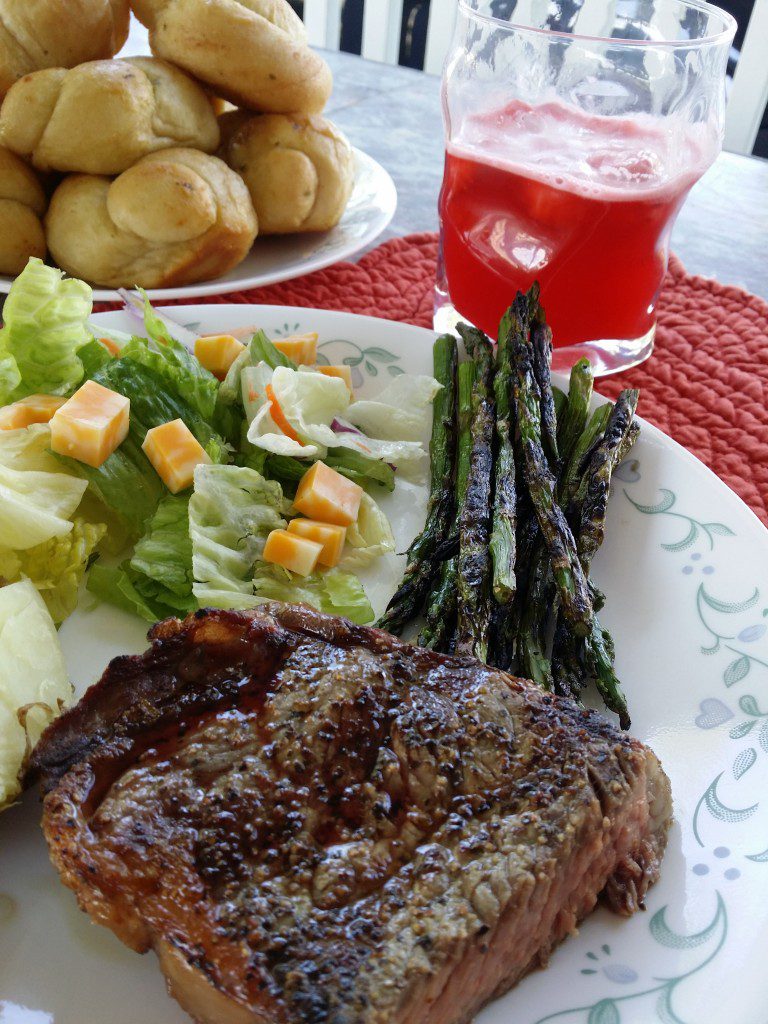 Looking for some ideas? Check out this Kraft cookbook filled with easy recipes your family will love!   Which one will you try?