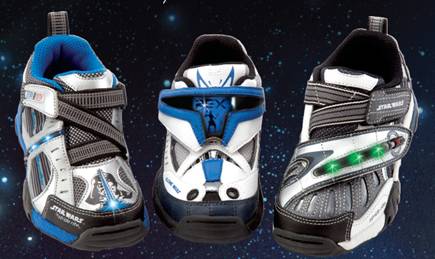 This post is Sponsored by Stride Rite but my opinions are 100% my own!
Happy Star Wars™ Day! May the 4th be with you!  I can't get tired of saying that!  I love the fact that Star Wars has its own day.  Lets face it, no matter how old you are, you know about Star Wars.  I saw the first 3 movies when I was a kid and my brother had the action figure sets (wish he still had them, my girls would love them!)  And then I saw the 2nd three movies as an adult.  And now my girls (yes I said girls!) LOVE Star Wars.  Especially my 8-year-old.  And I've found that it's not uncommon for girls to be Star Wars fans.
The 8-year-old had some Star Wars sneakers a few years ago but then the kids started making fun of her because they were boy sneakers.  But as they get older I think the kids are realizing that it's OK because so many girls are fans!
Well, Stride Rite® is ready to celebrate Star Wars Day – from May 3rd to May 5th, all Star Wars™ shoes will be 25% off online (use coupon code STARWARS) and in store.  In addition, any Jedi-in-training who tries on a pair of Star Wars™ shoes will receive a Star Wars™ themed scratch game card to enter to win a grand prize trip to the Chicago Toy & Game Fair, including tickets to a special Star Wars luncheon!
The Star Wars™ by Stride Rite® Trilogy of the Lights is an epic collection of sneakers with unique light-up technology only available through the innovation of Stride Rite. The collection features three sneaker styles inspired by Star Wars™ characters and lore, each with its own unique light-up technology.
The  Morphing Lightsaber™ sneaker features a lightsaber on the front of the shoe, which lights up with every step and will change from Yoda green to Sith red with the simple push of a button.
The Jedi to Sith sneaker with Shadow Lights technology represents the ultimate battle between both sides of the Force through the transformation of Anakin Skywalker to Darth Vader. This shoe features first-of-its-kind Light & Dark Sensor Technology that flashes blue in the brightness of day, and glows red in the shadows of darkness.
Clone Captain Rex™ 2.0 sneaker features a shoe closure that looks like a clone trooper helmet and flickers blue light to reveal Clone Captain Rex's silhouette.
My daughter loves them all.   And she's excited to get a pair and it's really good timing as her sneakers are falling apart and will not make it through the summer.  I love Stride Rite shoes and remember getting them when I was younger and now I buy the for my kids.  Yes I can pay less somewhere else but they seriously do not last very long and I end up spending the same amount on two pair, rather than one in the first place.
Disclosure: I received a Free product for review. My opinions are 100% mine.