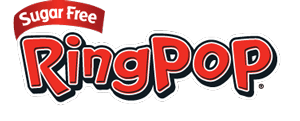 I loved Ring Pops as a kid.  It was cool having a BIG ring on my finger and the fact that it tasted so good, just made it even better.  Now that I'm a mom, I cringe at the thought of all the sugar going into their  mouths and then when you factor in that it can take like an hour to eat the entire Ring Pop, well lets just say I wasn't a huge fan of them and they were only for a Special treat.
That changed the day that I received a bag of Sugar Free Ring Pops.  I was very excited because I know how much I enjoyed my rings so I'm happy that my girls can too.  But of course I was curious, how good are they if they are sugar free.   The bag I received had 3 ring pops, which was perfect; one for me and one for each of my girls.  Dad didn't get any but I think he was OK with that.
They are sweetened with Splenda  (I know some people are bothered by that but honestly I'm not), fat free, sugar free and only 30 calories per pop.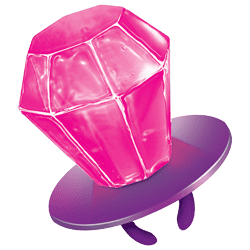 I had the strawberry since it's my favorite flavor and I'm the mom so I got to pick first.  I will be very honest with you, it didn't taste like the Ring Pops I remember that were full of sugar and so sweet.     You could definitely tell that the real sugar was missing.    However it also didn't taste that bad.   Of course my daughter's didn't notice a difference at all.  They are kids and these things don't faze them much, as long as it looks like sugar, they like it.
Sugar Free Ring Pop comes in three mouth-watering flavors: Blue Raspberry, Watermelon, and Strawberry!
Giveaway: (1) Koupon Karen reader receive a bag of 3 ring pops to try for themselves!
How to Enter: Just leave me a comment and tell me what you think of about Sugar Free Pop Rings or what is your all-time favorite Ring Pop flavor?? That's all!
Extra Entries: Once you do the above mandatory entry you can do any of the following an earn up to 5  more entries:
Details:  This giveaway is open to US residents only and will end May 19th at 11:59pm.  The winner will be randomly picked and announced shortly after and will have 48 hours to claim their prize or I will randomly pick another winner.
Disclosure: (The manufacturer sent me this product FREE to give an honest review. They also sent me extra for the winner.  I received no other compensation for this post. My thoughts are my own and were not affected by this.)