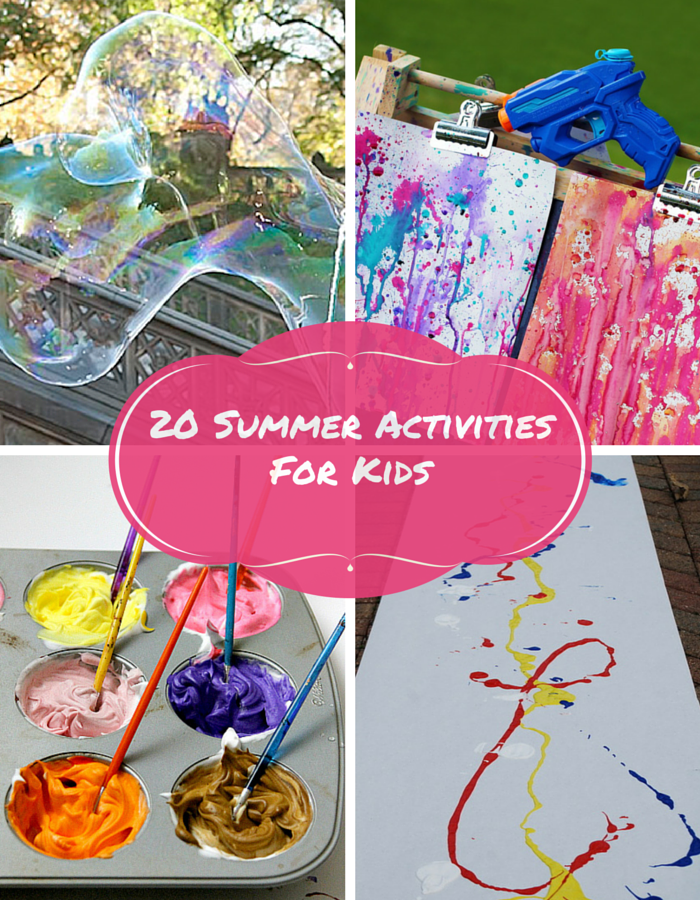 Summer is here and the kids are out of school.  While my girls do play well together and independantly, there are times when I need to occupy them with activities.   Some weeks it's difficult to think fun things day after day.  That's when I turned to Pinterest for some ideas. Check below for 20 summer activities that will keep your kids busy at any point in the day!
20 Summer Activities to Keep Kids Active
Get them Moving
Glow-in-the-Dark Volleyball | Me. Myself, and Tena – Looking for an evening activity to get the kids moving?  Then use these great tips on how to have a glow-tastic night of volleyball!
Noodle Wicket Ball | My Kids' Adventures – Get the kids to play a game together and use their pool noodles while they're at it!
Backyard Obstacle Course | Imagination Soup – Get the kids moving while using your backyard for an awesome obstacle course!
Exercise Cube | Little Family Fun – Afraid your kids might not be getting enough exercise?  Make it fun with this cube!
Bubble Fun
Rainbow Bubble Snake | Viral Nova – Let the kids learn a whole new way to blow bubbles and in multiple colors to boot!
How to Make Amazingly Huge Bubbles | Baby Savers – Everyone loves bubbles, right?! Try this step-by-step for making huge bubbles with ease!
Water Fun
Spongeball Toss | Passion for Savings – Summer isn't summer without a lot of wet activities! Then try this ball toss to get the kids cooled off.
Water Blob | Homemade Toast – Sometimes those fancy water toys are just too expensive. Blow your kids away with this neat DIY water blob.
Water Balloon Piñatas | Milk Allergy Mom – Do your kids love water ballons? Then let them kids soak themselves with this little twist to water balloon fighting!
Paint Outside
Squirt Gun Painting | Fireflies and Mud Pies – This activity has taken the classic squirt gun and turned it in to an art style.
Paint Filled Eggs on Canvas | Growing a Jeweled Rose – We all use eggs, right? Then use the leftover eggshells for something useful that the kids can play with!
Painting with Feet | Home Grown Friends – Summer is great for getting messy.  Why not let the kids use their feet this time around to paint you those pretty fridge pictures?
Outside Twister | Buzz Feed – If you don't mind a little paint on your lawn, use it to play a larger version of Twister!
Outdoor Fun
Ice Block Treasure Hunt | Listotic – Keep your young ones busy as they wait for their ice block to melt so they can get the surprises out!
Nature Scavenger Hunt | The Taylor House – Are the kids spending too much time insdie?  Then send them outside to get a little closer to nature while doing this little hunt.
Backyard Game Board | The 36th Avenue – Add this game board to all your backyard fun to keep the kids playing for hours.
Ice Chalk | Reading Confetti – Ice Chalk is not only fun, but it's a good activity to keep kids cool while letting them make art!
Fun Indoors
Shaving Cream Bathtub Paint | Mom Dot – At night, when the kids are cleaning up from the day's activities, give them this to occupy them in the tub.
Microscope Experiments
| Microscope.com – Have fun learning activities using a
kids microscope
. Gather materials available at home like sugar, salt, pepper, or onion and let kids observe these using an easy-to-use and affordable kids microscope. This activity presents a 100% wow factor as kids can differentiate each item based on what they'll discover under the scope. Give them a notebook to take down and compare notes. This is a great way to help kids uncover their love for science and to start training them as young scientists.
Which of these Summer Activities are you going to try with your kids?