"I participate in this program on behalf of Champions for Kids and The Motherhood. All opinions are my own."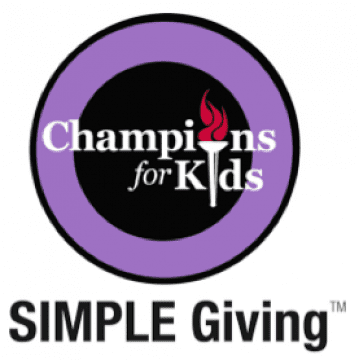 My parents taught me to give by example.  I don't really know any other way of doing things.
This summer has been a little different for my family.   We had to change the way we do things because my husband has been dealing with some health issues.   We've also had a ton of friends who have gone beyond their normal duty of being a friend, to make sure my family got what they needed, when they needed it.  I didn't realize the love and support that we were surrounded with,  until this past summer and it's been a great feeling.
It makes me think of others that always need help and it breaks my heart when I think of the children.  Our girls don't want or need for anything because thankfully my husband and I can supply that for them.  But I do know that isn't the norm everywhere.  Not all parents can provide everything their children need.  That doesn't make them bad parents at all, but as a parent, I know how hard that is on them.  I also know it's not easy to ask for help – I learned that this summer as well.
It fills my heart to learn about organizations that help those families and especially those that have the kids best interest in mind.  After all, these kids can't do it themselves so it's nice to have companies thinking about them.  One program I had not heard of until earlier this summer is Champions for Kids.  You may remember I've spoken about this organization a few times and my family and I have been donating where we can this summer, because of the influence of Champions for Kids.  And we will continue to throughout the year.
About Champions for Kids

Champions for Kids makes it simple to give children in local communities the resources they need to thrive. Helping others does not have to come in large doses. Champions for Kids seeks to ignite generational change by fostering a 'habit of giving' among youth and parents in America. The core values of Champions for Kids are simple, yet profound, and drive their efforts to "mobilize millions" to help children — All children should have: Someone who cares; a Place to belong; Hope for tomorrow and provisions for their journey. All children.
I agree that all children should have someone who cares, a place to belong and a hope for tomorrow.  I show my girls everyday that I care, and my husband and I work daily to give them a good, loving home and we try so hard to provide the guidance they need to have a wonderful, loving, bright and hopeful future.  Being a parent is hard but the rewards we get are AMAZING.
So back to what we did this summer!  For the entire month of July, we did a Simple Service Project and asked friends and family to help us collect Dole Fruit Cups and Dole Squish 'ems that we would then donate to a local food back.
Why did we do this?
About SIMPLE Service Projects

Throughout the month of August, Champions for Kids is partnering with Dole to encourage community projects across the country benefiting children in need. Called SIMPLE Service Projects, the idea is to host or organize an event to collect snack foods that you would then donate to a local organization that serves children in need, such as a food pantry, after-school program or daycare center.
We love Dole snacks and always have some fruit cups in our fridge.  My girls especially love the mandarin oranges and often take them to school for snacks.   They were excited to participate in this Simple Service Project because they know how much they enjoy Dole products and they wanted to give these yummy snacks to those that don't have them.
Our Summer of #SIMPLEGiving and Dole Food Drive
We spend a lot of time in our pool and we always have friends and family over enjoying it as well.  So we asked our friends and family to bring us a Dole product each time they came over to swim in our pool.   My girls and I agreed this was a very simple service to do and they were excited to start collecting!  They even decorated a box to put the Dole products in.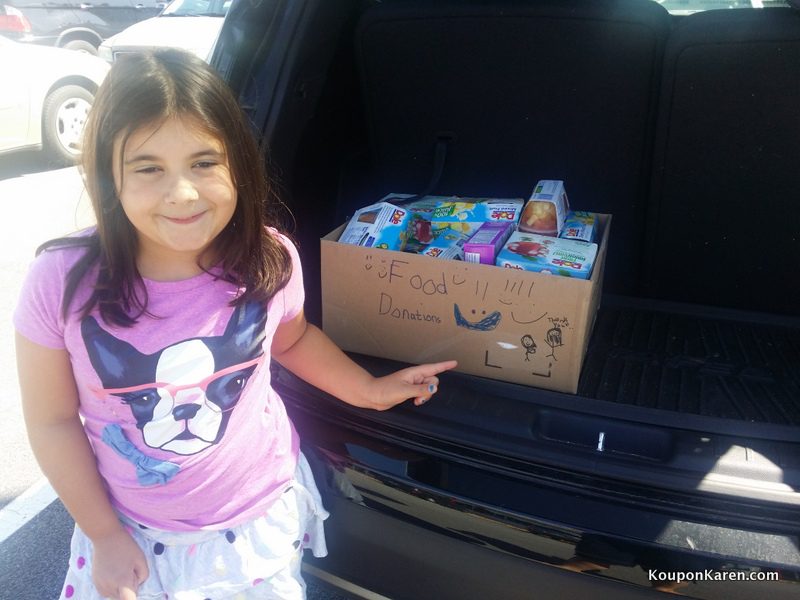 (The sun was really bright so they had a hard time keeping their eyes open!)
Dole offers a number of terrific, portable and nutritious snacks perfect for game day, including Dole Fruit Bowls and Dole Fruit Squish'ems which are squeezable fruit pouches that are a delicious and nutritious and a fun squeeze away. Fruit Squish'ems gives parents an easy way to get more fruit/healthy snacks into their kids' diets. Each pouch contains 1 Full Serving of All Natural Fruit that has 60 calories and contains 20% daily value of vitamin C. Dole Fruit Squish'ems is made with Fresh Apples only from the USA and have no High Fructose Corn Syrup or any artificial flavors.
Dole Fruit Bowls come in many varieties, including fruit in 100% juice, fruit packed in gel, or fruit with no sugar added. Dole offers lots of choices, such as pineapple, tropical fruit, pears, peaches, apples and more, so there is something for every taste.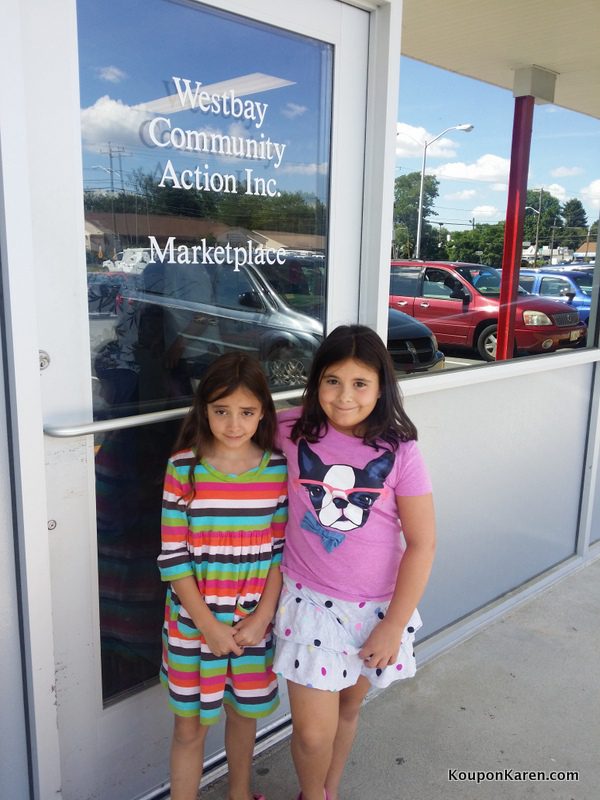 This past week we brought our collection of Dole products to our local food bank – Westbay Community Action Marketplace and they were thrilled to receive them.  The box weighed over 22 pounds which made me very happy!!!   I choose this location because it's in our community and I wanted to make sure these benefited those around us.  Our school donates to Westbay Community Action Marketplace every month through a monthly food drive at school, so it made sense to continue our service to them.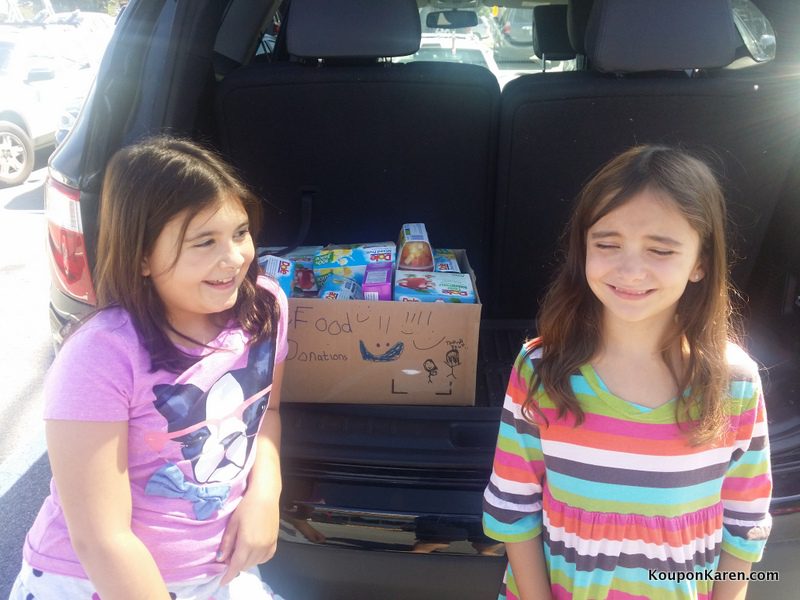 (again, the sun was a huge problem for the girls!)
It felt good to do this for our community.  And it meant even more to me this summer, because of all the things that have been done for us through our difficult time.   I also thought it would be a good lesson for my girls to learn to pay it forward.  I think it definitely made a difference to them.  We've talked about doing another food drive this month too.  I love how it got their minds moving forward – and about paying it forward.
Organizing a food drive in your neighborhood is very easy.  Especially with social media.  You can easily ask your friends and family to help out via Facebook, Twitter and even Instagram.  Because of these mediums, we can reach so many more people than we have been able to in the past and in turn, it'll help to raise even more awareness for your Food Drive.   While the summer may be almost over, it's never too late to pay it forward.
I'm so thankful for The Motherhood and Champions for Kids for letting us participate in this awesome program and for pointing us in a direction of giving this summer and helping those around us.  It was something that my family really needed to do and it really opened up our hearts.
Giving always makes me feel good!