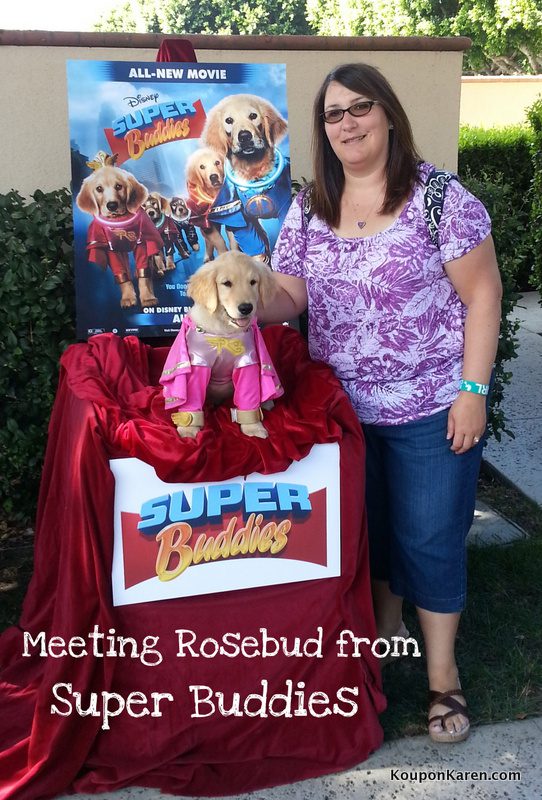 Disclosure: This event and trip to LA was an all expense paid journey sponsored by Disney.  All thoughts, experiences are 100% my own!
While in Los Angles earlier this month to attend the Planes Premiere, I also had a chance to meet Rosebud from the NEW Super Buddies, take a picture with her and talk with Ray, one of  Rosebud's trainers.  The dog we met is actually Cooper and is a boy.  They go more by the color of the dog for each part then whether it's a boy or a girl.  That part really doesn't matter in Hollywood.   I found our meeting with them pretty interesting and I learned a lot about working with dogs.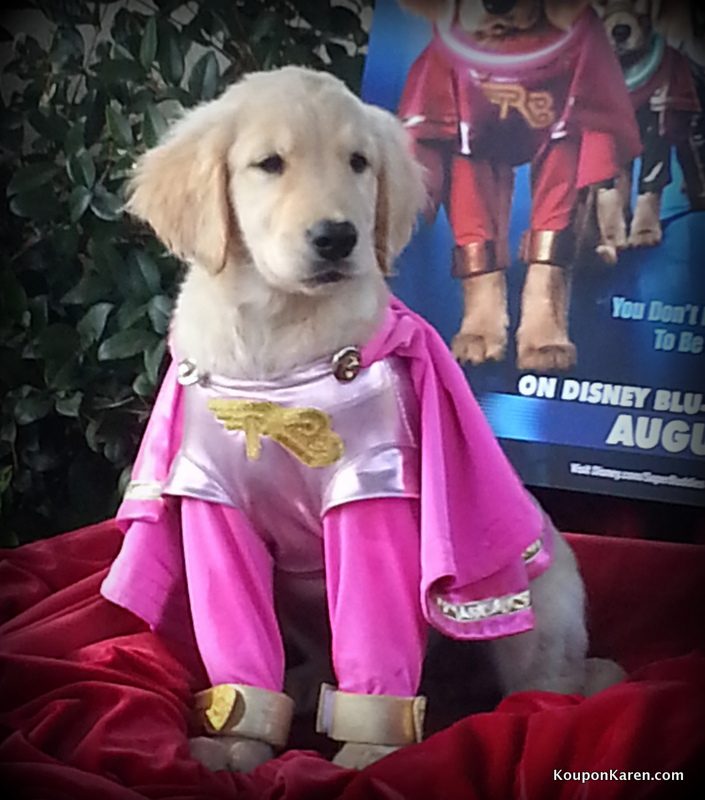 We love all the buddies movies but I never really thought about how hard it must be for them to film with all those dogs.  He filled us in on some ways they do it but of course the Disney Magic is really behind it all.   The puppies go through 2 weeks of training when they are 8 weeks old, then work for 4 weeks and retire by 14 weeks.     I found this to be a short time but when he pointed out how fast they grow, it totally made sense to me.   Which is why they have about 4-6 puppies per character which they get from breeders all over the US.   Most films use about 2-3 liters of dogs to film the entire movie.
After the dogs retire, they find homes for them.   Lots of times cast members will adopt them but if that isn't the case they will go back to the breeder.  But all the dogs have homes after they are done being movie stars.   Lots of the crew have dogs from earlier shows and bring them on set from time to time so everyone can see how they've grown.  My guess is these dogs are in high demand and probably have more homes than they need.  I think it would be pretty cool to adopt one of them after they are done filming.   And my guess is they are very well-trained at that point!
Cooper was very well behaved the entire time we were there.    There were well over 25 people standing around ohhing at this adorable dog and Copper just sat there looking at us and behaved so well.  A few times he did attempt to jump from the platform but only a few.   And each time Ray just sat him back up and he Cooper stayed.   Ray is very good with Cooper and Cooper responded so well to Ray.   I can see they have a very good relationship.    Working with these furry actors may be a struggle, but Ray doesn't seem to be bothered by it at all.
Another thing I found interesting that Ray shared with us is that most scenes where all the dogs are present, are actually shot individually with each dog, then put together.   The dogs don't actually "respond" or "answer" to the actor, but to their own trainers and there are usually 2 dogs per trainer.  So it's much easier for them to shoot each part without the distractions of the other trainers.  However, he did say there is one shot where they are all walking down the street that they did shot with all dogs in the scene.  The director wanted to try it that way and Ray said it was a success.  But my guess is it took much longer than the other shots did!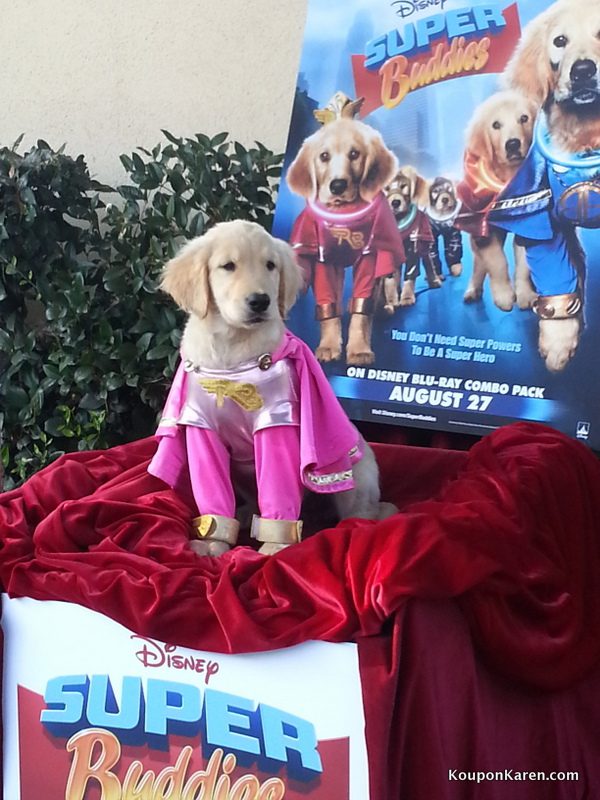 The Highly-Anticipated All-New 'Disney BUDDIES' Movie debuted on Blu-ray™ Combo Pack & DVD today, August 27, 2013.    If you love Disney's buddies, then you'll be happy to know they are just as furry and adorable as they have been in the past!   It's a hilarious movie for the whole family and stars the world's most adorable talking puppies – Rosebud, B-Dawg, Budderball, Buddha and Mudbud, as caped crusaders em'barking' on their biggest adventure ever.
You can pick up the 2-Disc Blu-ray™ Combo Pack (Blu-ray + DVD + Digital Copy) for the suggested retail price of $36.99 U.S. and a 1-Disc DVD (includes Digital Copy) for the suggested retail price of $29.99 U.S.
ABOUT SUPPER BUDDIES
 An ordinary day at Fernfield Farms turns extraordinary when Budderball, Mudbud, B-Dawg, Buddha and Rosebud discover mysterious rings that grant them each a unique super power. Before you can say, "Buddies, assemble," the pups unleash their amazing abilities and race to the rescue when a shape-shifting bully from outer space threatens the planet. But can they succeed in kicking major tail without revealing their new secret identities?
This is definitely a must-own movie that is packed with laughter, action and incredible new characters, 'SUPER BUDDIES' proves when you use your wits and work together, you don't need super powers to be a super hero!
Here is a clip with Rosebud…
So there are some things to think about as you watch Super Buddies with your little ones.  It's a really cute movie as are most Buddies movies, and the puppies all did a great job.  But when I was watching it the other day, I couldn't help but think about how Ray was on the sidelines with Rosebud, 'directing' her.
Disclosure: I received a FREE Trip to Los Angeles to attend the #DisneyPlanesPremiere and #LittleMermaidEvent.   And even though there was a lot of Disney Magic happening, My opinions are still 100% mine.