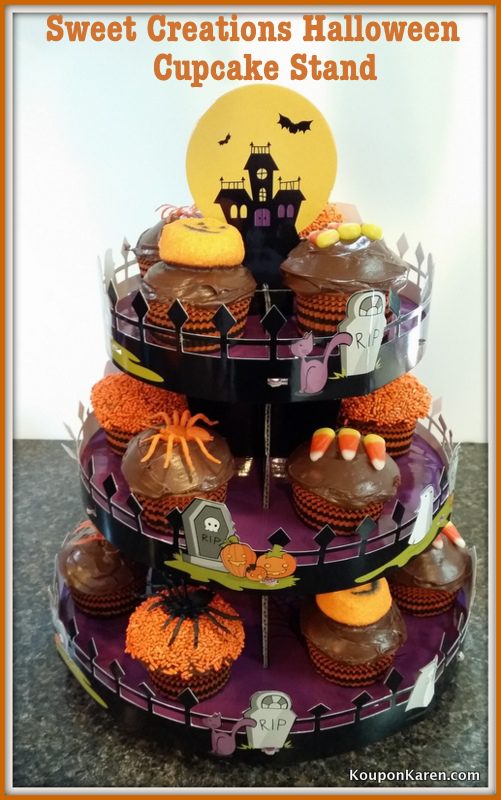 This post is Sponsored by Good Cook but my opinions are 100% my own!
As a Good Cook Kitchen Expert, I receive items to play with, I mean review. We received a few Halloween goodies this time and I really enjoyed using them. Earlier this week I posted the Haunted House Cookie Cutter set. If you missed it I suggest you check it out. It's a pretty cool set to have to use over and over again.
Good Cook has a line of products under the Sweet Creations name that makes baking fun. I mean baking is already fun but when you have fun things to use with your baking, then it gets even more fun, right? I received the Haunted Cupcake Display to use to display some fun Halloween Cupcakes. My kids were thrilled when I put it together because they knew the next thing I'd be doing is making cupcakes!
The stand was super simple to put together and I'll be able to keep it and use it again next year because it'll be just as easy to unassemble and store with my Halloween stuff. The Cupcake Stand is crafted from corrugated cardboard, so it's very sturdy. This thing could hold a lot of cupcakes and is built really well. It features three tiers that will hold up to 24 of your best cupcakes, depending on how big they are. The stand is trimmed with Halloween art, from haunted house to bats, pumpkins, and ghosts. It's not only functional to hold your baked goods, but it looks nice too!  You can grab this cupcake stand for only $12.99 on the Good Cook website.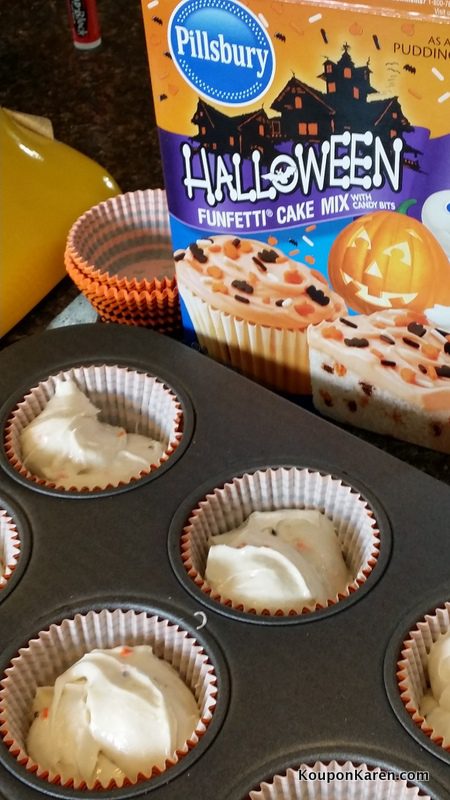 Once the cupcake stand was put together, I began baking! I used some Halloween funfetti cupcake mix because after all, these were for Halloween!  The girls like this mix so I try to use it when I can.  Opening up the cupcake and seeing the fun sprinkles making eating it more fun too!   I decided I wanted to decorate them all different ways.  I picked up some Pumpkin Peeps, Candy Corn and Orange Sprinkles.   I also used some of the left over plastic bugs I had from the making my haunted house.   I just wanted them to be fun!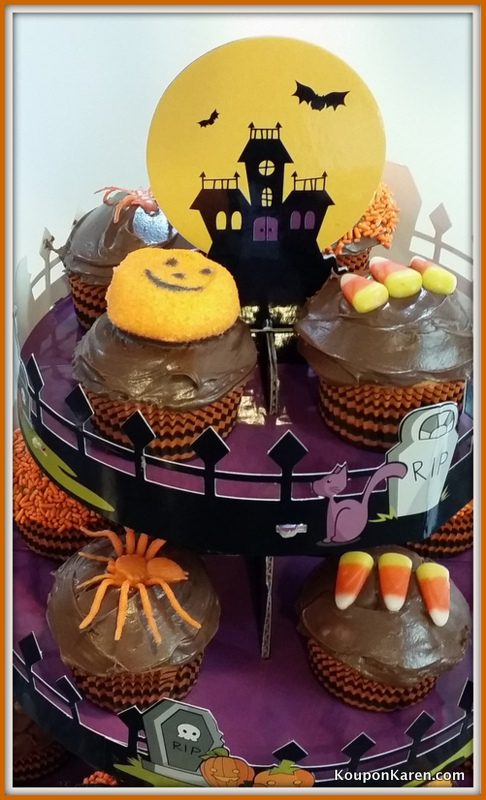 And I think I succeeded!   And notice the Orange and Black Cupcake Papers ….. those are also from Sweet Creations and Good Cook too and they were perfect for my Halloween cupcakes.  You can grab those for $2.99 for a 50 count pack.
The girls are dying to dig into these but they have to wait until tomorrow because I made these for our school's Halloween themed fall festival tomorrow afternoon.  But I promised them that two of these cupcakes are for them.  I'm guessing they will be pretty popular with the kids.  Especially the ones with the bugs!
If this looks like something you'd like to make this Halloween, head on over to
Goodcook.com
and use coupon code
HAUNTED23
to save 25% off any Sweet Creations Halloween product.
Disclosure: I received a Free product for review. My opinions are 100% mine.