Tangled debuts as the Ultimate 4-Disc Disney Blu-ray™ Combo Pack on March 29, 2011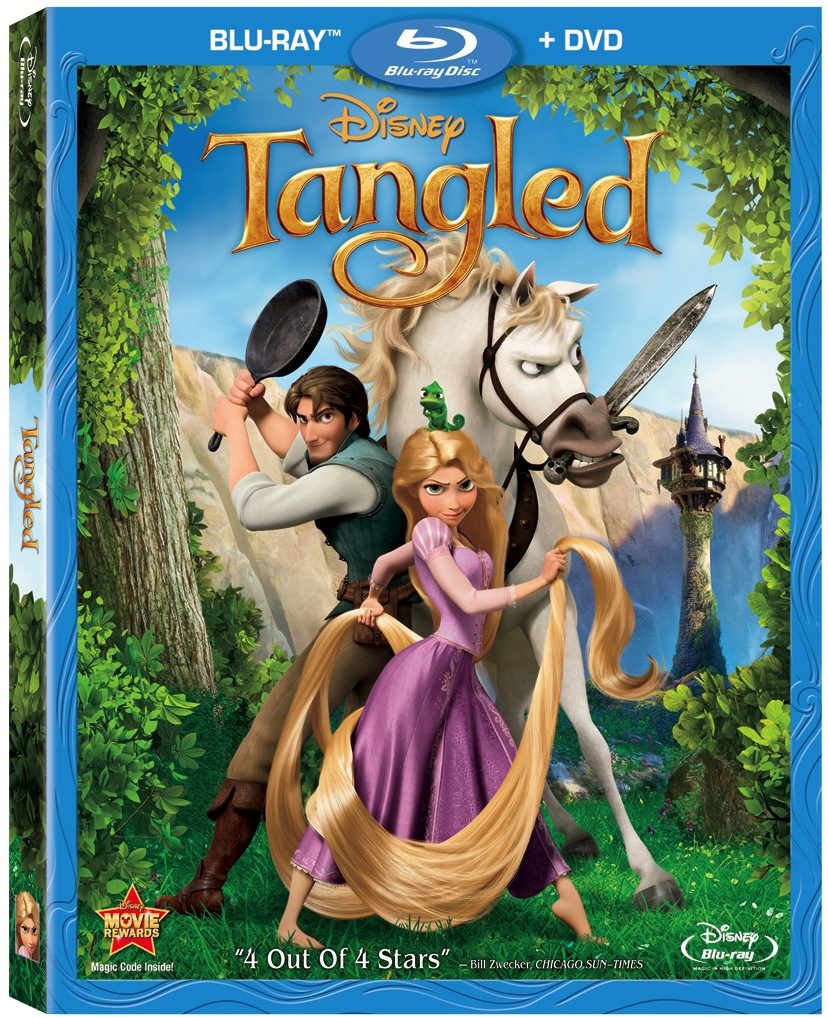 Product Name: Tangled 2D Blu-ray + DVD Combo Pack
Product Description: Grossing over 400 million dollars in global theatrical sales to date, TANGLED, The Walt Disney Studios blockbuster animated feature that takes a modern twist on the famous hair-raising fable Rapunzel, debuts as the ultimate 4-Disc Disney Blu-ray Combo Pack (3D Blu-ray + Blu-ray + DVD + Digital Copy in a single package) on March 29, 2011. As the 50th full-length animated feature in The Walt Disney Studios' celebrated library and the first animated feature film to ever debut day-and-date on Disney Blu-ray 3D, TANGLED's uniquely packaged home entertainment release ensures that viewers of all ages can enjoy this film on a variety of superior, hi-def media platforms while diving further into the history and quirky details behind the making of this film via amusing and informative bonus features. "Disney's spirited re-telling of Rapunzel in 3D animation turns out to be a dazzler." Peter Travers, Rolling Stone Featuring unexpected heroes, magic, laughter and adventure, this animated feature is supported by an amazing cast of voice talents including:
Mandy Moore (―A Walk To Remember, ―The Princess Diaries) as Rapunzel
Zachary Levi (TV's ―Chuck, ―Less Than Perfect) as Flynn Rider
Brad Garrett (TV's ―Everybody Loves Raymond, ―'Til Death) as Hook Hand Thug
Donna Murphy (―Spider-Man 2, ―The Fountain) as Mother Gothel
Ron Perlman (―Hellboy, ―Hellboy II: The Golden Army, ―The City of Lost Children) as the Stabbington Brothers.
BONUS FEATURES
Blu-ray
Untangled: The Making of a Fairy Tale –
Exactly how long is Rapunzel's hair?
How many lanterns were used?
Where did Pascal's name come from?
Which Disney animated feature first utilized CG animation?

These and more will be answered when Mandy Moore and Zach Levi take viewers on a kooky behind-the-scenes tour to learn how the filmmakers styled this film's Golden Tresses.
Deleted Scenes – Co-directors Byron Howard and Nathan Greno introduce three scenes and illuminate why they were ultimately cut.
Jaunty Moose
Chemistry Develops
Vigor The Visionary
Extended Songs – The complete versions of two great songs are shared in a unique feature that explains the co-directors decision to scale them down.
When Will My Life Begin‖
Mother Knows Best‖
Two Original Storybook Openings – Two alternate versions of the film's opening sequence described by co-directors Nathan Greno and Byron Howard.
50th Animated Feature Countdown – A video montage celebrating Tangled as the 50th film to join The Walt Disney Studios' prestigious lineup of classic animated features.
9 Tangled Teasers – A collection of the most unique and quirky commercials made for the theatrical release of ―Tangled. Some are spoofs based off of infomercials and/or breaking news, some are teasers and others are simply just funny filmstrips.
DVD & Movie Download
Two Original Storybook Openings – Versions 1 & 2
50th Animated Feature Countdown
FILM SYNOPSIS
When the kingdom's most wanted—and most charming—bandit Flynn Rider (voice of ZACHARY LEVI) hides out in mysterious tower, he's taken  hostage by Rapunzel (voice of MANDY MOORE), a beautiful and feisty tower-bound teen with 70 feet of magical, golden hair. Flynn's curious captor, who's looking for her ticket out of the tower she's been locked away in for years, strikes a deal with the handsome thief, and the unlikely duo sets off on an action- packed escapade, complete with a super-cop horse, an overprotective chameleon and a gruff gang of pub thugs. Tangled is a story of adventure, heart, humor and hair—lots of hair.
My thoughts: From the moment I saw the commercials for Tangled I couldn't wait to see it.  I'm so glad I have kids so I had the perfect excuse to see it!  My favorite parts are when Flynn is trying to "charm" Rapunzel with his good looks but it doesn't work on her.   Zachary Levi and Mandy Moore did a great job with both of these characters and I love how they made the characters resemble the actors either in looks or movements.  I could totally see both characters playing these rolls so that was pretty cool.
Another one of my favorite parts was in the bar.  I loved when they broke out in song with all the different characters and their dreams.  Very well done, plus I loved the song.. very catchy!
My girls enjoyed the movie as well and we liked watching the extra's and especially the 50th Animated Feature countdown.  It was cool to see all the Disney movies!
BUY IT
Product Price: 4-Disc Blu-ray Combo Pack (Blu-ray 3D + Blu-ray + DVD + Digital Copy) for the suggested price of $49.99,  2-Disc Blu-ray Combo
Pack (Blu-ray + DVD) for $39.99 or 1-Disc DVD for $29.99.
Purchase Information: You can purchase it where most movies are sold including Walmart, Target, Best Buy and Amazon
.
WIN IT
The wonderful people of Disney are giving (1) Lucky Koupon Karen reader a Tangled 2D Blu-ray + DVD Combo Pack!!
Entry is simple! You just need to answer the question below by leaving a comment on this site! You can even gain up to 4 bonus entries for doing each additional item listed (just make sure that you leave one entry for each one — up to a total of 5 comments). As a reminder, comments left on Facebook, Twitter or other posts will not be included.
REQUIRED ENTRY
Leave a comment and share with me your favorite Disney Princess/Charactor.
BONUS ENTRIES:
1. Follow @KouponKaren on twitter and tweet the following "I entered to #win Tangled 2D Blu-ray + DVD Combo Pack @KouponKaren You can too! https://wp.me/pMKCI-5Ut #giveaway "
2. "Like" Koupon Karen on Facebook –> I have a new page so if you were previously my "friend on facebook" please like this page as well.
3.  Blog about this giveaway.
4. Sign up to receive Koupon Karen daily emails or add me to your favorite reader.
Details: This giveaway is open to US Residents and will remain open until April 4th at 11:59 p.m. EST . Any comments left after this time will not be counted. The winner will be selected randomly and will be notified via email and will have 48 hours to claim their prize.
Disclosure: I received a copy of Tangled on Blu-ray for my review. This did not influence my post and as always, my words are my own.