Product Name: Tangled: The Story of Rapunzel Tag Book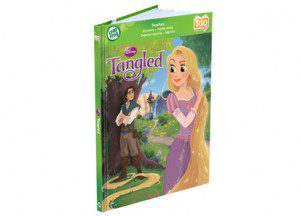 Product Information: Hang on tight as you take off in this swashbuckling adventure with Rapunzel and Flynn!   Use your Tag Reader to make this story come to life.  With its amazing touch technology, the Tag Reader makes learning to read an exciting experience as words talk, pictures sing and stories live out loud.
Tangled: The Story of Rapunzel Tag book teaches phases of the moon, deductive reasoning, descriptive vocabulary and problem-solving skills. Let your hair down with Rapunzel as you learn about the phases of the moon and explore the amazing world of adjectives while you describe Flynn. Parents can follow their child's play and learning progress on the LeapFrog® Learning Path.  Children can also play in LeapWorld™, a safe, online learning world with more games and rewards to expand the fun.
Purchase Information: You can purchase the Tangled Tag Reader book on Amazon
as well as the Tag Reader itself
along with other Tag Books
.
Our Thoughts: We loved the movie Tangled and my daughter's were super excited to get the Tag book to add to their collection.  We immediately downloaded the book onto their tag reader.  I love the skills that this book has.  As I mentioned above they are learning not only about the phases of the moon but about adjectives.  We've actually been working with them on learning adjectives because one of the restaurants that we frequent has a game on the menu where you put in the words and make a story.  Do you know what I'm talking about, kind of like mad libs?? Well anyways whenever we come to adjectives my husband and I give them a list of words to choose from.  We ultimately want them to learn what an adjective is so they can come up with some on their own.  Well this book has helped so much and they don't even realize they are learning!  That's what I love most about the Tag Books is they not only tell the story that my girls want to hear, but along the way they are teaching them reading as well as other valuable skills they need to read on their own.
Disclosure: I received a Tangled: The Story of Rapunzel Tag Book for my review.  This did not influence my post and as always my words are my own!