In search of the perfect gift this holiday season? Shop with confidence at Target and find the best value thanks to their selection of must-have electronics. Guests who shop with the Target REDCard will receive 5% savings, making these great gifts more affordable. For even more savings, trade in used electronics and DVDs for a Target GiftCard. With TV delivery and installation services and 24 hours-a-day toll-free support from 1-877-myTGTtech, Target's services will help families get up and running with their new gadget fast and easy.
Here are some of Target's Top Electronics and Games for the 2012 Holiday Season –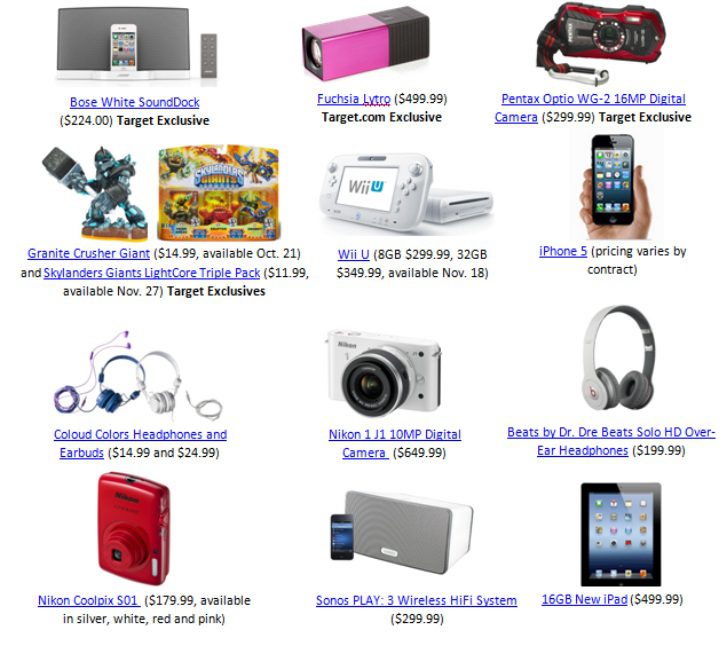 I love that Target has items in all sort of price ranges on their Top Electronics picks because not everyone has a big budget when it comes to holiday shopping.  And I think it's totally worth it to get their Target REDCard and save the extra 5%.  It doesn't seem like much but if you do the bulk of your shopping at Target, it will easily add up.  Grab some groceries while you are doing your Holiday shopping and you may be able to rack up enough savings to buy a gift for yourself!
I just got a new cell phone and I was going to sell my old one on eBay but I just checked the trade in value on Target's website and they will give me a $71 Target Gift card for my phone so I think I'll do that instead and save the time in selling it myself.  Then I'll use it towards some holiday shopping!