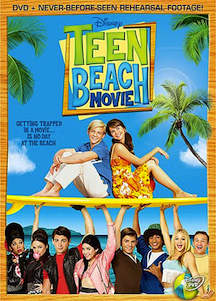 This post is Sponsored by Disney but my opinions are 100% my own!
My girls counted down the days for this movie to be on…. and they've watched it so many times since, that they know certain parts by heart!  And of course they know all the songs.   My little one had no idea how to use the DVD player until we got this.  Now all of a sudden she can figure it out by herself.  I've come down almost each morning and she has it on, AGAIN.
I can't say I blame her.   It's a cute movie and the songs are fun and catchy.   I find myself singing them as well when they aren't around.   I have always loved musicals and especially ones where they just start singing in the middle of a scene.  My favorite part is for the first song when Brady and McKenzie have no idea what's happening and everyone breaks out in song.  Such a fun movie.
If you haven't seen it yet, here is a clip..
"Teen Beach Movie," part of the Disney Channel Original Movie franchise which introduced a generation to movie musicals, follows teen surfing sweethearts Brady and McKenzie, who together ride the last wave of summer, one that mysteriously takes them into a classic beach party movie, "Wet Side Story."  There, it's surfers versus bikers for control of the beach hangout…and everyone spontaneously breaks into song and dance.  Now, Brady and McKenzie must try to return to present day, but their lives may be changed forever when they inadvertently alter the movie's romantic storyline — and the handsome leading man, surfer Tanner is falling for McKenzie while biker girl Lela is swooning for Brady.

(1) Koupon Karen reader will win a copy of Teen Beach Movie on DVD!

To enter the giveaway, use the Giveaway Tools widget below. This is a new widget I'm trying and I hope you like it. Please let me know if you have any questions about it or problems with it! Of course Facebook is in no way associated with this giveaway!
As a reminder, comments left on Facebook or Twitter will not be included. You must follow the instructions on the widget about the proper way to enter.
Disclosure: I received a Free product for review. My opinions are 100% mine.