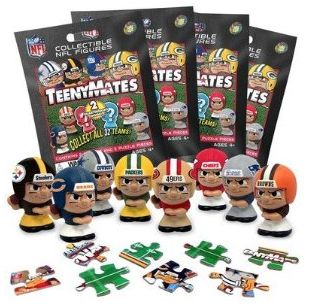 Product Name: Teenymates
Product Information:    TeenyMates are pocket-size sports figures representing all of the major NFL teams. These 1-inch quarterbacks join the Lil' Teammates family.  TeenyMates are a unique, fun and family-friendly item.
NFL TEENYMATES FAST FACTS:
1″ tall, officially licensed NFL figures for kids and collectors alike, ages 4 and up.
Entering the immensely popular mini-collectible market as the only official NFL figures available.
Amazing detail for such tiny figures.  Great for play, and fun to collect and trade!
Each foil bag pack comes with 2 random quarterbacks and 2 puzzle pieces, adding mystery and excitement to each purchase!
Collect all 32 NFL quarterbacks and all 35 double-sided puzzle pieces.
Plus: 3 hard-to-find rare figures – a Throwback QB, a Metallic Gold QB, and a Glow-in-the Dark QB!
Double-sided puzzle allows you to build either a collector mini-poster featuring all 32 QBs, or a football field display set.
Purchase Information:  Now available at Target, team shops, and sporting goods, gift and toy stores across the nation!
Product Price:  $3.99
My Thoughts:  My daughter's love watching football with dad and they are so excited that it's football season again!  They were also really excited when these arrived because they collect squinkies and these are very similar to squinkies so they were the perfect addition to their collection.  They come in foil packs of 2 and we received 3 foil packs.  They were so excited as we opened them up to see who they got.  They also loved the puzzle pieces and now they want me to get more so they can complete the puzzle.
These are great for the little football lover in your life!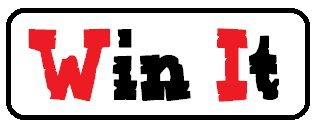 (3) Koupon Karen reader's will each win 3 of the TeenyMates blind packs!
To enter the giveaway, use the rafflecopter widget below. You can now sign in with Facebook and it will remember you each time you enter another rafflecopter giveaway. Of course Facebook is in no way associated with this giveaway, the people of rafflecopter just want to make it easier for you to enter giveaways now.
As a reminder, comments left on Facebook or Twitter will not be included.
Disclosure: I received the same prize as the winner for review. My opinions are 100% mine.