Thanksgiving Cooking and Baking with Great Value Challenge Results
Last week I shared with you that I'd be making some Thanksgiving menu items with some Great Value products – refrigerated crescent rolls, biscuits and pie crusts! Just to remind you Great Value is the store brand for Walmart. They are actually part of the Ralcorp company which makes and distributes store brand refrigerated dough items for Walmart and lots of other stores. I've used their products in the past but this challenge made me make a few things I haven't made before!
This past weekend I invited a few people over for dinner and made some of the recipes. I could have made the dough from scratch but who has time for that this time of the year. I sure don't! Using the Great Value refrigerated crescent rolls, biscuits and pie crusts are not only time savers but also money savers as well because they are sold at a great value too!
I set out to make 3 recipes but because time was short this weekend I only made two. Here is what I made –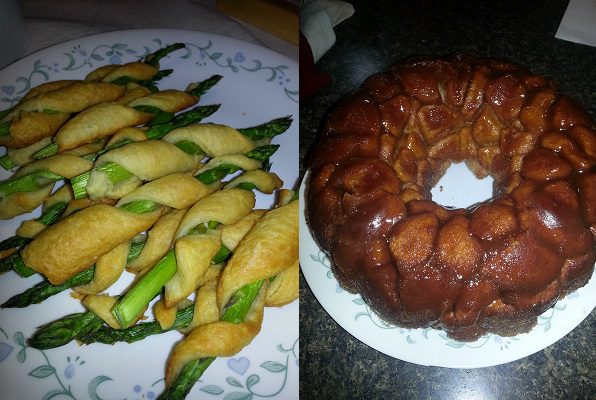 I'm not a food photographer – I'm a real life photographer meaning my pictures aren't perfect, just real! LOL But still those look good right?
And they were very simple to make.
First I made the Asparagus wrapped in crescent rolls…..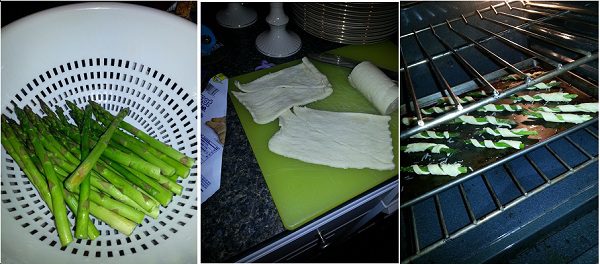 I didn't have to cook the Asparagus ahead of time which was nice! I just cut the bottoms and washed them.  Then I laid out the crescent rolls and cut each triangle in half.  Each piece wrapped easily around the asparagus and I placed them right on the cookie sheet as I wrapped them.  This took me about 15 minutes tops!  Then I drizzled some olive oil on top along with some Parmesan cheese and put them in the over for about 15 minutes.
The were so good and everyone loved them.  The yummy butter flavored crescent roll was such a great addition to the bitterness of the asparagus.  They were a huge hit and I will be making these over and over again.  I told a friend about them and she's also going to make them on Thanksgiving!
Then I made the Monkey Bread.  During the process I made a minor (ok maybe it wasn't minor but it wasn't major!) mistake but it turned out OK.  Keep reading to hear more about that!
I've had this before and loved it but never made it.  I knew it sounded easy but didn't know exactly how easy it was until now.
I put all the sugar and cinnamon in a bag. Then I cut up the biscuits in 4 and added them to the bag for a nice shaking party!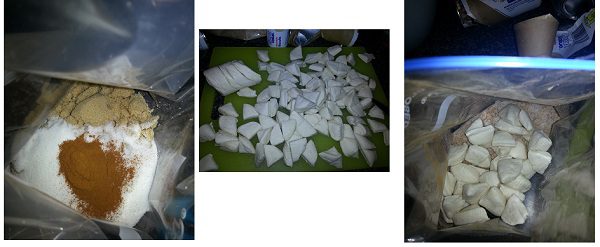 Once they were all coated with the sugar/cinnamon mixture I added them to the bunt pan and put them in the oven.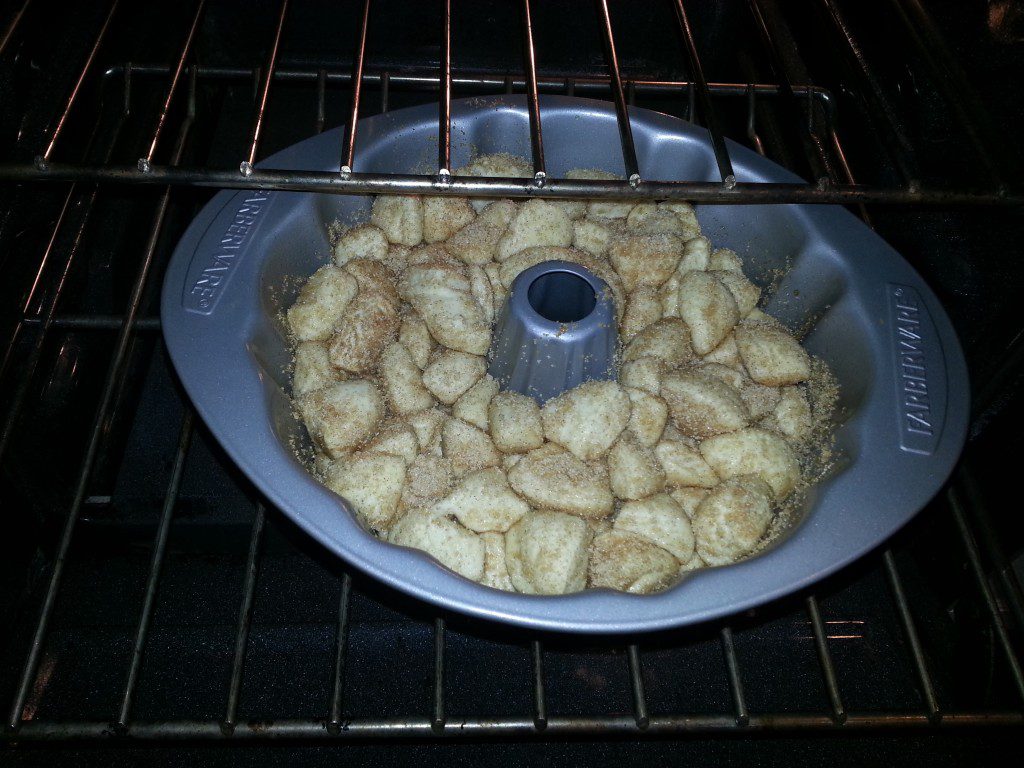 This is where my error came in.  I forgot to pour the butter over the top and didn't realize it until about half way through the baking process.  So I added it then and hoped for the best.  What could I do at this time.  Remember this is real life baking and picture-taking for me!  I'm not a chef and I'm not a photographer!
The result?? Well you tell me —-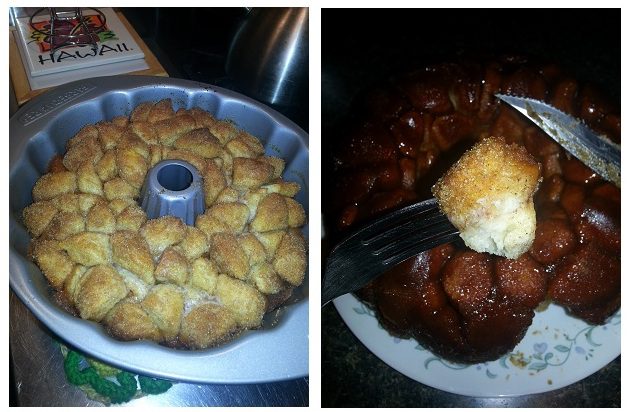 Doesn't that look absolutely delicious?  It sure does and it was.  I think my mistake worked out well because inside is still nice and soft and the cinnamon/sugar mix just made it so good!  Everyone loved it and we all agreed this would make a great breakfast Thanksgiving morning so I'll probably make it for that.
Had I made the dough from scratch for both of these recipes it may have saved me a little bit of money but the time would have not been worth it.  So this was a huge time saver for me and the Great Value items over the brand name were a nice savings.  So grab a few to help with your Thanksgiving meal and save some time and money!
IF you want to see the recipes for both of these items read my other post HERE.
Disclosure: I received compensation from Ralcorp and The Motherhood for this post. My thoughts and opinions are 100% my own.