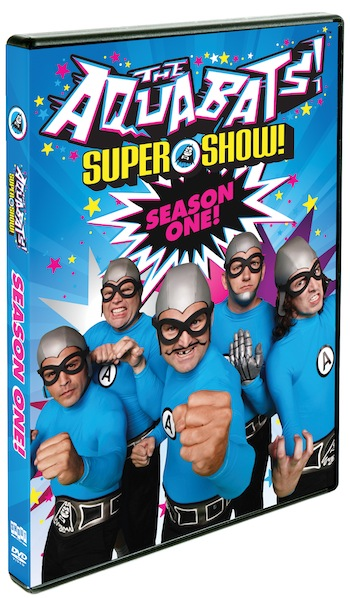 Do you have an Aquabats fan in your house?  If so then check this out – On May 21st, Shout! Factory Kids and Fremantlemedia Kids & Family will release The Aquabats! Super Show! Season One! on DVD!
Los Angeles, CA – Shout! Factory, in collaboration with FremantleMedia Kids & Family Entertainment, will release The Aquabats! Super Show! Season One! on DVD on May 21 for a suggested retail price of $19.93. All 13 Season One episodes of wacky crime-fighting, music videos and outlandish villains are included in the 2-Disc deluxe collection, along with a ton of bonus features. Special guests on the show include "Weird Al" Yankovic, Lou Diamond Phillips (Southland), Samm Levine (Freaks & Geeks), Jon Heder (Napoleon Dynamite) and more.
From the Co-creator of Yo Gabba Gabba!, Aquabats! frontman Christian Jacobs has crafted the perfect blend of live-action and animation following the amazingly wild comic antics of The Aquabats, the galaxy's first group of musical, crime-fighting superheroes. MC Bat Commander, Crash McLarson, Ricky Fitness, EagleBones Falconhawk and Jimmy the Robot will take you along on their mostoutrageous adventures to protect the world from the creatures and super villains out to destroy it.
Formed in the 1990s, The Aquabats are based in Southern California and are on a never-ending quest to right wrongs, destroy boredom and seek justice for all. When they're not busy saving the world, they can be found on tour, traveling the highways and by-ways of the land in their trusty super-customized BattleTram. The crime-fighting, surf-rock supergroup's The Aquabats! Super Show! can currently be seen on The HUB TV Network with season two premiering soon featuring all new adventures (and all new villains)!