I have another daily deal site I want to share with  you.  My friend Keri Lyn at SheSaved.com keeps telling me about it but I hadn't taken the time to look around until today and I knew I had to share it with  you!  It's called The Foundry and each day they have new sales of high quality items for really low prices.  It really is the best way to purchase things you otherwise may not.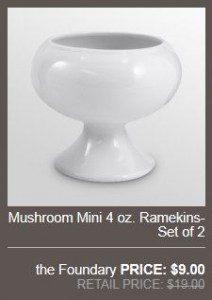 Check out this cute set of 2 Mushroom Mini Ramekins.  They are only $9.00 with a regular price of $19.00!!!  They also have really cute mugs today that are very oddly shaped but would make a great conversation piece.
And they have a great refer a friend program.  So I suggest to add this to your list of daily deal sites and sign up for their daily emails so you are in the know when the deals start.  Some of them are limited therefore things go fast.
Of course it's FREE To join!
Be sure to read my post about Daily Deal sites, especially if you are new to them!