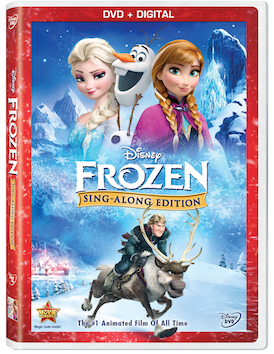 If you have kids, especially girls you probably already know every single word to every single song from Disney's Frozen.  I know I do – and my husband pretty much does too!  My girls are obsessed with this movie and I can't say I blame them because the music is great.
If you fall into this category, then you'll be happy to hear that this holiday you can experience Frozen, the hit musical comedy from Walt Disney Animation Studios, like never before.  Why?  Because they are releasing the full-length Sing-Along Edition on DVD! Follow the lyrics with a bouncing Frozen snowflake. Join Anna as she sets off on an epic journey – teaming up with rugged mountain man Kristoff and a snowman named Olaf – to find her sister Elsa, whose icy powers have trapped the kingdom of Arendelle in eternal winter. It's pure enchantment – and full of fun for the whole family!
See the trailer on Facebook.
Arriving on DVD and Digital on November 18th 2014