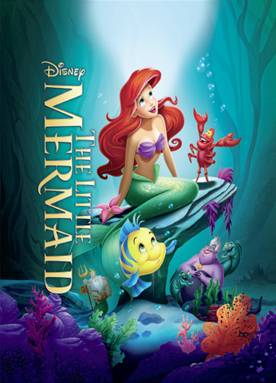 Disclosure: This event and trip to LA was an all expense paid journey sponsored by Disney.  All thoughts and experiences are 100% my own!
We are so excited to share with you that The Little Mermaid Diamond Edition Blu-ray, DVD and Digital Copy is being released on October 1, 2013.  I haven't seen this movie in years.  I thought we still had a copy but I guess it must have been a VHS copy and we got rid of all of those a while back.  That's when I realized my girls haven't actually seen The Little Mermaid movie, they've only read the books.  So we were all excited (well us girls, my husband sat this one out) to see The Little Mermaid Blu-ray.
But first we had to watch the Bonus Features.  It's now something we look forward to.  The Blu-ray has the following bonus features:
Part of Your World Music Video by Carly Rae Jepsen
@Disney Animation
Part of Her World: Jodi Benson's Voyage To New Fantasyland
Howard's Lecture
Deleted Character – Harold The Merman
Under the Scene – The Art of Live-Action Reference
Crab-E-OKE Sing Along
The girls were really excited to watch the entire "Part of Your World" Music Video by Carly Rae Jepsen because they've only seen bits and pieces of it on TV and they loved it!  It's amazing how much Carly Rae Jepson sounds like Jodi Benson.  She did a great job.    And of course they were up and dancing around with the song.  My little ballerinas!
Then we watched @Disney Animation.  I saw this while on my trip to Los Angeles but the girls hadn't seen it.  It's a great little short about some young animators and how they got to become animators.  I loved seeing their excitement and hearing it in their voice because you can tell they really love their job.  It's also a great behind the scenes look at the animation studios and their days.
I absolutely loved the Under The Scene – The Art of Live-Action Reference.  I learned a bit during my trip to Los Angeles about how they made the animation come to life but I didn't realize the extent of it.  This short shows you how they really made Ariel and all the characters come to live using real live action.  They "filmed" the scenes using real actors so they could get a feel of how to make the characters look real while animating them.  It was really cool and funny too because they didn't have real props to use and just improvise as best as they could.   I could totally see how that helped.
I never knew that there was a male mermaid originally in the script.  But my girls knew!  How did they know?  Because they saw the commercials.  Their little minds absorb so much more than mine does!  So they were excited to see the deleted Harold the Merman and now they have.  It wasn't much and he was never actually in the movie once they really animated it, but they drew him.  And now he's part of the archives and you can see him on this Blu-ray.
How was the movie?  It was great.  They loved it and I loved how it looked.   They did a great job restoring it.  It still looked old but I think the quality was a bit better than the VHS was.  And the girls were so happy to finally see it.
Disclosure: I received a FREE Trip to Los Angeles to attend the #DisneyPlanesPremiere and #LittleMermaidEvent.   And even though there was a lot of Disney Magic happening, My opinions are still 100% mine.