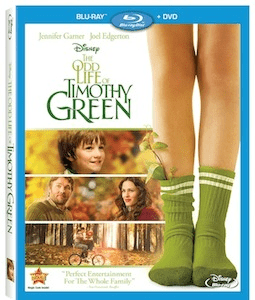 Disney's "The Odd Life of Timothy Green," one of the year's most uplifting and enchanting family films, popped up on Blu-ray™ Combo Pack, DVD, High Definition Digital and On-Demand platforms on December 4, 2012. It's the perfect, must-own family-film for audiences of all ages to enjoy and snuggle up to this coming holiday season.
From Academy Award-nominated writer/director Peter Hedges (Dan in Real Life, What's Eating Gilbert Grape), and starring Golden Globe® winner Jennifer Garner, Joel Edgerton, Oscar® winner Dianne Wiest and CJ Adams as Timothy Green, comes this highly imaginative story about a happily married couple who can't wait to start a family but can only dream about what their child would be like. Then one stormy night young Timothy shows up on their doorstep. Soon they and the small town in which they live learn that sometimes the unexpected can bring some of life's greatest gifts. The story is written by Ahmet Zappa ("American Gangster," "Changeling").  Bonus features, include a documentary "Family Roots: Bringing 'The Odd Life of Timothy Green' to the Screen," which looks at this unique family story and the creative team that brought it to life; "Glen Hansard: Behind 'This Gift" – the Academy Award® winning songwriter tells how he and Marketa Irglova crafted the moving end-credits song; "This Gift" Music Video by Glen Hansard and much more!!!
We just finished watching this movie and I loved it.  From the first time I saw previews for it, I knew I wanted to see it but never made it to the movies while it was out.  When I told my oldest that we were getting it she asked if she could watch it with me, she also had been excited to see it.  So last night we all cuddled up together on the couch to watch it.
It's an amazing movie from beginning to end and I'm so glad the girls watched it with me because they had some really good questions about it from the beginning to the end.  And honestly I wasn't even sure how it was going to end, it was that good!  Jennifer Garner was amazing and played the perfect part of the loving mom.  I always enjoy her movies but I think this is my favorite so far.
The blu-ray came with some extra features including the deleted scenes and we enjoyed them.  I always want more after a good movie!   You can grab this where most movies are sold and it'll cost you about $39.99 unless you find it on sale!
Disclosure: I received a Free product for review. My opinions are 100% mine.