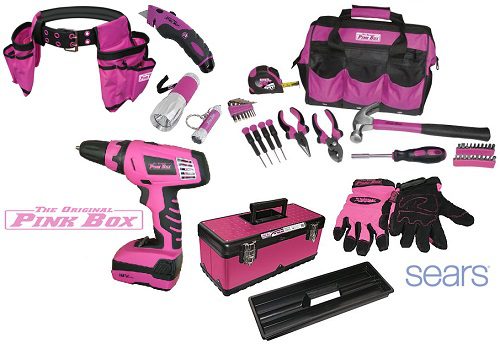 The Pink Tool Box Review
This post is Sponsored by Sears but my opinions are 100% my own!
Mother's Day is this weekend and while Mom's love having things done for them, sometimes we have to do it ourselves.  And when I do have to do it myself, I hate it when I can't find my stuff.  So how about a toolset that is just for mom that dad won't use?  Why is it just for mom?  Because it's pink and let's face it most men don't want to be seen using a pink hammer wearing a pink tool belt.
Sears carries a line called The Original Pink Box and every piece is pink!!!   They sent me the items above for review and they arrived just in time.  My husband had a power drill of his own and we needed to install some curtain tie backs in our girl's rooms.  Both his batteries were dead so he charged one so we could use it.  The battery only lasted about 5 minutes and it wouldn't hold a charge.  So I grabbed my pink power drill, which was fully charged and we finished the job in no time.  The girls thought it was so funny watching daddy use the pink drill.  He told me next time he'd be more prepared.  I told him next time I'll do it myself!
Sears put together a great prize package for mom that is valued at over $220, which includes the following items:
Disclosure: I received a Free product for review. My opinions are 100% mine.