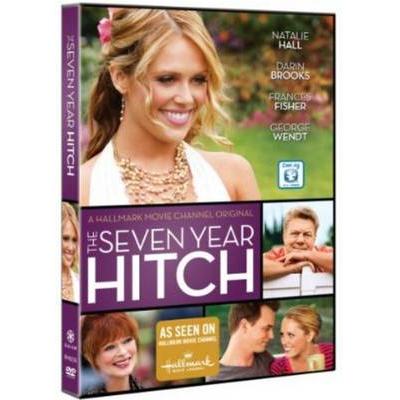 The Seven Year Hitch arrived on DVD on March 5, 2013.  It's a funny romantic (comedy) about two friends who find out they are legally married and therefore she can not marry her boyfriend until they are divorced.  The only thing is he doesn't want to give her a divorce!  I enjoyed watching them rediscover their friendship and of course it does have a happy ending, but I won't tell you what it was!
Natalie Hall is beautiful as Jennifer and I think she's a great actress.   The chemistry between her and Darin Brooks I thought was great!
About The Seven Year Hitch
Starring Darin Brooks ("CSI Miami," "Castle,"), Natalie Hall ("Pretty Little Liars," "Law and Order: SVU"), Frances Fisher (Titanic), Griffin Cleveland ("The Walking Dead," "Desperate Housewives"), Ryan Doom ("Raising Hope"), and George Wendt ("Cheers"), the debut of The Seven Year Hitch ranked as the Hallmark Movie Channel's most-watched original premiere of 2012 among women and adults ages 25-54.*
Best friends Jennifer (Hall) and Kevin (Brooks) have lived together for seven years, but Jennifer's impending marriage is about to disrupt their domestic bliss. When Kevin discovers that Jennifer's fiancé is cheating on her, he seeks to save her from marrying the wrong guy by declaring that they have a common law marriage. Now he just has to show Jennifer that he's the one who can give her a "happily ever after" ending. Heartwarming and funny!
You can purchase this movie for $14.93 where movies are sold.
Disclosure: I received a Free product for review. My opinions are 100% mine.