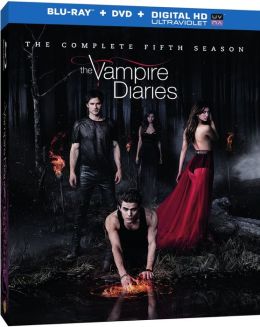 This post is Sponsored by Warner Bros. Home Entertainment but my opinions are 100% my own!
On September 9, 2014 The Vampire Diaries: The Complete Fifth Season was released on DVD and Blu-ray™ Combo Pack.  You can pick it up in stores and online for $59.98 – $69.97.
The Vampire Diaries: The Complete Fifth Season
After a sizzling summer with Damon, Elena leaves Mystic Falls for Whitemore College and moves into a dorm with Caroline as her roomie, ready for Adventures and new friends.   But dark thoughts gnaw at Elena, and soon familiar faces are back in girls' lives.    There's a Stefan with his shadow self, Silas, plus Katherine with a diabolical agenda and a jaw-dropping transformation.  As the dopplegangers test destiny, pitting the Salvatore brothers against each other, the student body count rises – evidence of powerful forces on campus.  The struggle later continues between the mysterious Travelers, new witches and our favorite vampires, fighting over their own survival and, ultimately, the fate of Mystic Falls.  Sink your teeth into all 22 bloodthirsty episodes of this passionate, heart-ripping, supernatural series.
Averaging nearly 4 million viewers in its fifth season, The Vampire Diaries remains The CW's #1 show among Adults and Women and will return for a sixth season on The CW this fall.  Fans can sink their teeth into  all 22 one-hour episodes from Season Five (including the series' 100th episode!), plus over an hour of gripping extras — including three brand-new featurettes, deleted scenes and a gag reel.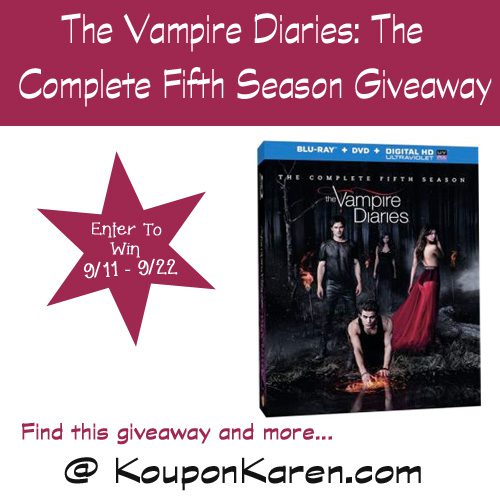 (1) Koupon Karen reader will win The Vampire Diaries: The Complete Fifth Season on Blu-ray/DVD Combo.

To enter the giveaway, use the Giveaway Tools widget below. Email and feed subscribers will need to click-through to the site to enter the giveaway.
As a reminder, comments left on Facebook or Twitter will not be included. You must follow the instructions on the widget about the proper way to enter. Of course Facebook is in no way associated with this giveaway!
If you are looking for more giveaways, be sure to follow my Fun Giveaways Pinterest board!
Disclosure: I received a Free product for review. My opinions are 100% mine.