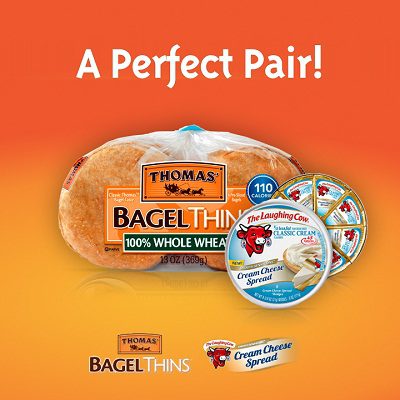 My daughters love bagels but one bagel is too big for them to eat in one sitting, at least I think so!  So I was really excited when I found Thomas' bagel thins because they were the perfect portion for them and they didn't feel like they were missing out on part of the bagel.  I also love the Plan Thomas' Bagel Thins for making sandwiches.  Makes lunch time fun.
We really enjoy cream cheese on our bagels.  Actually my family enjoys cheese anyway they can get it!  I've tried Laughing Cow cheese before but I'm not really into a 'soft' cheese so I never buy it.   However, that has changed because they now make smooth sensation cream cheese spread and in flavors too!  These were a huge hit in my house, especially because one girl likes just plain cream cheese and the other likes them all!  So I can actually have a few different kinds in the fridge at the same time and since The Laughing Cow comes in individual packages, I am not opening an entire container to just sit there and go bad!
I also love that they are in portion sizes.  One little triangle is perfect for one Thomas' Bagel Thins.  This makes it so much easier for me to know that I'm not giving them too much or too little.
We loved the variety that The Laughing come comes in and the favorite by far was the Cinnamon Cream cheese.  Even my little one who wanted nothing to do with any of the flavors loved it.  Of course I didn't tell her that it was flavored until after she ate it.  She said she knew something was different and she loved it!
Thomas' Bagel Thins are only 110 calories and I received the following varieties….
Plain
Everything
100% Whole Wheat
and The Laughing Cow Smooth Sensation Cream Cheese Spread have only 45 calories in each 1/3 less fat wedge and come in the following Flavors…
Strawberries & Cream 1/3 Less Fat
Garden Vegetable 1/3 Less Fat
Cinnamon Cream 1/3 Less Fat
Classic Cream 1/3 Less Fat
These would be great on so many other things beside the Bagel Thins – crackers, toast, fruit and more.   My girls loved them and asked me if we can get more once these are gone.  I'm sure we will.
Have you tried Thomas' Bagel Thins or The Laughing Cow Sensation Cream Cheese yet?
Disclosure: I received FREE Products for review. My opinions are 100% mine.