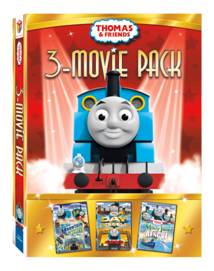 This post is Sponsored by Lionsgate but my opinions are 100% my own!
Here is another great holiday gift idea for your favorite Thomas & Friends fan.  This will keep them entertained for hours.  My girls love playing with Thomas & Friends trains but never really got into the movies.  However my best friend has a little boy who is a HUGE Thomas & Friends fan and loves these movies.  And since they can't find them on TV very often, she loves having these DVD's on hand for when he needs his Thomas & Friends fix.
Start your engines for the most-action packed movie night of the year!  Thomas & Friends®: 3-Movie Pack, which arrived on DVD October 15, 2013 from Lionsgate and HIT Entertainment, is filled with rip-roaring adventures, mysteries to be solved, heroic rescues and new discoveries.  Available at an incredible value of $19.98, Thomas and his engine friends deliver a trio of feature-length movies the whole family will enjoy.
The 3-DVD Movie Pack includes:
Thomas & Friends: Blue Mountain Mystery – The Movie
When trouble strikes at Blue Mountain Quarry, Thomas is sent to help. There he discovers a little green engine hiding in the tunnels. Thomas is determined to get to the bottom of the mystery but discovering the truth is harder than he imagined! Will he be able to help his friend or will the little engine be sent away from Sodor forever? Find out in Thomas' most mysterious adventure yet, a movie the whole family will love!
DVD Bonus Features
Blue Mountain Hide & Peep Game
Learn About Standard & Narrow Gauge Engines
Blue Mountain Mystery Karaoke Music Video
Working Together Karaoke Music Video
Thomas & Friends: Day of the Diesels – The Movie
See the Steamies and the Diesels face off in this action-packed movie adventure! There's a fire on Sodor and two new firefighting engines – Flynn and Belle – arrive to help Thomas and Percy save the day! When Thomas starts spending all of his time with Sodor's newest heroes, Percy is drawn to the Dieselworks, where he is made to feel special by the master of mischief himself, Diesel 10! But Percy doesn't know that he is part of Diesel 10's master plan to take over the Steamworks.
DVD Bonus Features
Fiery Flynn to the Rescue Game
Day of the Diesels Karaoke Music Video
Hear the Engines Coming Karaoke Music Video
Steamies & Diesels—Learn How They Work! Video
Thomas & Friends: Misty Island Rescue – The Movie
The engines are hard at work to build a new Search and Rescue Center. When Thomas helps a friend in need, he is rewarded with an exciting trip to the mainland.  Along the way, he gets lost at sea and finds himself on the mysterious Misty Island, where he meets new friends Bash, Dash and Ferdinand. Together they discover the secrets of Misty Island and help Thomas find his way home.  Will Sir Topham Hatt's search party ever find Thomas? Find out in this action-packed movie adventure the whole family will enjoy!
DVD Bonus Features
The Search for Thomas Game
Misty Island Rescue Karaoke Music Video
Sir Topham Hatt Karaoke Music Video
ABOUT THOMAS & FRIENDS™
Thomas the Tank Engine™ was created by a father for his son nearly 70 years ago and today is enjoyed by families in more than 185 territories and in 30 languages.  The #1 blue engine and his friends invite children to enter a world of imagination through the tracks of a train and the words of a story. Children embark on adventures with their engine friends while experiencing timeless life lessons of discovery, friendship and cooperation. 
Disclosure: I received a Free product for review. My opinions are 100% mine.