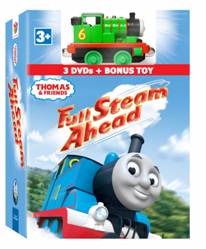 This post is Sponsored by Lionsgate and HIT Entertainment but my opinions are 100% my own!
Thomas and his engine friends have the inside track on adventure with the all-new Thomas & Friends®: Full Steam Ahead 3-DVD & Bonus Toy Gift Set, which was available on February 19, 2013 from Lionsgate and HIT Entertainment. Featuring three action-packed DVDs (Team Up With Thomas, Wobbly Wheels & Whistles and Railway Friends) and a collectible bonus toy engine and bonus features!
The 3 DVD's included are:
Thomas & Friends: Team Up With Thomas – Everyone's favorite true blue engine, Thomas, is back with friends old and new in four fun adventures on the Island of Sodor in Thomas & Friends: Team Up With Thomas. This DVD is enhanced with CG animation and a live-action host, Mr. Arkwright, who welcomes viewers with a smile and a fun project for Lady Hatt's grandchildren. Thomas, Edward, Toby, James and the rest of the engines introduce young engineers to Hank, a big, strong, new engine and Flora, a lovely new lady steam engine. Together, they take us along on their tasks around the island. Be careful: trouble may lie around the next bend. But one thing's for certain – you'll always come home with a brand new friend!
DVD Bonus Features
Spot the Difference Game
Sir Topham Hatt's Helping Hands Game
Thomas & Friends: Wobbly Wheels & Whistles  – Travel along with Thomas for a wonderfully wobbly and wheel-spinning good time! The No. 1 blue engine has bridges to cross and tracks to uncover in these exciting adventures. When Victor gets overloaded with too many tasks, can Thomas help him let out steam? And while trying to get Scruff as clean as a whistle, will Thomas have to get his own wheels dirty? Just when things seem to be rolling along, will Ol' Wheezy make a wobbly mess of Thomas' special delivery? Hold on for exciting surprises waiting to be delivered just for you!
DVD Bonus Features
Thomas & Friends: Railway Friends  – All aboard for six all new adventures with Thomas and his engine friends in Thomas & Friends: Railway Friends. Meet Thomas' best friend Percy, attend a festive winter party at the wharf, take a wrong turn on a mistaken shortcut and see Thomas worry about his squeaky brakes and strive to become a 'Really Useful Engine.' Filled with charming characters and heroic displays of loyalty, responsibility and friendship, this DVD will be a treasured addition to any home entertainment library.
DVD Bonus Features
Laying Down the Track Puzzle
Name That Train Game
This is a great gift set especially because it comes with a Thomas & Friends Train and 3 DVD's.  Any Thomas fan would love this set for sure.  It sells for about $24.98 in stores where movies are sold and online at Walmart.com (and for less than $20 right now!).
Disclosure: I received a Free product for review. My opinions are 100% mine.