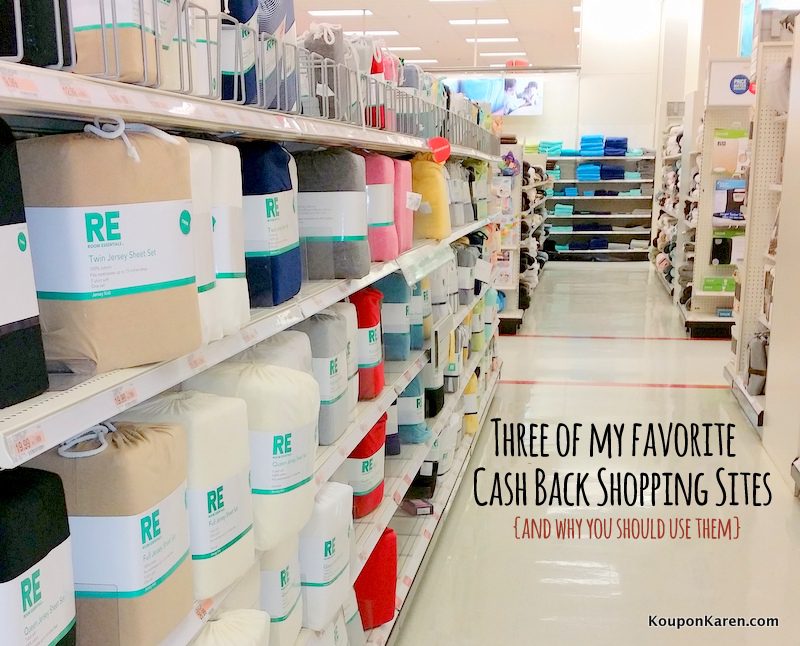 I'm going to share with you three of my Favorite Cash Back Shopping Sites and why you should use them today.  We can't avoid shopping at times and you can save a lot of money by staying home and shopping online, even if you have to pay shipping.
Why you should shop online
Depending on where you live, you may have to travel pretty far to get to your favorite store. And with gas prices about $3.39 a gallon here in Rhode Island, that can add up pretty quickly.  If you live over 30 miles away from the closest mall, and you pay about $3.39 a gallon then it probably just cost you about $3.39 to get to the mall depending on how efficient your car is.  And of course then you have to get back so add in another $3.39 and you've now spent over $7 to go to and from the mall.   You could have shopped from home and had it shipped for the same if not less and not spent all that time in the car.
Of course this would only work if you were buying 1 or 2 things and sometimes it may work out that shipping might have been cheaper but before you run to the mall for a 'few' things, look online to see if you can get it shipped to you for about the same or less than the cost of gas to get there.
Sign up for Email Newsletters
Sign up for your favorite store's email newsletter and they will even email you coupon codes to use and alert you of any upcoming sales.  There are also cash back websites that will give you rebates if you shop at your favorite stores along with coupon codes!  Combine the two and you'll save more.
How do cash back websites work?
Just sign up for an account (I suggest you sign up at them all since they offer different deals at different times) and then search for the store you want to shop at.  Check to see what percentage or dollar amount they will offer you as a rebate.  Then click their "shop now" button or similar and as long as you click that button, it'll track your spending at that store.  Once they verify the purchase, the rebate will be deposited into your account.  What they are essentially doing is earning a commission from your sale and sharing it with you.  Once you met the minimum required to cash out, you can request your money.  It's that simple!
Three of My Favorite Cash Back Shopping Sites
Below are my favorite Cash Back shopping sites that offer rebates and coupon codes when you shop through their website.  They all basically work the same however, read each site because some of them offer something different.  And a few of them even offer you incentives to give them a try.
Mr. Rebates
Mr. Rebates is a cash back shopping site where you can earn money on your online purchases. And they pay either check or paypal once a month as long as your account reaches $10. I love their low payout! They also offer additional savings as well with sales and coupon codes.   Mr. Rebates is one of my favorite cash back shopping sites because once you sign up, you can share your referral link with your friends and then you'll earn a commission on what they earn.  That sure is a nice perk plus your friends save too!
Ebates
You've probably heard of Ebates because they've run commercials on TV in the past.  Ebates is a pretty big cash back shopping site and when you join they'll give you a FREE $10 gift card to select stores or $5 cash as long as you make a minimum purchase of $25 within 30 days.  This is super easy to do if you are a regular online shopper and a quick $10!  The gift card will be automatically shipped to you once your account and purchase has been verified.  Ebates only allows you to cash out once a month but that gives you plenty of time to meet their minimum cash out of $25.  I've been a member of Ebates since 2008 and I've earned over $1000 cash back!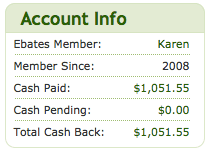 I always shop around the different cash back shopping sites before I make my purchase so I don't always shop through Ebates, I look for the best deal.
TopCashBack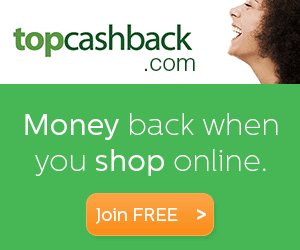 A new site I just started using is TopCashBack and this one is different because they give you a little bit more than some of the others.  They say it's 100% commission but some of the other sites have been around longer so it's not always more.  However I've found a few deals that are better with them so it's on my rotation list.    There is no minimum pay-out threshold and you can receive your money via paypal or direct deposit.  So it's pretty instant.
Besides using a cash back shopping site, some stores offer low shipping minimums which you may not be aware of.  They also run specials for FREE shipping or close to it from time to time.  The best way to keep track of them is to sign up for their newsletters along with these websites and scan your email before hitting delete.   You never know what deal may be waiting for you in your inbox!