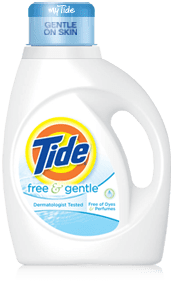 Product Name: Tide Free & Gentle
Product Information: Tide Free & Gentle is dye and perfume-free. And it removes more residue from dirt, food, and stains than the leading free detergent.
Like most Tide detergents, Tide Free & Gentle contains surfactants. Surfactant molecules have two parts. One is "water loving" and the other is "water hating." The water-loving (hydrophilic) part breaks the surface tension of water. The water-hating (hydrophobic) part is attracted to oil and grease in soils, loosening and removing them from fabrics.
Detergents usually contain more than one type of surfactant to remove certain types of soils and clean different types of fabrics. Other ingredients in laundry detergent can include fluorescent whitening agents (to help maintain whiteness or brightness) and enzymes (to help break down complex soils such as blood and grass).
Most detergents also contain dyes and perfumes. Tide Free & Gentle does not.
My Thoughts:  I love Tide, it's from P&G so how could I not love it.  But I will admit I buy whatever is the best deal when I need detergent.  So I keep my eye out for deals on Tide so I can purchase it more often because it just does a good job.
We don't have any issues with sensitive skin in my house but growing up it was always an issue for my father, and still is.  He couldn't use anything with dyes or perfumes or he'd break out in a rash.   The problem was it was hard for my mother to find gentle detergents for him to use so she had to spend a LOT of money and order it from a special company.  Now with Tide Free & Clean she can buy something much more affordable and it won't irritate his skin.
I love the way my clothes smell when they come out of the dryer and even though this is perfume-free, the clothes still smelled great – but more of a fresh type of great.  They were just clean!  Of course I use a Bounce bar in my dryer so that gave them a little something too!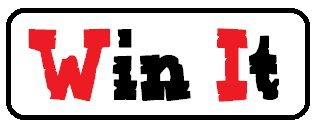 (3) Koupon Karen reader's will each win a coupon for a FREE Tide Free & Gentle Detergent!!

To enter the giveaway, use the rafflecopter widget below. You can now sign in with Facebook and it will remember you each time you enter another rafflecopter giveaway. Of course Facebook is in no way associated with this giveaway, the people of rafflecopter just want to make it easier for you to enter giveaways now.
As a reminder, comments left on Facebook or Twitter will not be included.
Disclosure: I received the same prize as the winner for review. My opinions are 100% mine.