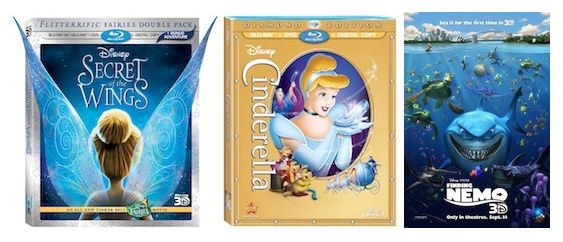 Since starting my blog I've received many great opportunities not just with receiving items for my family to review (and then giveaway to my readers) but also to take trips to visit companies and attend events from time to time.  Some are local and some aren't.  I was recently invited to spend a few days in California next week for a Disney blogger event.  While there I'd be attending a sneak peak of Finding Nemo 3D, Tinker Bell Secret of the Wings and Cinderella while also getting a tour and having some fun at Disneyland California Adventure, which I've always wanted to go to!!
Unfortunately the timing isn't good for me this month with going to NYC for BlogHer a couple of weeks ago, school starting soon and my husband's work schedule, I just can't take the trip.  I'm VERY SAD.  But my good friend Keri Lyn from SheSaved was also invited to attend and she is going to share the adventure on her blog with her readers and with me so I can share it with my readers!
And since you know I always have reviews and giveaways for the HOT Disney Movies that come out on DVD and Blu-Ray, then I'm sure I'll be sharing these all with you soon as well and hopefully a GIVEAWAY too!!!
If you want to check out the trailer's for the movies, click the links below.  And head on over to SheSaved to see what she's saying about the trip too!
FINDING NEMO 3D
In Theaters September 14th & Available on Blu-ray + DVD Combo Pack December 4th
CINDERELLA: Diamond Edition
Available on Blu-ray + DVD Combo Pack October 2nd
SECRET OF THE WINGS
Available on Blu-ray 3D, Blu-ray + DVD Combo Pack & HD Digital Download October 23rd
To follow along with all of the excitement, make sure to follow along on twitter: @SheSaved and @KouponKaren along with the hashtag #DisneyInHomeBloggers as well as hashtags of our favorite characters: #FindingNemo3D, #DisneyFairies, and #Cinderella