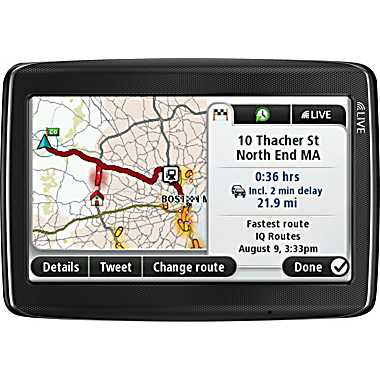 Product Name: TomTom GO LIVE 1535M Portable GPS
Product Information: Stay in the know while on the go with TomTom GO LIVE. Experience revolutionary TomTom HD Traffic, the  most-accurate, real-time traffic coverage available. With TomTom LIVE services, you can easily browse through travel apps – Yelp®, TripAdvisor®, Expedia® and Twitter – or access updated fuel prices, weather forecasts, and Local Search powered by Google™. The TomTom LIVE is also equipped with Lifetime Map Updates, Bluetooth® Hands-free Calling and Intuitive Voice Recognition with one-step address entry.
Preloaded with premium maps of the US, Canada and Mexico; includes free lifetime map updates
5.0″ LCD Display
Shorten your commute with revolutionary TomTom HD Traffic
Enhance your driving experience with connected travel apps including, Yelp®, TripAdvisor®, Expedia®, Twitter, Local Search powered by Google™ and fuel prices (1 year included*)
Drive safer with Intuitive Voice Recognition, Bluetooth® Hands-free Calling and the integrated Fold & Go Mount
Voice Control – The quickest, easiest way to use your device: simply talk! Using voice command and control, and voice address input, you can navigate without taking your hands off the wheel or your eyes off the road
Advanced lane guidance gives you extra clarity when navigating difficult junctions
24/7 IQ Routes™ Technology calculates the fastest route possible using actual average speeds of travel rather than posted speed limits
7 million points of interest
Easily access local emergency providers such as police, fire stations and hospitals with the "Help Me!" emergency menu
EasyPort mount: A convenient foldaway mount that's integrated with your device, so it's always there when you need it
TomTom Map Share: instantly modify street names, street direction, road speeds, turn restrictions, and POIs on your own device and benefit from others' corrections
1 year mfr. limited warranty
*LIVE Services only available in the U.S. $59.95 per year to renew.
Product Price: $249.99
Purchase Information:  You can purchase this online at Staples.
My Thoughts:    I remember before we had a GPS I didn't really understand the need for one.  I mean MapQuest was easy enough to use to get directions and really I didn't go far very often when I really needed help.  Then one time we were visiting my in-laws and we were going to see a friend who lived near by.  We had been to her house once before but she told us there was some construction going on and that we'd have to take a detour.  My in-laws offered us their GPS and thought it probably would come in handy so we borrowed it.
My husband and I instantly fell in love!  Every time we took a turn that wasn't part of the travel route, it automatically recalculated and we were able to go around the construction without any problems.  At this point I knew I wanted one, but still didn't know how much I'd love it.
So we got our first GPS and then we took a trip to Pennsylvania for a friend's wedding and really found out how useful our GPS was.  While driving we wanted to get dinner but didn't want to stop at a fast food place.  So when we were near where we wanted to stop, I just looked on the GPS for the nearest restaurants and was able to choose between a bunch of places we could stop.  Once we choose our destination, we added it to the route and then the GPS told us where to go.  After dinner we just started back on the original route.  It was pretty cool.
The newer GPS's, like the Tom Tom Go Live 1535, do even more than the first one we owned (which was getting pretty out of date since it didn't come with free updates and didn't have the traffic feature) and we love all the new features.  First of all the screens are so much bigger now – a 5 inch screen makes it so much easier to follow along with!  And the Free Lifetime map updates saves us from buying a new one anytime soon.
Our favorite feature of the Tom Tom Go Live 1535 GPS is drive safe voice control and blue tooth.  My husband is on the road for business a lot and while his car has blue tooth, mine doesn't.   When he has to take my car, he has blue tooth through the GPS which is something he gets a lot of use from!  But the Voice control is really the best feature for him because when he's traveling, he's normally alone and can't re-navigate while he's driving.  So any help he can get with that is welcomed.    If he needs to change the route, he can use the voice command and not even have to stop.  IF he needs to go off course, like look for somewhere to eat or a gas station, he can use the voice control to change his course and not use his hands and take his eyes off the road.  That makes me feel so much better!
Disclosure:  I received a sample of this product from Staples to review at no charge but my opinions remain my own.