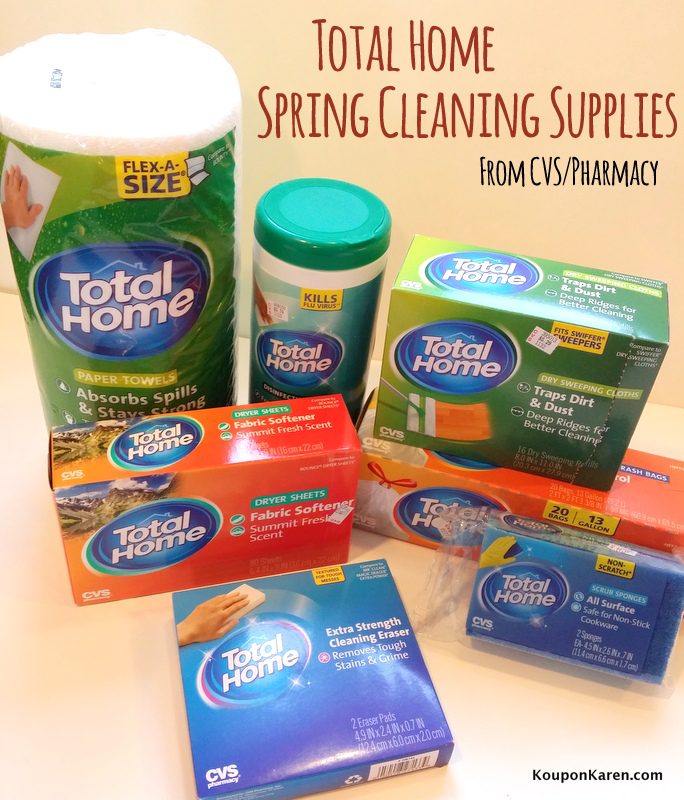 Spring is here and that doesn't just mean you can open the windows, spend more time outdoors and start getting your garden ready, but it also means it's time to do some Spring Cleaning inside and get all those winter germs out of the house.  While I don't like cleaning very much, I do enjoy Spring cleaning and going through the house and getting all the winter dust off everything!
Over the next two weeks I'll be doing my Spring Cleaning.  I'll also be using some Total Home products from CVS/Pharmacy while cleaning.   The Total Home line launched last year to offer customers exceptional, reliable options at fraction of the cost when compared to national brands, without sacrificing quality. All 150 Total Home products are built on performance, reliability and have undergone rigorous quality testing.   I find that these products work just as well as the national brands but cost less!  I'm all for saving a little bit of money.   Here is my cleaning plan….
Wipe down all counter tops, door knobs, light switches and outlets with Total Home Disinfecting Wipes.   We also have trash baskets in each bedroom and bathroom.  I'll be using these wipes to wipe them down inside as well.  We use bags for all our trash but I like to 'clean' the inside of the baskets from time to time too.
Dust all heating vents, baseboards and window sills using Total Home Dry Sweeping Cloths.  Because they hold dust and dirt so well, they are great for using by hand.  Plus my kids can do this for me!
Washing along the edges of my bathroom floor with Total Home Scrub Sponges.  While I wash my bathroom floor all year long,  dirt gets pushed to the edges along the tub and walls so a few times a year I get down on my knees with a scrub sponge and clean along the edges.  It's a total pain to do but I'm so happy after I do it!
Wash all windows and storm doors using Total Home Paper Towels.   I'm a big fan of the and use them all the time.  They work just as good as the others and cost a lot less.
Wash all blankets and comforters and use Total Home Fabric Softener sheets to make them smell fresh and feel soft!
Go through the kids rooms and toss out broken toys, missing pieces that haven't found homes and papers they've collected in their room over the school year.  I'll be using Total Home Trash bags for this task.
I'm so glad that I can find all the items I need for my cleaning tasks at CVS/Pharmacy.  Considering I have one at the end of my street, it makes it every easy for me to get what I need so I can be done quicker.  I don't want to spend too much time cleaning so any way I can same time as well is perfect.   The kids are on Spring Break next week so when they say they are bored, we'll be doing some cleaning around the house.  It'll be a good time for them to clean out their rooms and their draws.
Here are some additional Spring Cleaning tips from CVS/Pharmacy also using their Total Home products: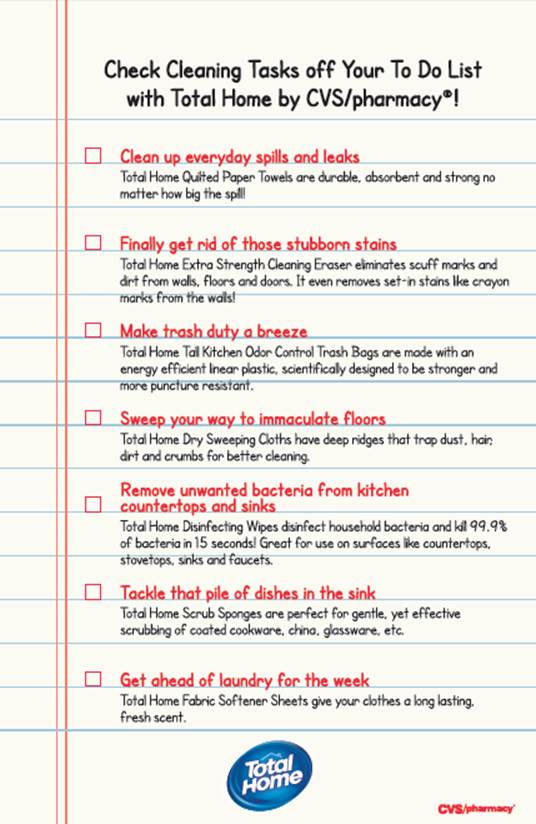 What is on your Spring Cleaning list?
If you don't like to clean and you live in New York you can always get maid service Manhatten to clean for you.