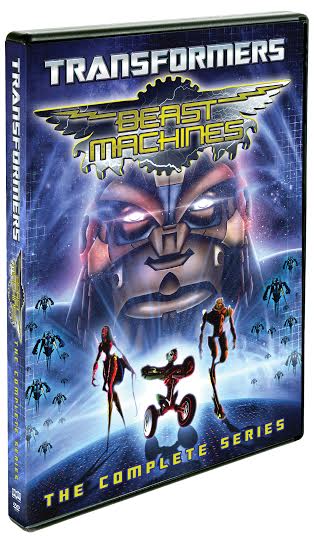 This post is Sponsored by Shout Factory but my opinions are 100% my own!
On September 2, 2014, Shout! Factory, in collaboration with Hasbro Studios, will release TRANSFORMERS: BEAST MACHINES – THE COMPLETE SERIES on home entertainment shelves.  This highly anticipated complete series set features all 26 visually stunning episodes with special bonus content in a deluxe 4-DVD set. Whether reliving the childhood memory or discovering this series for the first time, this is an essential home collection for every fan, collectors and entire family to complete their TRANSFORMERS home entertainment library.
About Transformers: Beast Machines DVD –  The Complete Series
This fall, fans of the highly popular TRANSFORMERS classic animated adventures can relive the high-octane action of OPTIMUS PRIMAL and the MAXIMALS through the complete series release of Transformers: Beast Machines.  In 1999, Transformers fans and kids were introduced to the television series TRANSFORMERS: BEAST MACHINES. This is the unforgettable chapter which OPTIMUS PRIMAL and his legions of MAXIMALS must battle the powerful MEGATRON and his new army of VEHICONS.
You can find this movie in stores after September 2, 2014 for $24.99.
Or you can try and win a copy below!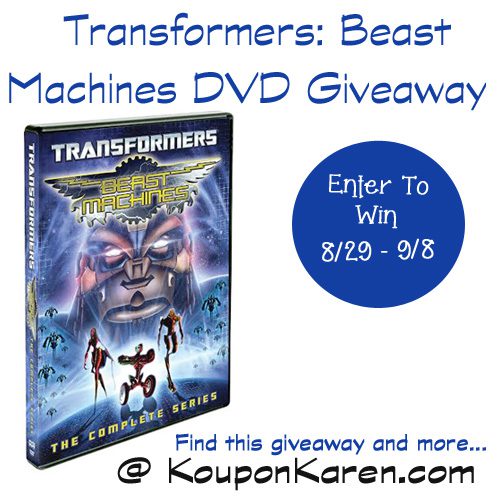 (10) Koupon Karen reader's will win a copy of Transformers: Beast Machines DVD.

To enter the giveaway, use the Giveaway Tools widget below. Email and feed subscribers will need to click-through to the site to enter the giveaway.
As a reminder, comments left on Facebook or Twitter will not be included. You must follow the instructions on the widget about the proper way to enter. Of course Facebook is in no way associated with this giveaway!
If you are looking for more giveaways, be sure to follow my Fun Giveaways Pinterest board!
Disclosure: I received a Free product for review. My opinions are 100% mine.