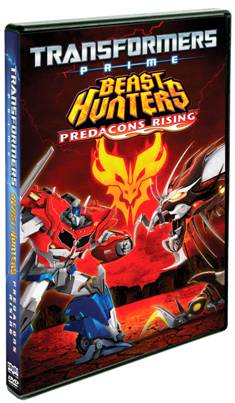 This post is Sponsored by Shout Factory and Hasbro but my opinions are 100% my own!
The eagerly anticipated conclusion of Hasbro Studios' Emmy® Award-winning series finally unleashed in a special TRANSFORMERS PRIME original feature presentation for home entertainment. Kids, families and loyal fans are invited to further venture into the awe-inspiring world of Transformers Prime with Transformers Prime Beast Hunters – Predacons Rising now on DVD. Only at Walmart stores nationwide, Transformers Prime Beast Hunters Predacons Rising Blu-ray and DVD Combo includes 3 collectible trading cards inside and special bonus feature A Look Behind The Scenes.
Brimming with spectacular CG animation, a captivating storyline and unforgettable characters from the TRANSFORMERS PRIME lore, this epilogue to the final season delivers entertaining cinematic adventure the whole family will enjoy.  Wrapping up the series that chronicled the epic battle between the DECEPTICONS and the AUTOBOTS, this special DVD edition is an essential home entertainment collection for TRANSFORMERS fans of all ages.
You can find this movie in stores where Blu-rays and DVD's are sold.  You can pick up the Blu-ray/DVD combo for about $24.99 and the DVD for about $14.99.
About Transformers Prime Beast Hunters – Predacons Rising
A resurrected UNICRON has taken over the now-lifeless body of MEGATRON to seek vengeance on the AUTOBOTS and ultimately, the destruction of Cybertron.  This formidable enemy forces an unlikely alliance between the AUTOBOTS, DECEPTICONS, PREDAKING and two new PREDACONS, who come together in an epic battle to help protect their newly restored planet.
Peter Cullen, Frank Welker, Josh Keaton, Jeffrey Combs, Kevin Michael Richardson, Steve Blum, Will Friedle and Sumalee Montano lend their voices to this hit series produced by Hasbro Studios. Spearheading the creative efforts on TRANSFORMERS PRIME are executive producers Jeff Kline, Alex Kurtzman, Roberto Orci, Duane Capizzi and Stephen Davis. The TRANSFORMERS PRIME series is currently airing on the Hub TV Network in the U.S. and on Teletoon in Canada.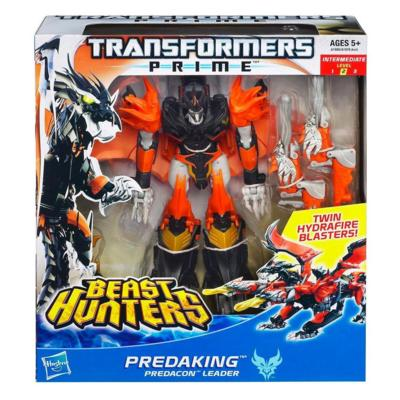 Also in stores is the Transformers Prime Beast Hunters Voyager Class Predaking Figure from Hasbro.  The terrifying Predacon tyrant Predaking is a mighty evil from the ancient past with the power to burn entire worlds to cinders!
Take your Transformers adventures to the next level with this incredible Predaking figure and his twin Hydrafire blasters! Whether he's in robot mode or dragon mode, he's a scary enemy for any Autobot, and his twin Hydrafire blasters give him huge firepower against his Autobot enemies. Attach his hydra heads in dragon mode, where his tail becomes a sword! Keep converting him back and forth so he can handle whatever you throw at him!
Figure comes with accessories and you can pick it up for $19.99 where toys are sold!

(1) Koupon Karen reader will win both Transformers Prime Beast Hunters Predacons Rising Blu-ray and DVD Combo and Transformers Prime Beast Hunters Voyager Class Predaking Figure!!

To enter the giveaway, use the Giveaway Tools widget below. Email and feed subscribers will need to click through to the site to enter the giveaway.
As a reminder, comments left on Facebook or Twitter will not be included. You must follow the instructions on the widget about the proper way to enter.   Of course Facebook is in no way associated with this giveaway!
Disclosure: I received a Free product for review. My opinions are 100% mine.