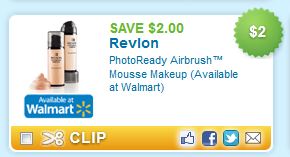 If you come across a coupon that says "available at xyz store" and has the store logo on it you may be asking yourself if it's really a manufacturer coupon that can be used anywhere OR can it only be used at xyz store.
Good question.   We've been seeing this a lot on printable coupons and lots of people are confused.  I would like to help you figure it out so you know exactly where you can use your coupons.
If it says 'Available at Walmart' then that just means you will find that item at Walmart.  There may even be a logo but the 'availalbe' part is what is the clue here.   It's advertising for Walmart and I'm starting to think we are going to see more and more like this.
If it says "Redeem at Walmart" then you can use it anywhere that takes manufacturer coupons.  Again, this is letting you know that you can use it there.
However, be prepared as there are stores out there with cashiers and even managers that don't understand the lingo, nor care to learn – and they may not let you use the coupon.  But it is indeed a manufacturer coupon and it can be used anywhere that accepts manufacturer coupons.
On the other hand, IF a coupon says "Redeemable ONLY at Walmart" then you can only use it at Walmart.
New to Couponing? Check out the Coupon Basics. I will be adding more to this series over the next several months!