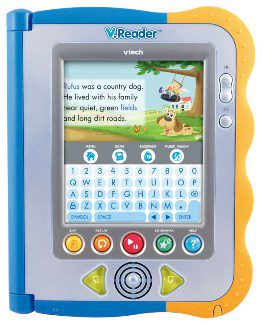 I was so excited when I was offered the NEW VTech V.Reader for review.  It's known as the Kindle for kids and with my oldest learning how to read I knew this was something that would be extremely helpful for her.   I think I was more excited to open it when it arrived them my 5 year old.  I don't own a kindle or nook so this was something very new to all of us.
We have a few VTech learning games and I think they are great.  Well the V.Reader falls in the same catergory as them – GREAT!  It's very easy to use for both my 5 year old and 3 year old,  it's not too heavy for them and the learning possibilities are endless!
It's extremely helpful since while telling the story, each word lights up so they can follow along with the words.  They need to turn the page themselves which is nice so they can look at the pictures as long as they like.  And when the page turns, it pause for a moment before it begins to read again so they can look over the page first.  They can hit the replay button and hear the page all over again.
It's not just a reader, it's so much more than that.  Each story has reading games too!  My oldest has been learning to read by sounding out letters.  One of the games on Scooby Doo is Food Phonics.  It asks you to touch an object then it sounds out the beginning of the word and asks the child to touch the letter that makes that sound.  My 5 year old loved it and she did so well!  I'm so excited that she is learning while having fun.
I love the replay button.  My kids, like most others, don't always pay attention and therefore miss what they are looking for or supposed to do.  They can just hit the replay button and it will repeat the last action.  This is also helpful when they need my help.  I can hit the replay button and then I'll know what they are having trouble with.
Another nice feature is bookmark.  If they are in the  middle of a story and need to stop, they can bookmark it and continue where they left off next time.  They then have the choice to watch the whole story or go to the bookmarked page.  What I really liked about this feature is if they choose to watch the whole story instead of going to the bookmark, the bookmarked page will remain there.  This is helpful with having 2 children.  If one leaves a bookmark the other can watch the story from the beginning and not interrupt the bookmarked page.  Pretty cool!
I also love the see-through cover for when they are reading.  The only buttons exposed are those to play the store and turn the pages.  The other buttons can't be pressed by accident.  Important for us since they like to grab things from each other.
The only thing I don't like is the pen is not attached.  I'm sure we will lose it, it's really just matter of time.   However you can use your finger to touch the screen as well so if we do lose it at least we can still use the V.Reader.
Product Information:  V.Reader Animated e-Reading System– Ages 3 to 7 –  Budding readers hone their reading skills, with great fun, on this touch-and-read e-reader.
Animated Storyteller: Stories come to life through vivid animation, narration, character voices, graphics, sounds and music. Young children engage with stories by watching, reading and learning. They follow their favorite character's voice, play reading games and use the story dictionary.
Downloadable Fun: With a rich download library, more than 100 additional stories will be available via a download library located on the VTech Web site (www.vtechkids.com), including some free titles, more themes and avatars to customize their e-readers. V.Reader is compatible with a PC or Mac computer.
Track Progress: Parents can join in on the fun and learning process with the features that include progress reports and reading certificates.  Lovable Characters: Children's favorite licensed characters come to life and help them learn with 11 software options (with more titles to be added in the near future).
Touch and Read System: Kids have two play options – listen and follow along to the story as read by animated characters; or touch the screen and play reading games to learn each word or sentence.
Reading Skills: Your child learns the necessary building blocks to grow into a fluent reader. V.Reader teaches reading comprehension, vocabulary, phonics and word building, along with a story dictionary that describes word definitions in a manner that's easy for them to comprehend.
The cartridges include: The Little Engine that Could,  Disney/Pixar's Cars, Shrek o Dora the Explorer, Disney/Pixar's Toy Story 3, Disney Princesses, Olivia, Disney Fairies, Mr. Men and Little Miss o Scooby-Doo, Mickey Mouse Clubhouse.
Purchase Information: V.Reader is available exclusively at Target as of June 21 and nationwide in August at all key retailers and online at www.vtechkids.com.
Product Price: V.Reader $59.99, V.Reader Cartridges $19.99
Would you like to win a VTech V.Reader???
Giveaway: (1) Koupon Karen reader will win the BRAND NEW VTech V.Reader.
How to Enter: Leave me a comment and tell me which story you like best from the list above and who you want to win this for.
Extra Entries: Once you do the above mandatory entry you can do any of the following an earn up to 4 more entries:
Tweet about this giveaway "I entered to win the new V.Reader at Koupon Karen! Stop by & you can enter too at https://wp.me/pMKCI-3bx"(you can tweet this once a day!)
Like VTech on Facebook and post this to their wall "Koupon Karen sent me here! https://wp.me/pMKCI-3bx"
Blog about this giveaway
Sign up to receive my emails or add me to your favorite reader
Details: This giveaway is open to US residents only and will end July 15th at 11:59pm.  The winner will be randomly picked and announced shortly after and will have 48 hours to claim their prize or I will randomly pick another winner.
"I was given a V.Reader by VTech for my review. I was allowed to keep the product, but the opinion I am sharing remains my own."