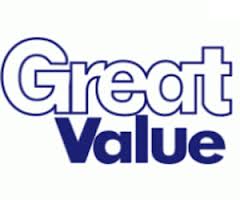 I'm working with Great Value brand products again and this time it's for Valentine's Day!   Last week I told you about two recipes my kids and I were going to try this weekend in honor of Valentine's Day and it worked out really well because we were snowed in over the weekend.  We had 2 feet of snow which is not normal for us.  It was fun and crazy all at once.  But the girls loved it and it looked so beautiful!
But back to our baking!   They love making their own pizza's and the fact that they were shaped like hearts made this so much more fun.  I wasn't sure at first if the cookie cutter would cut through the pizza dough but it did and they even kept their shape when cooking.
Mini Heart Personal Pizzas

I rolled out the Great Value Pizza Dough and cut out heart shapes with my cookie cutter….

Like I said this was much easier than I thought.  The only thing I forgot to do the first time was put flour on the plate so the dough didn't stick.  After the first two I realized it and then did that moving forward.  Made the transfer to the pizza stone much easier!
The the girls made their own pizzas….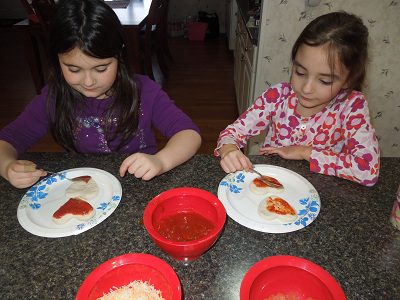 ….very carefully to make sure you could see the shape of the pizza.  My oldest even added the pepperoni in the shave of a "V" for Valentine's Day!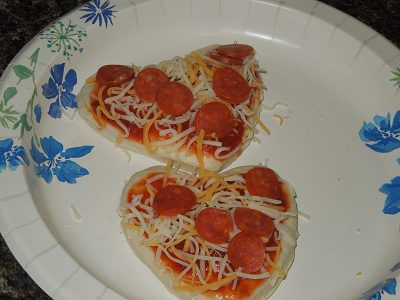 And the results were delicious.  Here is my 5 year old's heart shape pizza's (Cheese only)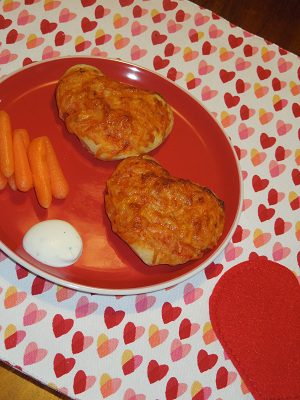 And my 8 year old's Heart Shape Pizza….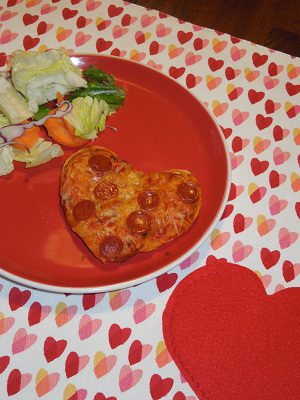 Now they are thinking what other cookie cutters can we use to make fun shaped pizza's!
And with every meal there must be a fun and yummy dessert.  How about some Ice Cream Cookie Sandwiches with Valentine Sprinkles!!!   They were even more excited to make these.    We used Great Value refrigerated Cookie Dough to make the cookies.  I sliced them and then placed the slices on the cookie sheet rather than making balls or scooping the dough like I normally do.  I wanted to cookies to be big since we were making ice cream sandwiches and they came out the prefect size!
Then I scooped some ice cream, a lot of ice cream onto one side of the cookie. Then I put the other cookie on top and finally rolled the sides where the ice cream was, in the sprinkles.  Oh what fun!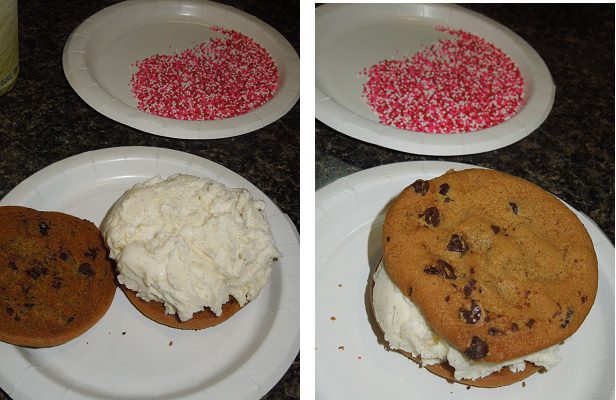 The results were pretty to look at and tasted really good!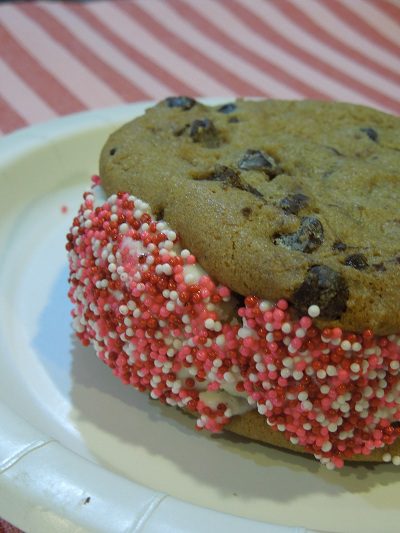 Both of these recipes were so quick and easy to make that you and the kids can whip them up after school today or tomorrow!  Let me know if you do.  And make sure you consider using Great Value brand items to make your cooking and baking quick, easy and fun!   Great Value brand products can be found at Walmart.
Disclosure: I received compensation from Ralcorp and The Motherhood for this post. My thoughts and opinions are 100% my own.