Vitamin Burst Acai Berry Fruit Smoothie
Did you know you can make some fun summer drinks with k-cups? I love using my Ninja blender to make iced drinks and smoothies and I've been experimenting with different brewed over ice k-cups to come up with some fun summer drinks, not just for me but for the kids too. We spend a lot of time outside by the pool so we like really cold drinks. What's better than and Iced Drink or a Smoothie?  How about a Vitamin Burst Acai Berry Fruit Smoothie.
In case you missed my other post, check out the Berry Iced Tea Smoothie made from Snapple Raspberry Iced Tea k-cups I posted the other day.
Here is another smoothie made with Vitamin Burst Acai Berry K-cup. This time I used frozen and fresh fruit to smooth it out.
Vitamin Burst Acai Berry Fruit Smoothie
1 Acai Berry Burst
1 cup frozen strawberries
1/2 banana
Ice
Sugar (Optional for rim of glass)
First you'll want to brew your Vitamin Burst Acia Berry K-cup in your Keurig over ice. I used the 8 ounce setting. Then I added that to my Ninja Blender with about of cup of frozen strawberries, 1/2 banana and ice. Then I blended it all together. I added more ice to get it to the consistency that I liked so that may vary.  Then I pulled out a fun glass, dipped the rim in water and then in sugar.  It looked pretty and the kids thought they were drinking a fancy drink!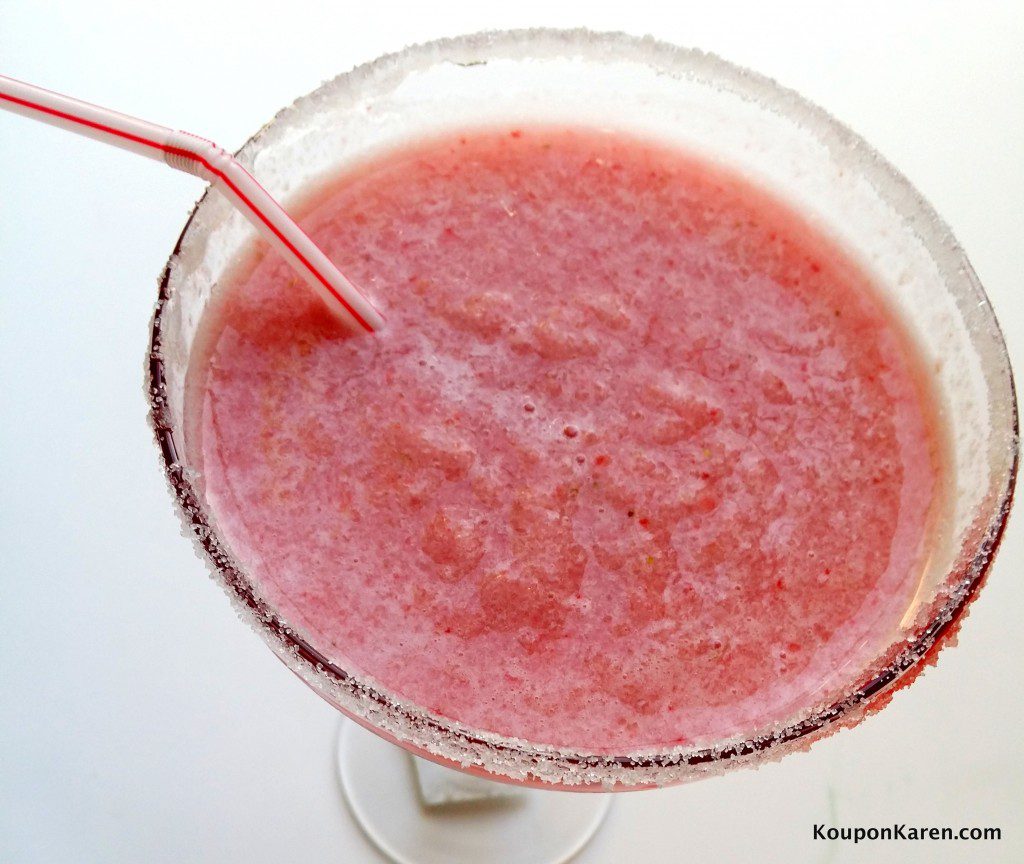 And of course, add a straw and enjoy! My kids and I loved it. Refreshing and delicious.   You could play around with different berries and even use fresh ones.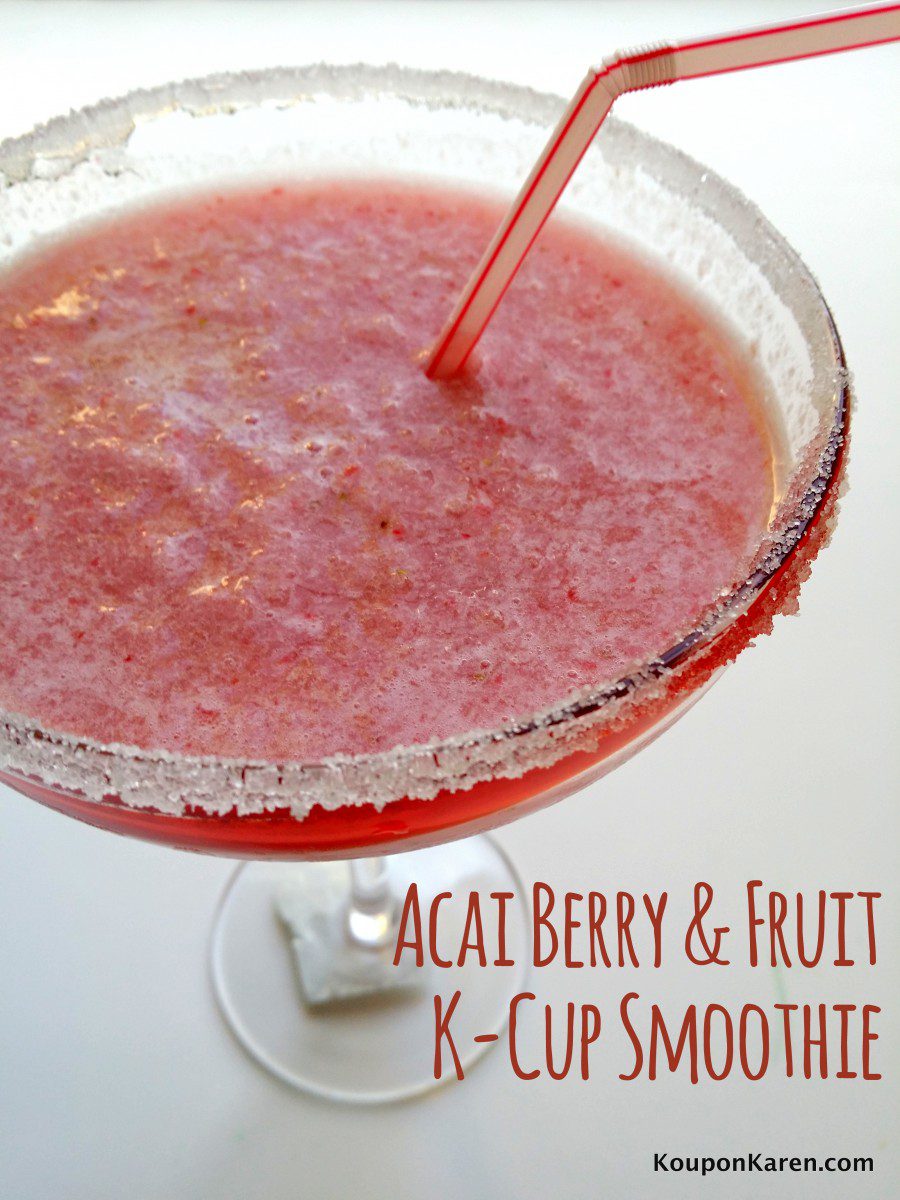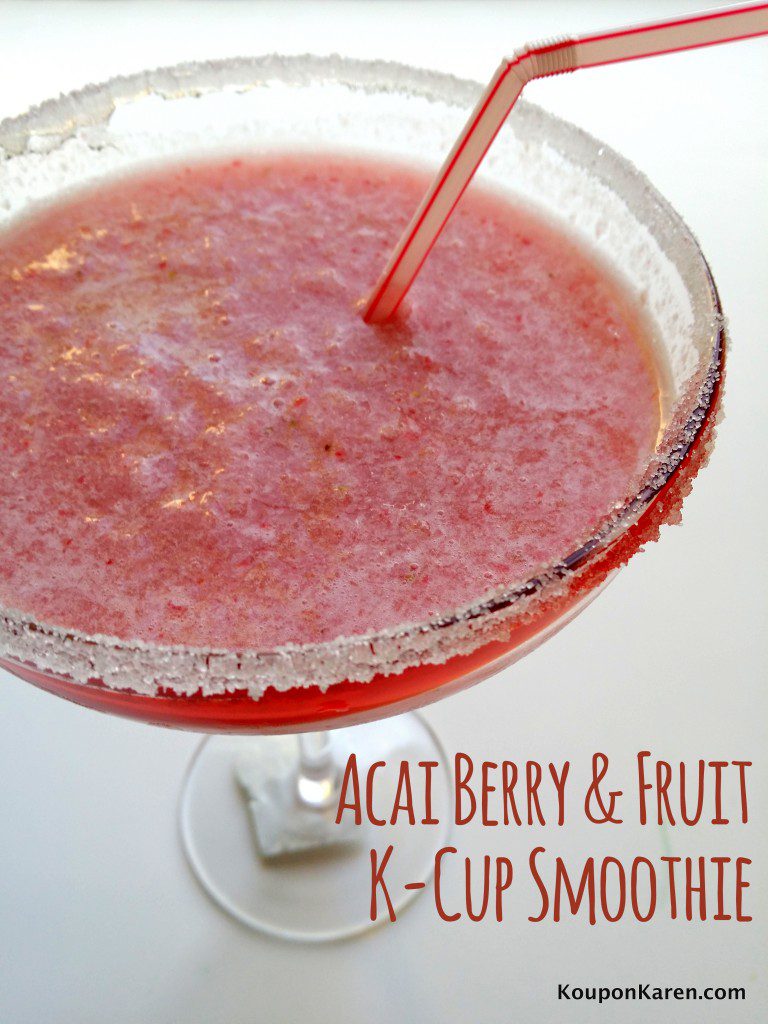 Try the Vitamin Burst Acai Berry Fruit Smoothie and let me know what you think! And don't forget you can get all your Brewed Over Ice K-cup needs at Cross Country Cafe! It's my go-to K-cup store!